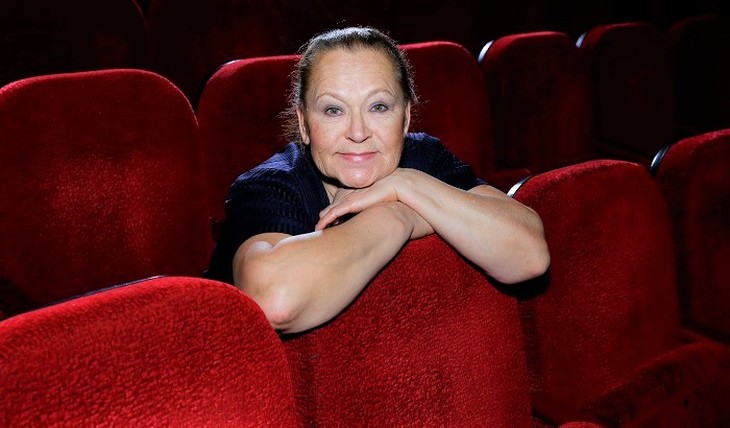 Her role is that of a simple Russian woman. That is also dear to the people.
Ryazanova is a truly people's artist. No, the title itself, confirming this status, she received relatively recently, in 2005. But people's love does not depend on titles. And Ryazanova is loved, probably, even more than her star girlfriends in the film "Moscow Does Not Believe in Tears" …
"MENSHOV DIDN'T BELIEVE IN" OSCAR "
– Raisa Ivanovna, let's remember how it all began. How did you get into this picture?
– I was invited to take part in the audition for the role of Tony. I must say, many other young actresses have also auditioned, I will not name their names. But I, apparently, was more fortunate, and the choice fell on me. Probably, my simple provincial appearance was more suitable for this role … Although, you know, there were actresses who were offered to audition, but after reading the script, they refused: "Thank you, the story is not interesting." Then, probably, elbows were bitten when the film became famous and won many awards, including an Oscar. And we, when filming, did not think about any "Oscar". And Menshov did not believe that the picture received an award when they called him on April 1, he thought that they were playing … wrote that this is a man from the KGB. Then they hid the Oscar in some state closet, and Volodya was given out only on the occasion of the arrival of foreign reporters to show them the statuette. Well, they didn't take it back, and he put it in the hallway on the curbstone.
– How did you work with Menshov?
– He was then a young director, five years older than us. Moreover, by nature, Volodya was an actor, after all, he graduated from the acting department at first. And when he offered to play something, he imagined how he would do it himself, and demanded the same from us. I remember how we started. "Girls, – said Menshov, – here you talk about something of your own, show how you prove something to each other." Well, we started to "prove". He sits, looks at us, then says: "Okay, I like the mood. And now let's go through the text and in turn … "He did not infringe upon the artist, gave him freedom, on the one hand, and on the other, he followed very closely. Remember the scene of our arrival at the dacha to my fiancé, where I buried my nose on his cheek at some of his questions, and his parents were looking at us? The first to get out of the car is Ira Muravyova, and the parents immediately: "Oh, not ours." Then Vera: "Hello." And finally I was covered up. So from all the takes Menshov chose mine, the actor's, with the nose, about which they wrote in one newspaper: "So tenderly and affectionately clung to the groom." And the parents immediately appreciated: "Our girl …" That is, there was no tyranny on the set, no one was capricious and did not star, everything was according to his director's rules, but benevolently.
– And it is generally believed that he had a tough character.
– Maybe later, over the years, he became tougher. I also read that Menshov has a difficult character and many were afraid of him, because the film "The Joke" – his first picture – immediately received the USSR State Prize, the second – "Oscar". But he didn't lift his nose. All the same, he sought funding along with everyone else, in difficult times he was looking for a job. Many of his painting "Shirley-Myrli" did not accept. And I, for example, watched this film with pleasure. You will pay attention to what stars he shot there, no one refused – Mordyukova, Tabakov, Dzhigarkhanyan, Churikova … I think that any actor would consider it an honor to get into the picture! And at the same time, with all the awards, prizes, cinemas, he was not allowed to film. Volodya complained that they always put sticks in his wheels. Someone, apparently, interfered. Probably, it's all the fault of envy, jealousy …
"I TOLD THE PASSENGERS THAT IT'S NOT ME"
– Raisa Ivanovna, you were an illegitimate child. The father was seen only in early childhood. Then how often did you remember him?
– And there was nothing special to remember. Only some fragmentary memories have survived. For example, this: my mother puts me on a tree stump and says: "Raichka, now the car will go, there is my father behind the wheel (he was a driver). Raise the handle, wave it to him, he will stop, we will sit down and go. " I did everything, dad sat me on his knees, I grabbed the wheel. And I loved it so much! Probably, I have it at the genetic level from him. After all, from my youth I literally dreamed of a car. First I went to my husband's "Zaporozhets". In the film "Moscow Does Not Believe in Tears" she rode a "Muscovite". Well, then I saved up money and bought a Zhiguli.
– And how many years have you been driving?
– Consider this: I graduated from the institute in 1969, and driving courses – a year earlier. We had courses from the institute, my husband pushed me there, and since 1968 I have had rights. That is 53 years of driving experience! On long trips, I was afraid to go: I think, what if I break down on the road, no one will stop. But driving 35 kilometers to the dacha there, 35 kilometers back – no problem. I loved to recklessly on the road, and I got into an accident – there were all kinds of things.
– I know that in the dashing 90s you even took up a private cab.
– Yes, I had to when there was no work at all.
– Did the passengers recognize you?
– It happened that they found out, although I denied it all the time. In such cases, I told them: "No, what are you, I am not Ryazanova, I just look like her, I am often confused with her."
– How did it happen that one day you decided to take part in auto racing?
– Yes, they invited me to some banquet, but without thinking, I immediately agreed. And it was also racing on ice, on the Rowing Canal! In my race, I came first. Then, of course, some dashing girls overtook me. But they gave me a prize anyway. And in 2003 I received the "Autolady-2003" award. Moreover, the instructor who trained us did not recognize me, trained me with all his might: he shouted, demanded, in a word, behaved in his own way. And when the prize was handed over, he approached me and began to apologize: they say, "I didn't know that you were an artist, for God's sake, forgive me, I shouted at you like that …". It was funny.
"IT IS FUNNY TO DREAM AT MY AGE"
– Not so long ago on television you met your relatives. What did you experience?
– Yes, it was the TV show "Secret in a Million". I have two sisters and a paternal brother. One sister lives in Moscow, the other – in Ryazan, brother – in the Tambov region. On that show, the results of the DNA test were announced. When it turned out that we were really relatives, one of the sisters came up to me, hugged me, I felt: she was about to cry. I tell her quietly: no need to cry – we will meet, we will cry. I hope she is waiting for my call. I do not want to meet so quickly, for five minutes. I want to invite her to my dacha in order to sit in a calm atmosphere, talk, without haste. And for this you need to choose the appropriate time so that we are both free and nothing distracts. Hope it will happen soon.
– Raisa Ivanovna, what are you dreaming about?
– You know, I'm a realist. At the age of 77, dreaming about something is probably funny, which is why I live in reality. I woke up in the morning: arms and legs are in place, I don't depend on anyone, I don't burden anyone, and thank God. Often invited to festivals, but rarely agree. It's the same every year. I think we need to slow down a little.
– Are you filming somewhere now?
– Recently starred in Larisa Sadilova as a fortune-teller. The working title of the film is "The Garden". I asked the director: am I a true fortune-teller or just collecting money? Whom should I play? It turned out to be a fraudster.
– Believe in fortune-telling yourself?
– No, not really and never resort to the services of fortune-tellers. Once I read fortunes – they guessed the way and money. And imagine, right the next morning everything came true. Therefore, I do not just do not believe – I just try to do without it in my life.
– How do you feel about faith?
– After the death of his son (the son of the actress Danila Perov died suddenly last year. – Ed.) once I was visiting, they asked me: is the son dreaming? I answered: "No." They say that means he feels good there. This is what I really want to believe …
Faina Zimenkova
Photo by V. Goryachev.
Article Categories:
Show Business