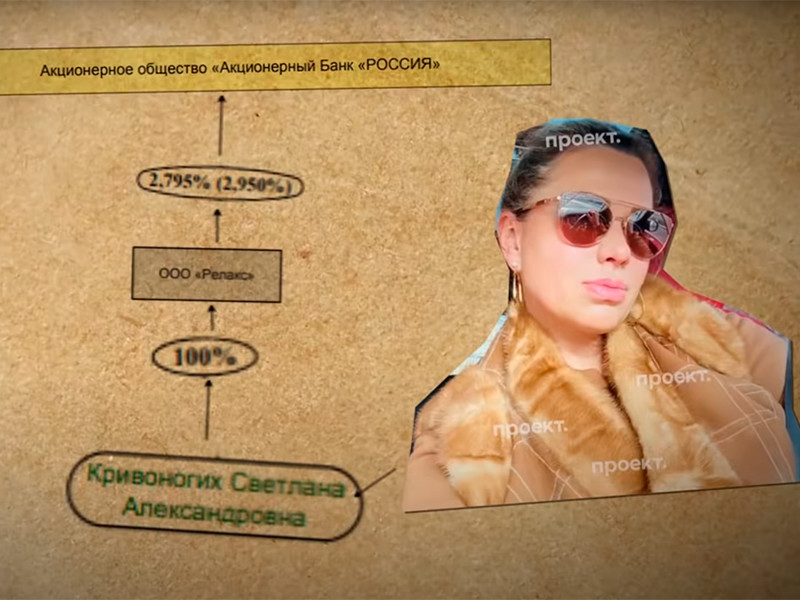 proekt.media / Youtube.com
The alleged daughter of Russian President Vladimir Putin, "Luiza Rozova", registered in the Clubhouse social network and spoke with journalist Andrei Zakharov, co-author of the investigation in the "Project" publication about the secret co-owner of the bank "Russia" Svetlana Krivonogikh. During the entire conversation, the girl did not confirm, but did not refute the information that Putin was her father.
Rozova answered questions from users in the Clubhouse with her friends on the night of February 17. She remained silent when asked by Zakharov if she was really Putin's daughter, and her friends said they had agreed not to answer "this most important question," Znak.com quotes.
Zakharov asked if he had seriously injured her with his investigation. Rozova said that she feels great, "never tried to popularize herself" and has nothing to do with political activity. "I had such a congestion in my life, stagnation. I am very grateful that I had such an opportunity. I was highlighted and my account was recognized," she said.
The girl said that she was studying at the Faculty of Art and Culture Management of the St. Petersburg State University of Industrial Technology and Design. "Thought I would delete my account? Damn it. I live my life, I do fashion." <... wp_automatic_readability="105.04725435881"> Because of your investigation, I will not stop everything that I did before, how I used to live, with whom I talked before, "said Rozova.
After that, Zakharov asked whether Rozova liked "where Russia is heading," but she did not answer directly. "Not a single question can be answered unequivocally … You are right that I live in my art world, it's true, I live in my bubble. I don't watch TV, sometimes I follow the news on Telegram channels, but also not really I watch fashion shows, I buy Vouge magazine, I like to go to a nearby restaurant and eat delicious pasta, discuss the latest gossip and investigations with friends, "she said.
When Zakharov noted that Russia was following the path of closeness, Rozova stated that she did not want to leave the country anywhere. After the girl's friends turned the journalist off, she discussed with them the punishment for libel, not specifying who and how she had slandered, but mentioning the "property and yacht" attributed to her family.
One of the Clubhouse users, Ksenia, asked Rozova's opinion about Putin's phrase about the poisoning of Navalny, "If they wanted to kill, they would." "You know, there is such a thing … I don't know if I'll say it right now … It's called the" golden billion ", this is a society of such rich people who just arranged all this gimmick with coronavirus, – answered Rozova. – It turns out that they kill people. Why, if they can do it, then the government can not – for reasonable purposes? I will not say what I am for, but there is such, and we live in it. "
Continuing discussions on this topic, Rozova emphasized that she is against violence, but expressed bewilderment why people go to rallies. "I understand that the right to vote is normal, but it just seems to me that a person can make life better in his place, in his field," she explained (quoted by TJ).
The same user, who asked about the acceptability of the murder, said that she is a disabled person of the second group and can go to work, and her pension is 13 thousand rubles. She asked Rozova how you can ennoble your life in such circumstances. "I understand that there are problems such as poverty, poverty, low wages and pensions, but we cannot influence this in any way," she replied.
When Ksenia objected that the pension in Germany is more than a thousand rubles, the moderators said that this was "an isolated case", the population there is much smaller, and food is more expensive. Shortly thereafter, Ksenia was turned off, explaining that she had spent her right to question.
In November last year, the "Project" publication told about a certain Svetlana Krivonogikh, who, by the beginning of the 2000s, almost overnight turned from a former dormitory dweller and an inconspicuous student into the owner of expensive housing in St. Petersburg and a shareholder of the Rossiya bank, which is now one of the twenty largest banks of the country. She also owns the Igora ski resort in the north of the Leningrad Region and the Leningrad Center cultural space in the Tavrichesky Garden.
The interlocutors of the publication explained the sharp rise in the welfare of the Krivonogikhs by the fact that she was close to Vladimir Putin. She has a minor daughter, Elizaveta Vladimirovna, about whose father nothing is known, while she is "phenomenally" similar to the president. After the "Project" became interested in the family, the girl removed photos from social networks in which you can see her face. The press secretary of the Russian President Dmitry Peskov called the investigation "an epistolary genre" and "provocative yellowness."
Article Categories:
Politics