The Belarusian security forces maintain the illusion that in case of an unfavorable development of events, Russia will come to the rescue. Political analyst Andrei Suzdaltsev is confident that this will not happen.
In the first days of the protests, Belarusian law enforcement officers showed brutality towards the protesters. The head of the Ministry of Internal Affairs of the republic, Yuri Karaev, had to apologize for the actions of his subordinates.
Nevertheless, the Belarusian security officials hope that if something happens, Russia will come to the aid of the regime of Alexander Lukashenko and support him financially. Andrey Suzdaltsev urged them not to indulge in illusions. "This will not happen," he is sure.
The lack of financial assistance from Russia will leave the Lukashenka regime without power support, the expert said. But Moscow also cannot leave Old Man to be torn apart by the opposition, the analyst stated.
He urged not to compare the Belarusian security forces with the Ukrainian special task force "Berkut", disbanded after the overthrow of Viktor Yanukovych. According to the political scientist, "Berkut" did not beat people in prisons and did not chase protesters in residential areas, but stood to death under bullets and Molotov cocktails.
Earlier in the Belarusian telegram channels there was news that Moscow is negotiating with the Belarusian security forces behind Lukashenko's back. Allegedly, in this way, the Kremlin unties the hands of law enforcement officers in relation to the protesters, and the arrows will eventually be transferred to Old Man.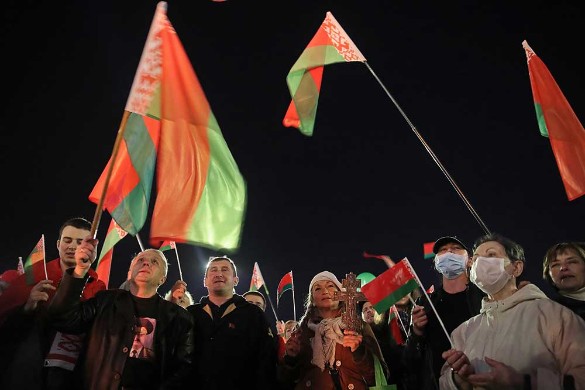 Recently, the Belarusian OMON has become tougher. More than 600 protesters were detained in Minsk last Sunday. Police brutality could lead to radicalization of the opposition.
Political analyst Alexander Alesin did not rule out that the authorities are trying to do just that. Lukashenko hopes that the radicalization of the protests will split the opposition, the expert said.
People who are inclined towards a peaceful change of power will get scared and leave the streets. Only those who are determined will remain. But such people are a minority, and it will be easier to deal with them, explained Alesin.
Article Categories:
Politics