The situation in Belarus is a civil war in five minutes, political observer Dmitry Drize believes. According to him, the position of Alexander Lukashenko is complicated by the fact that Moscow has refused to sponsor his regime.
An extremely difficult time awaits the citizens of Belarus, the expert said. The economic situation is already deplorable, and the political crisis risks leading to serious cataclysms, the political scientist warns.
Drize said it appears to be true that the Russian leadership has given up further financial support for the Lukashenka regime. The Kremlin has begun to act more pragmatically and now is unlikely to help a ruler unable to retain power in his hands, the political analyst argues.
He recalled that in connection with the recent events, Russia is in a difficult economic situation. In addition, there is restlessness along the perimeter of its borders - the war in Nagorno-Karabakh, unrest in Kyrgyzstan.
But the West could strike a decisive blow to the Belarusian economy, says Drize. If they go to freeze the accounts of Belarusian officials and cut off financial flows, the situation will become critical, the expert predicts.
Time is playing against Lukashenka, so the Belarusian leader decided to escalate. Last Sunday, the security forces dispersed the protest rally in Minsk with particular cruelty: according to some reports, more than 600 people were detained.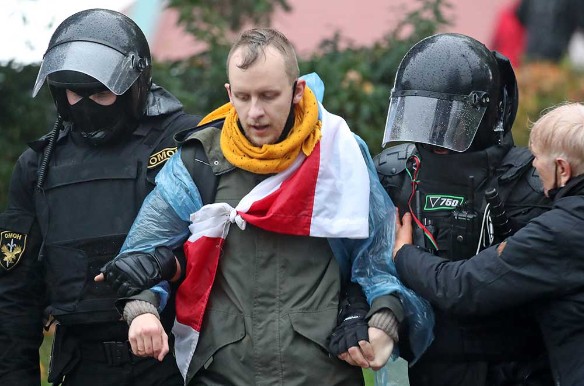 Jogging with a machine gun around the residence, secret inauguration, a visit to political prisoners in a pre-trial detention center - Drize does not see a logical sequence in Lukashenka's actions. "Probably, further steps will not help strengthen this ruler," the observer wrote in his column in the Kommersant newspaper.
The opposite opinion is expressed by political scientist Andrei Suzdaltsev. He believes that Russia cannot refuse financial support to Belarus. The bankruptcy of the republic will hit Moscow hard, the expert explained.
Before the meeting between Vladimir Putin and Alexander Lukashenko in Sochi on September 14, it became known that Russia would provide Belarus with a loan of $ 1.5 billion. The total debt of Minsk to Moscow exceeds $ 7 billion.
Article Categories:
Politics