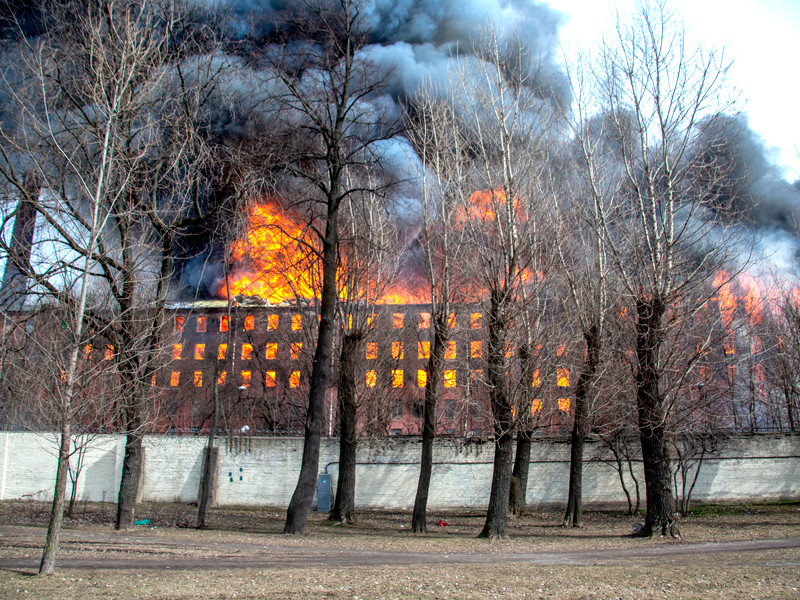 Ministry of Emergency Situations St. Petersburg / VKontakte
A justice of the peace in St. Petersburg brought Nevskaya Manufaktura to administrative responsibility in connection with violations of fire safety requirements, the joint press service of the city's courts said on Wednesday. The court sentenced him to a fine of 80 thousand rubles, the report said. The administrative case was opened after a large fire, during which an emergency worker was killed.
With regard to JSC "Nevskaya Manufaktura", a protocol was drawn up under part 12 of article 19.5 of the Administrative Code of the Russian Federation (failure to comply within the prescribed time limit with the legal order of the body exercising federal state fire supervision).
According to the protocol, employees of the Ministry of Emergency Situations in the building of the manufactory revealed a malfunction of the automatic fire extinguishing system, the absence of a warning and evacuation control system, fire alarm, etc. The department noted that such violations at the facility were detected annually for seven years. However, the owners of "Nevskaya Manufaktura" did not eliminate them, Interfax reports.
The fire at the "Nevskaya Manufactory", which became the largest in the modern history of St. Petersburg, began on the afternoon of April 12. The combustion area was 10 thousand square meters. m, more than 350 people and 73 pieces of equipment, including helicopters from the Ministry of Emergency Situations and the Ministry of Defense, were involved in the extinguishing.
During the extinguishing, one employee of the Ministry of Emergency Situations died – the commander of the 64th fire department Ilya Beletsky. Three firefighters were injured. Two of them (Boris Starkovsky and Anton Sokolov) were hospitalized in serious condition with burns of 40-60% of the body surface.
According to one of the versions, arson was the cause of the fire. The buildings of the manufactory were included in the "list of newly discovered objects of historical, scientific, artistic or other cultural value." However, this territory was also claimed by developers planning to build an elite residential complex, city rights activists say.
After the fire, the Investigative Committee of the Russian Federation opened a case for causing death by negligence (part 1 of article 109 of the Criminal Code). Later, a criminal case was opened under clause "in" part 2 of Art. 238 of the Criminal Code (performance of work or provision of services that do not meet the requirements of the safety of life and health of consumers, resulting in the death of a person by negligence). In this case, the general director of JSC "Nevskaya Manufactory" Maxim Makeev and his deputy Alexei Mikhnevich were detained.
Article Categories:
Politics