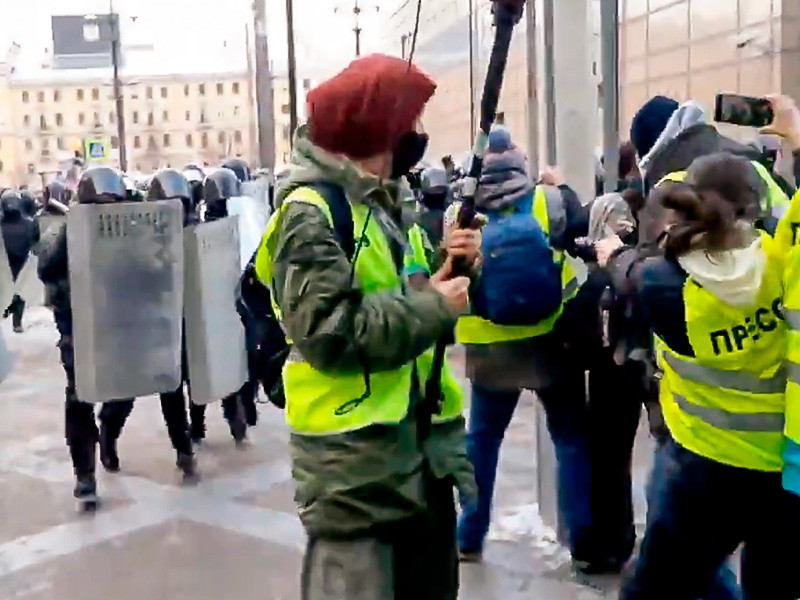 Photo: time-lapse video MBH Media / Twitter.com
The trade union of journalists and media workers reported that at least 82 journalists were detained at the protests in defense of Alexei Navalny, held on Sunday, January 31, in many dozen Russian cities.
Moreover, the facts of their beatings by the security forces are already known. This happened to the journalist of the editions "Meduza" and "Snob" Ivan Kleimenov, who was subjected to an electric shock, he has a head injury.
Meanwhile, the Union of Journalists of Russia (UJR) recorded only about 35 arrests of media workers. "As of 15:30 Moscow time, 35 media workers were detained in Russia. Most of all in St. Petersburg – eight journalists. Most of the journalists were released after checking their documents," Vladimir Solovyov, head of the UJR, told RIA Novosti.
The UJR chairman also called on law enforcement officers not to detain journalists at the rallies. According to him, he intends to "talk about this with the leadership of the Ministry of Internal Affairs" again. Soloviev added that if a person wearing a vest with the "Press" written on it and presenting an editorial certificate, then he cannot be detained.
– "Exceptional scope" of repressions against journalists at rallies for Navalny
During previous protests on January 23 in Russia, about 40 journalists were detained, but almost all of them were immediately released after checking their documents, Soloviev said earlier. "Several people were injured during the clashes, but not severely, someone's equipment was broken," said the head of the Union of Journalists.
The UJR intends to investigate all known cases when journalists suffered in the performance of their professional duty, the head of the Union of Journalists promised. He said that if necessary, the Center for the Legal Protection of Journalists is ready to provide assistance to the victims. In general, according to him, in the overwhelming majority of cases, no one bothered journalists to cover the actions.
Article Categories:
Politics