12:18, 01/22/2021
The singer accuses the blogger of assault and infidelity.
Today, 35-year-old Olga Buzova announced a breakup with 27-year-old David Manukyan. After the singer's birthday, information appeared that problems began in the relationship of the lovers. Maria Pogrebnyak published a video in which Buzova pushed Manukyan away from herself. After that, Olga and David unsubscribed from each other in microblogs on Instagram. Later, Buzova said that she had completely blocked the chosen one. Moreover, the TV star urged his audience to follow her example.
As noted by Buzova, she is going through a hard break with Manukyan. In addition, the singer has many other problems that she does not want to talk about. So, the TV star asked all those who were not indifferent to support her, unsubscribe from David and block the blogger on Instagram. Talking about breaking up with her lover, Buzova could not contain her emotions. "I blocked him, and if you love me, you will too. I can be wrong, forgive me everyone, "Olga said with tears.
Olga Buzova with tears in her eyes asked everyone who was not indifferent to block David Manukyan on Instagram
By the way, even before the start of the celebration in honor of Olga's birthday, nothing foreshadowed trouble. Then Manukyan congratulated Buzova and publicly confessed his love to her. "Today is a special day. A little girl was born that I love. Kind, sweet, affectionate, tasty, sympathetic, caring and my most stubborn. You changed my life with your appearance, melted the ice in my heart and gave me love … I am grateful to you for that, the best … even though you and I are a couple of crazy, but know that I am always there. You finally turned 18 years old and everything is just beginning to go to your goal with burning eyes, and we are there, we will help you, you know everything … I love you, my stubborn goat, "Manukyan addressed his beloved in his microblog on Instagram.
David Manukyan and Olga Buzova
It is worth noting that Buzova did not immediately disclose the details of the break in relations with David. The singer first made it clear that the blogger had done an act that was unacceptable to her. In addition, the TV star asked not to mention Manukyan in her presence. However, later Buzova still decided to talk about what happened between them with David. As it turned out, Buzova had many reasons for parting with her chosen one.
So, in her microblog on Instagram, Buzova published a correspondence with her lover, in which she accuses him of assault and infidelity. In addition, according to Olga, David constantly insulted her. It was also revealed that the vacation in the Maldives, where the couple celebrated the New Year 2021, was ruined. David, as Buzova said, was dissatisfied with something and in a sharp form notified the singer that he wanted to leave for Moscow.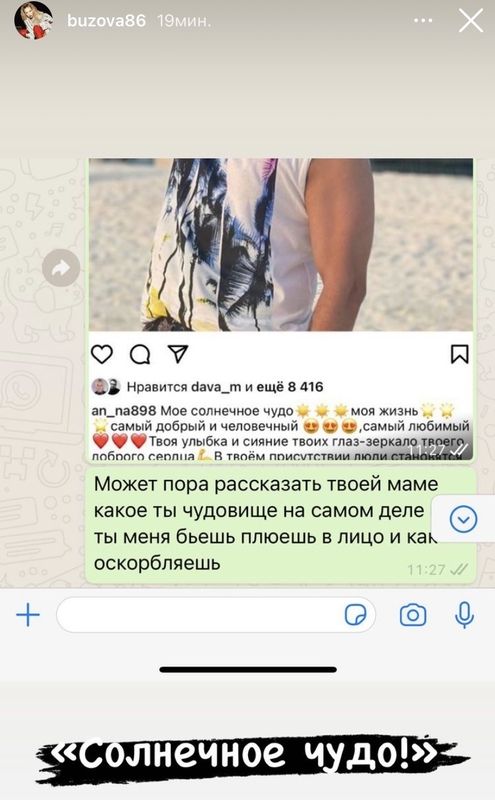 Olga Buzova published a correspondence with her lover, in which she accuses him of assault
We add, in early January this year, Olga and David were married in the Maldives. The ceremony cost the beloved 50 thousand rubles. This amount included the organization of a celebration on the beach. At sunset, Olga and David came to the flower arch symbolizing the altar on the ocean shore. There, the couple exchanged rings and took vows of love and fidelity. Moreover, such a wedding has no legal force on the territory of the Russian Federation.
Olga and David were married in the Maldives
Read also:
Olga Buzova published a correspondence with David Manukyan, in which she accuses him of assault
Olga Buzova confirmed parting with David Manukyan
David Manukyan said that he would not prove to anyone the truth of the feelings between him and Olga Buzova
Article Categories:
Show Business