10:51, 09/14/2020
The model admitted that for a narrow circle of people she is Ksenia.
Oksana Samoilova has been answering questions from Internet users in her microblog on Instagram for the last two days. She used this option for the first time after a loud scandal in her family. The wife of Dzhigan, as part of her communication with the audience, said that after her last trip to Miami, she had a psychological trauma, and she would definitely not return there in the near future. It was there that her husband began to behave strangely, to consume a lot of alcohol and drugs. In addition, after this trip, the husband and wife nearly divorced.
Oksana also told about how her close friends call her. Subscribers asked if anyone calls her Ksyusha, because many believe that Oksan can be called that. "At home from my family, no one calls me Oksana (close friends also call Ksyu)) But this is only possible for the close circle)) this is my home name)))" - Samoilova admitted (the spelling and punctuation of the author are given without changes. - Prim. line.).
Oksana Samoilova told what name her close friends call her
It should be noted that Oksana Samoilova tries to be honest with her subscribers. For example, she admitted that in about ten years she would stop hiding what really happened in Miami. When all the events remain in the distant past, the businesswoman will be able to confess what happened between her and Djigan. In addition, she stressed that she was going to do some kind of plastic surgery in the future. And in the near future he will remake his breast, since after feeding three children, the mammary glands have lost their former shape.
Recall that Oksana's appearance is always discussed with particular interest not only by fans, but also by journalists. For example, after Samoilova gave birth to her fourth child this year, she was able to quickly get in shape. Within two weeks, she had no postpartum belly. Ida Galich even called Oksana a "witch", because it took her much more time and effort to put herself in order after the first birth.
Now Samoilova is carefully monitoring her figure. She regularly visits the gym. At the same time, Dzhigan's wife admitted that she needs to eat a lot of carbohydrates, otherwise she will be too thin. Now her goal is to weigh 63 kilograms with an increase of almost 180 centimeters. In the event that her weight is 61 kilograms, she still looks too thin.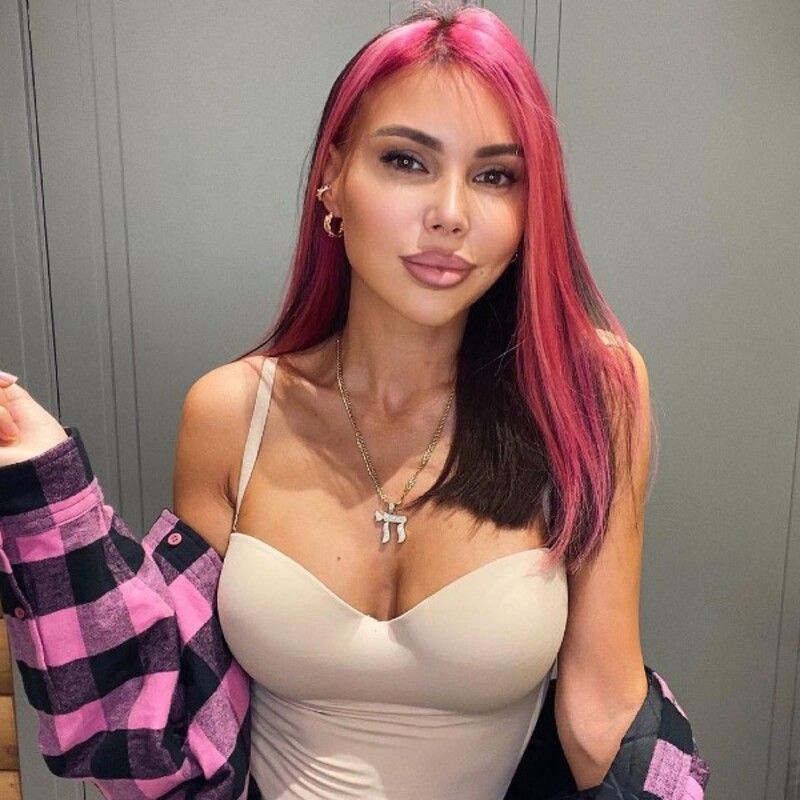 Oksana Samoilova dyed her hair pink
We add that Samoilova is not afraid to experiment with appearance. For several years Oksana tried on wigs with pink hair, and last week she finally decided to dye her hair that color. So, the model on Friday admitted that she had fulfilled her old dream and shared the result in her microblog on Instagram. According to the mother of many children, she always considered herself too old for such hair colors, so she was afraid of bright shades.
Read also:
32-year-old Oksana Samoilova was going to do a new plastic surgery
Oksana Samoilova told how she chose a name for her son
Oksana Samoilova filmed the reaction of her daughters to her pink hair
Article Categories:
Show Business