Singer Nyusha has recently excited her fans. The artist posted a photo of herself in a bikini on a yacht, showing off her figure and seascapes. However, the eyes of the subscribers were riveted by a huge tattoo made on the entire belly of the singer. Subscribers did not expect that Nyusha would do this with her body. But the worries turned out to be short-lived, as it later turned out that the art on the stomach is a temporary tattoo.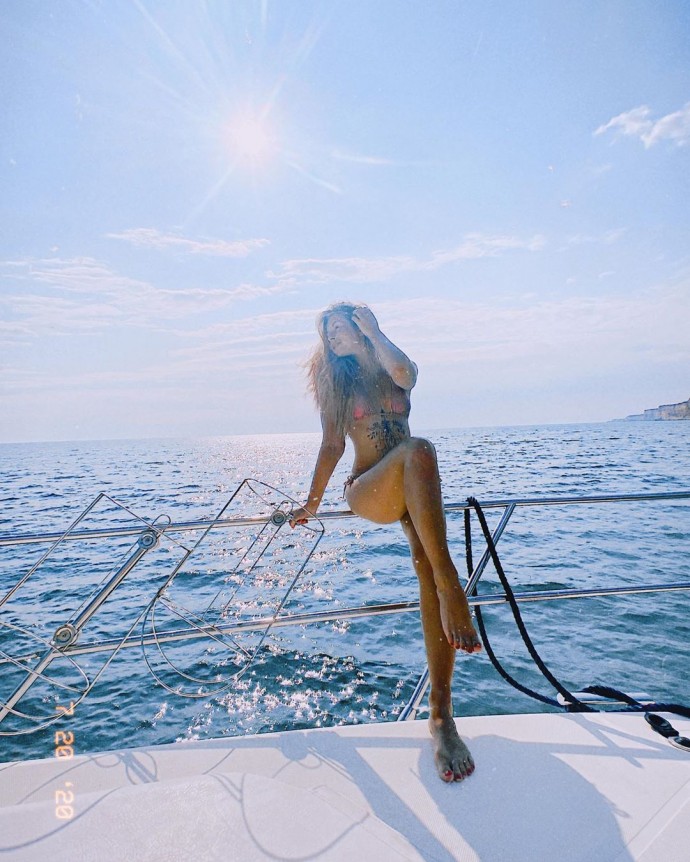 Exhaling, fans began to praise their favorite for the beautiful combination of colors: hair, swimsuit and manicure.
Now the singer took a break from work and flew away with her husband Igor Sivov and daughter to rest in the Crimea. Recently, the performer stunned fans by talking frankly about the beginning of a relationship with her husband. Nyusha admitted that she had an affair with Sivov when he was still married.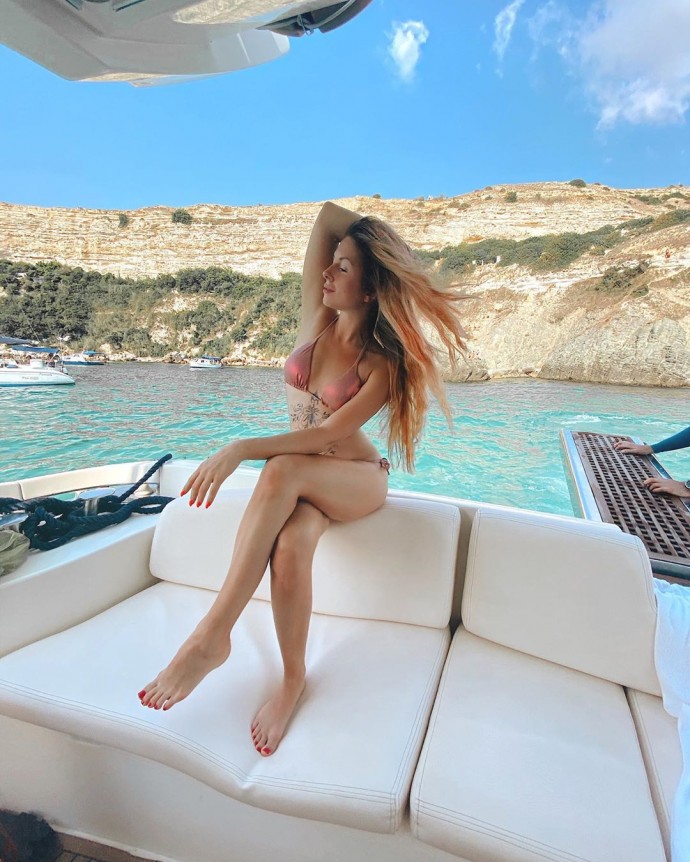 Below we suggest that you recall Nyusha's photo shoot in Maxim magazine, which took place in December 2010, as well as her early appearances at the beginning of her career, beach shots and photographs taken at concerts.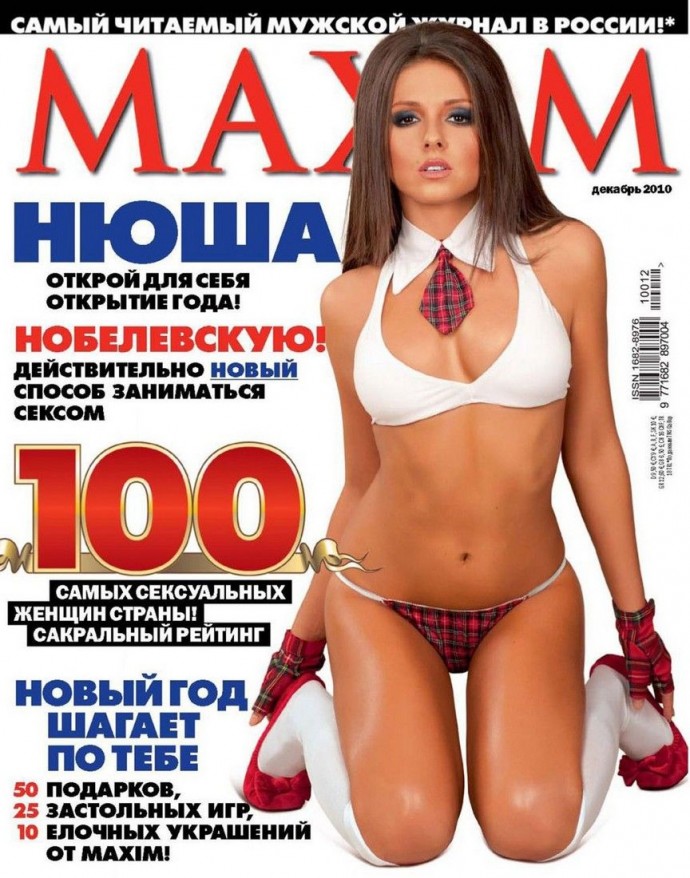 Array (
[3056] => Array (
[ID] => 3056
[~ID] => 3056
[ACTIVE] => Y
[~ACTIVE] => Y
[TIMESTAMP_X] => 07/22/2020
[~TIMESTAMP_X] => 07/22/2020
[VOTE_ID] => 3065
[~VOTE_ID] => 3065
[C_SORT] => 100
[~C_SORT] => 100
[COUNTER] => 6
[~COUNTER] => 6
[QUESTION] => Do you like such big tattoos on girls and on Nyusha?
[~QUESTION] => Do you like such big tattoos on girls and on Nyusha?
[QUESTION_TYPE] => HTML
[~QUESTION_TYPE] => HTML
[IMAGE_ID] =>
[~IMAGE_ID] =>
[DIAGRAM] => Y
[~DIAGRAM] => Y
[DIAGRAM_TYPE] => histogram
[~DIAGRAM_TYPE] => histogram
[TEMPLATE] =>
[~TEMPLATE] =>
[TEMPLATE_NEW] =>
[~TEMPLATE_NEW] =>
[REQUIRED] => N
[~REQUIRED] => N
[ANSWERS] => Array (
[13461] => Array (
[CHANNEL_ID] => 1
[~CHANNEL_ID] => 1
[VOTE_ID] => 3065
[~VOTE_ID] => 3065
[ID] => 13461
[~ID] => 13461
[ACTIVE] => Y
[~ACTIVE] => Y
[TIMESTAMP_X] => 2020-07-22 14:35:56
[~TIMESTAMP_X] => 2020-07-22 14:35:56
[QUESTION_ID] => 3056
[~QUESTION_ID] => 3056
[C_SORT] => 100
[~C_SORT] => 100
[MESSAGE] => Like Nyusha!
[~MESSAGE] => Like Nyusha!
[COUNTER] => 2
[~COUNTER] => 2
[FIELD_TYPE] => 0
[~FIELD_TYPE] => 0
[FIELD_WIDTH] => 0
[~FIELD_WIDTH] => 0
[FIELD_HEIGHT] => 0
[~FIELD_HEIGHT] => 0
[FIELD_PARAM] =>
[~FIELD_PARAM] =>
[COLOR] =>
[~COLOR] =>
[ANSWER_ID] => 13461
[LAST_VOTE] => 12
[DROPDOWN] => Array ()
[MULTISELECT] => Array ())
[13462] => Array (
[CHANNEL_ID] => 1
[~CHANNEL_ID] => 1
[VOTE_ID] => 3065
[~VOTE_ID] => 3065
[ID] => 13462
[~ID] => 13462
[ACTIVE] => Y
[~ACTIVE] => Y
[TIMESTAMP_X] => 2020-07-22 14:35:56
[~TIMESTAMP_X] => 2020-07-22 14:35:56
[QUESTION_ID] => 3056
[~QUESTION_ID] => 3056
[C_SORT] => 100
[~C_SORT] => 100
[MESSAGE] => I would not like it on myself, but it looks interesting on others!
[~MESSAGE] => I would not like it on myself, but it looks interesting on others!
[COUNTER] => 1
[~COUNTER] => 1
[FIELD_TYPE] => 0
[~FIELD_TYPE] => 0
[FIELD_WIDTH] => 0
[~FIELD_WIDTH] => 0
[FIELD_HEIGHT] => 0
[~FIELD_HEIGHT] => 0
[FIELD_PARAM] =>
[~FIELD_PARAM] =>
[COLOR] =>
[~COLOR] =>
[ANSWER_ID] => 13462
[LAST_VOTE] => 3312
[DROPDOWN] => Array ()
[MULTISELECT] => Array ())
[13463] => Array (
[CHANNEL_ID] => 1
[~CHANNEL_ID] => 1
[VOTE_ID] => 3065
[~VOTE_ID] => 3065
[ID] => 13463
[~ID] => 13463
[ACTIVE] => Y
[~ACTIVE] => Y
[TIMESTAMP_X] => 2020-07-22 14:35:56
[~TIMESTAMP_X] => 2020-07-22 14:35:56
[QUESTION_ID] => 3056
[~QUESTION_ID] => 3056
[C_SORT] => 100
[~C_SORT] => 100
[MESSAGE] => Horror! How can you disfigure yourself like that?
[~MESSAGE] => Horror! How can you disfigure yourself like that?
[COUNTER] => 3
[~COUNTER] => 3
[FIELD_TYPE] => 0
[~FIELD_TYPE] => 0
[FIELD_WIDTH] => 0
[~FIELD_WIDTH] => 0
[FIELD_HEIGHT] => 0
[~FIELD_HEIGHT] => 0
[FIELD_PARAM] =>
[~FIELD_PARAM] =>
[COLOR] =>
[~COLOR] =>
[ANSWER_ID] => 13463
[LAST_VOTE] => 5046
[DROPDOWN] => Array ()
[MULTISELECT] => Array ()))
[IMAGE] =>))
Article Categories:
Show Business