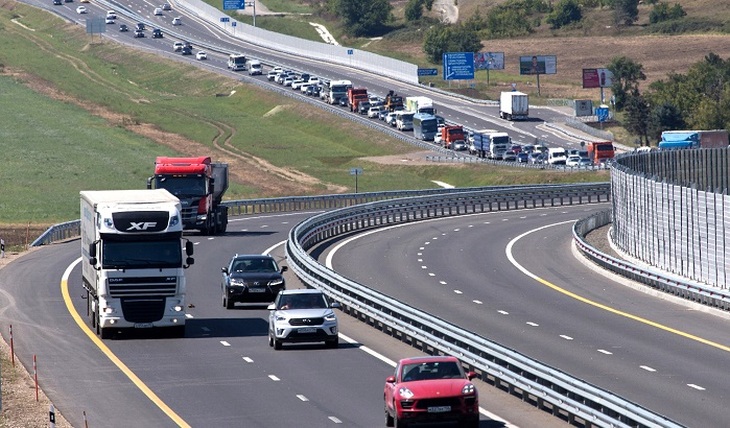 On the day your correspondent arrived in Sevastopol, Russian President Vladimir Putin started traffic on new sections of the Tavrida highway.
Let us remind you that this is one of the largest Russian investment projects in Crimea.
From Simferopol airport to Sevastopol we drove along a new highway and got into trouble, we had to take a different road. The fact is that there was an accident. A fuel truck slid into the ditch. The cabin was badly crumpled, but the body remained intact. So there was no fire threat. But all the same it became somehow uncomfortable.
The track was built for several years, and during this time many tens of people became victims of road accidents on "Tavrida". For example, at the end of July, a minibus carrying tourists crashed into a standing KamAZ. Then 9 people died, another 18 were injured.
And some more statistics. In the first half of the year, 63 accidents occurred on the highway, and a little more than 20 on the old road. It is no accident that many residents of Crimea and Sevastopol are simply afraid to use the new highway. And local media write about violations of the rules for the carriage of passengers and that the condition of vehicles does not meet technical standards.
Moreover, the discipline leaves much to be desired. Trucks have become a real problem for traffic safety, and meanwhile, they should not go out on the highway at all if the air temperature is above 32 degrees.
According to the Sevastopol public figure, motorist and journalist David Axelrod, the reasons for this difficult situation were the lack of discipline of drivers and the lack of places to rest, as well as shortcomings in the design of "Tavrida".
For example, in some places the exit is regulated by traffic lights, although it would be much safer to build modern interchanges. And President Putin, by the way, drew attention to the fact that on some sections of the highway there are no junctions that allow you to leave it without hindrance. Perhaps that is why drivers, breaking out onto the track, forget about the speed limit. Despite the 90-kilometer limit, many cars travel at speeds of 120, 140 and even 160 kilometers per hour.
Andrey Knyazev.
Photo: TASS / S. Malchavko.
Article Categories:
Economy