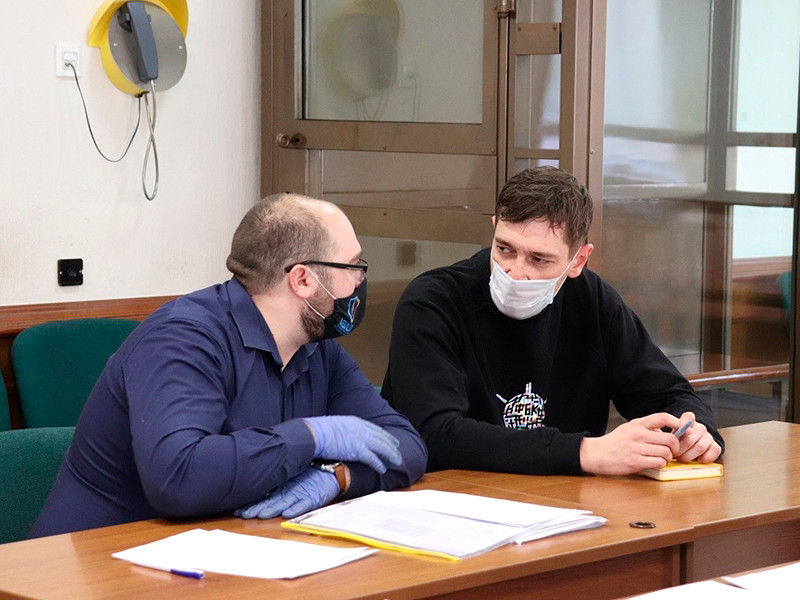 Moscow City Court / VKontakte
The Moscow City Court canceled house arrest for Oleg Navalny, brother of politician Alexei Navalny, and Lyubov Sobol, lawyer of the Anti-Corruption Foundation * (FBK *). The measure of restraint was changed to a ban on certain actions until June 23, the press secretary of the court Ulyana Solopova said.
As the lawyers of the defendants explained to Interfax, by a court decision they are prohibited from leaving their place of residence from 20:00 to 06:00. The court's decision also affected the capital's municipal deputies Konstantin Yankauskas and Lucy Stein. The Basmanny District Court on March 19 extended their house arrest until June 23 for all of them.
All persons under investigation are being held in a criminal case of incitement to violation of sanitary and epidemiological rules (Article 236 of the Criminal Code, which provides for up to seven years in prison) at an uncoordinated rally on January 23 in Moscow. The case was initiated by the Ministry of Internal Affairs, then it was transferred to the Investigative Committee. On January 27, searches were carried out in this case at 15 addresses. According to the investigation, "the organizers and participants of the uncoordinated actions created a threat of the spread of a new coronavirus infection."
In Moscow, the rally, according to the operational headquarters, was attended by 19 people infected with COVID-19. In total, more than 300 witnesses were questioned in this case, the security forces announced that they plan to interrogate, including re-interrogating, another 50 protesters.
10 people were involved in the "sanitary case": the coordinator of Navalny's Moscow headquarters Oleg Stepanov, municipal deputy Dmitry Baranovsky, press secretary of Alexei Navalny Kira Yarmysh, Pussy Riot participant Maria Alekhina, FBK lawyer * Lyubov Sobol, head of the Alliance of Doctors trade union * Anastasia Vasilyeva , ecologist and FBK expert * Nikolai Lyaskin, municipal deputy and researcher at the Institute of Market Problems of the Russian Academy of Sciences Konstantin Yankauskas, municipal deputy Lucy Stein and Alexei Navalny's brother – Oleg Navalny.
The suspects were initially placed under strict house arrest, with a ban even from taking a first-grader to school, going to the doctor or taking out the trash from the apartment.
On March 21, Lyubov Sobol violated the measure of restraint and went to church. On March 26, the investigator, at the request of the defense, allowed her to go to church, see a notary and take her child to and from school.
The "sanitation" actually led to an international scandal. World stars stood up for his defendants. For example, more than 40 European and Hollywood artists, directors and musicians spoke in support of Alekhina and Stein, who said that the accusations were an attempt to silence activists and warn people against participating in protests against corruption and in support of political prisoner Alexei Navalny. Among the signatories of the open letter in support of Alekhine and Stein are directors Pedro Almodovar and Spike Jonze, actors Whoopi Goldberg, Martin Sheen, Gillian Anderson, Colleen Farrell, Ed Harris, Mia Farrow, artist Marina Abramovich, singer Peter Gabriel and others, as well as the European Film Academy …
---
* – a non-profit organization entered by the Ministry of Justice of the Russian Federation in the register of NPOs performing the functions of a foreign agent
Article Categories:
Politics