13:34, 01/22/2021
Anna Manukyan spoke unflatteringly about the TV personality.
On January 22, 35-year-old Olga Buzova announced her breakup with 27-year-old David Manukyan. The couple have been together since 2019. Olga and David met on the set of the artist's video for the song "Liker". The lovers declassified the relationship at the end of the same year. Buzova and Manukyan did not hide their feelings and shared joint photos and videos on their microblogs on Instagram.
Olga and David even got acquainted with the parents of a friend of a friend, celebrated family holidays together, and it seemed that things were going to a wedding. Moreover, Buzova and Manukyan played it during their vacation in the Maldives. However, according to Roza Syabitova, this union is not legally valid on the territory of the Russian Federation.
After the birthday of the TV presenter, rumors appeared that the lovers were not all right with their relationship. In particular, the reason for the dissemination of such information was a video in which the TV personality pushed her lover away from herself in front of her friends. Olga, after confirming rumors about breaking up with her boyfriend, published their personal correspondence, in which she accused David of assault. In addition, Buzova wrote that she wants to tell the blogger's mother about what a monster he is.
Anna and David Manukyan, Olga Buzova
Anna Manukyan reacted to Buzova's statements. She actively began responding to comments on her microblog on Instagram. Anna urged not to believe that her son beat the TV presenter. The blogger's mother recalled that the singing TV presenter also accused the ex-husband of Dmitry Tarasov of assault. "And he beat. And now she is drunk in front of the whole country scribbling stories. Isn't it funny yourself? " – stated Manukyan in the microblog on Instagram (the spelling and punctuation of the author hereinafter are given without changes. – Prim. line.). Anna openly accused Olga of alcoholism, and also added that the TV personality often changes men. Manukyan noted that "all the poor girl is offended". David's mother also made a loud statement, writing: "Olya brought her sister to a stroke, now she took Davout?"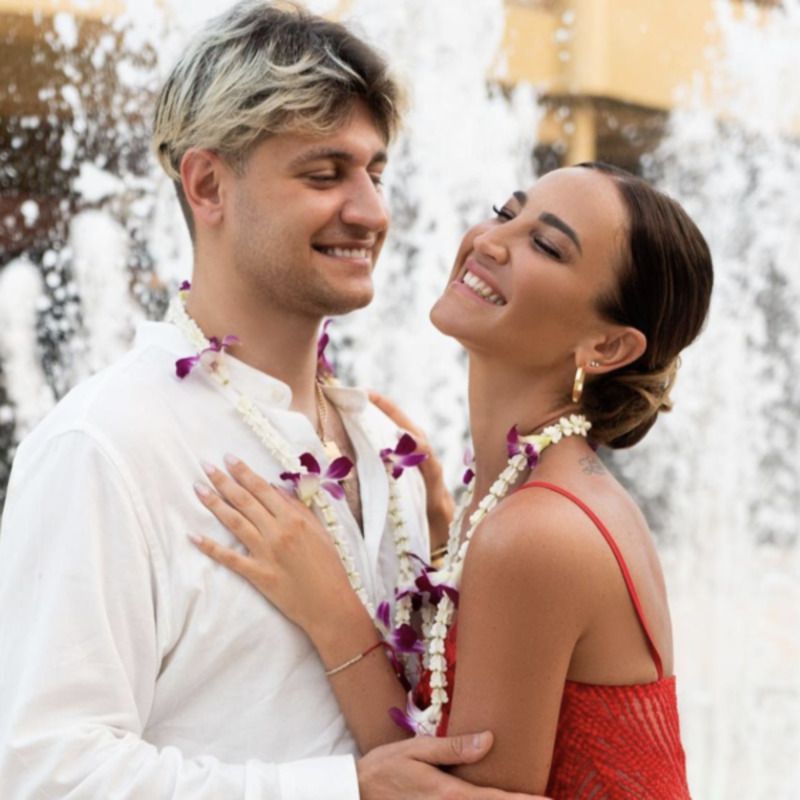 David Manukyan and Olga Buzova
Recall that Olga had previously been married for four years to football player Dmitry Tarasov, whom she divorced at the end of 2016. After parting with the athlete, Buzova stated that she was a victim of domestic violence. "This is terrible! It is disgusting when men say in their interviews that this is the norm, and women should be beaten. A man who raises his hand to a woman is not a man for me !!! I urge everyone who experiences this not to be silent anymore. Together we must talk and sometimes shout about this terrible situation in our families! I was silent for many years, because I was ashamed to talk about it, I was scared! " – stated Olga in her microblog on Instagram.
It turned out that during her marriage with Tarasov, Buzova called the police three times due to beatings from Dmitry. However, she refused to record them and write a statement, arguing that she was sorry for her husband. By the way, domestic violence was not the reason for their divorce. Olga accused her husband of infidelity. Later, information appeared that Tarasov and Buzova did not come to a consensus regarding the children. The footballer wanted them, and the TV personality was immersed in her career.
Olga Buzova
Read also:
Olga Buzova and David Manukyan, after a public quarrel, unsubscribed from each other on Instagram
Olga Buzova with tears in her eyes asked everyone who was not indifferent to block David Manukyan on Instagram
A video appeared of Olga Buzova and David Manukyan quarreling at the singer's birthday
Article Categories:
Show Business