11:00, 31.01.2021
Since 2011, the 27-year-old TV star has undergone more than 10 surgical procedures.
Milana Tyulpanova showed how she looked ten years ago. The ex-participant of the romantic show "The Bachelor" admitted that she was captured in an archive photo before plastic surgery. As it turned out, since 2011, Tyulpanova has survived more than ten surgical procedures under general anesthesia.
And the thing is that I was originally a super insecure person. This is a combination of different circumstances – child-parental traumas (I was always compared not in my favor), mental characteristics (I was a very anxious and doubting person on my own), a competitive environment ("What a beautiful girl, can't I really be like that? ! "), My sacrificial position in personal relationships (" He cheats on me, because I do not deserve loyalty and love, because there is much better and deserving of me "); Here is such a clinical picture, "- wrote Milana in her microblog on Instagram (spelling and punctuation of the author hereinafter are given unchanged. – Prim. line.).
Since 2011 Milana Tyulpanova has performed more than 10 plastic surgeries
It is interesting that, according to Tyulpanova herself, despite all the plastic surgery she has experienced, it is still difficult for her to share photos without their preliminary processing. She noted that she tries to work through the problem through psychoanalysis and work on her own self-esteem. "Still, it became easier for me, although the installation to the end like" I am unworthy of love "is still extremely difficult to remove," Tyulpanova concluded.
Recall that Milana Tulipova was in the spotlight of the secular press in early January. The fact is that on January 11, 2021, the ex-participant of the "Bachelor" show got married. Moreover, Milan played her second wedding in the Maldives. Only two days after the celebration itself, she talked about how her beloved Eugene decided to surprise her, simply confronting the fact that they would have to officially register their relationship on the islands.
In early January, Milana Tulipova played a wedding in the Maldives
It should be noted that Milana was not against such a surprise, since for her the wedding is a memorable event. By the way, at the wedding ceremony in Milan and Evgeny the star's son from her first marriage with Alexander Kerzhakov was present. Truth, Artemy, according to his mother, did not understand what exactly happened, and decided that adults celebrate their birthday.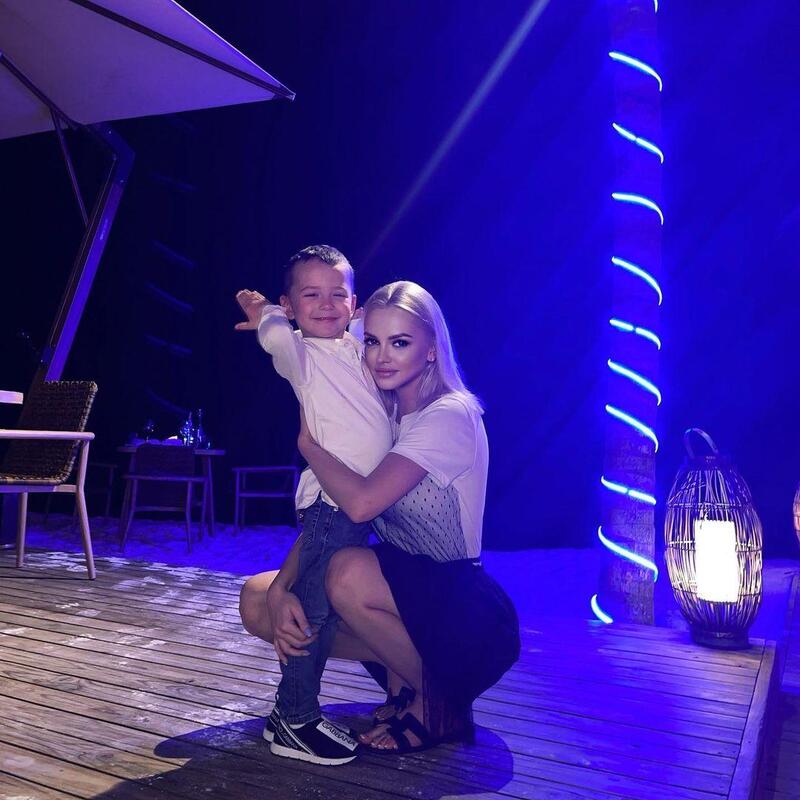 Milana Tyulpanova with her son from Alexander Kerzhakov
We add that Milana and Eugene met a long time ago. At first they were connected only by friendly relations. Only over time, Tyulpanova was able to discern in her future husband the qualities that attracted her. And still, the ex-wife of Kerzhakov looked closely at Eugene for a long time, since he had an unsuccessful experience of divorce. As Milana herself noted in an interview with reporters, this fact from the personal life of her new lover was alarming, but she decided to give her new lover a chance.
Exclusive video interview "Around TV" with Milana Tyulpanova
Read also:
27-year-old Milana Tulipova hinted that she got married in the Maldives
Milana Tyulpanova revealed the details of her new novel
27-year-old Milana Tyulpanova was in intensive care due to coronavirus
Article Categories:
Show Business