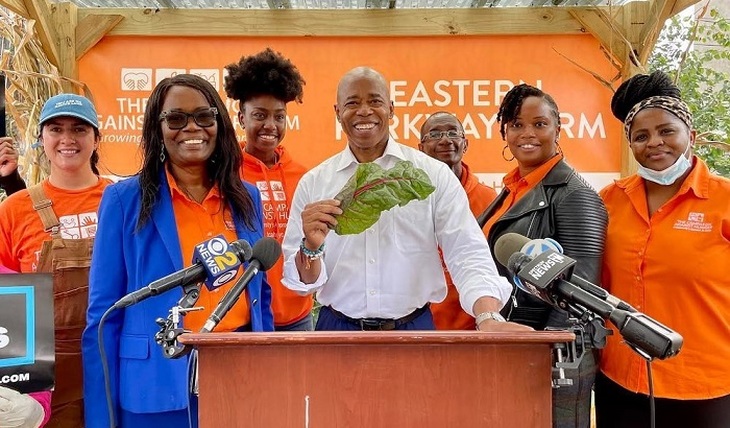 Eric Adams is the second black mayor in New York City history. But the townspeople will remember him primarily for the fact that he is a convinced vegetarian and healthy eating has become the main direction of his policy.
In 2016, Adams went vegan after being diagnosed with type 2 diabetes. He decided to change his lifestyle: instead of resorting to traditional insulin injections, he switched to a plant-based diet, began to play sports. And, lo and behold, in six months he lost weight and cured diabetes.
During his campaign for mayor, Adams urged voters to become vegetarians. "After switching to a plant-based diet, I was able to reverse my type 2 diabetes, which changed not only the trajectory of my life, but also my career as a civil servant. I am now determined to spread this message and empower New Yorkers to lead healthy lives, "Adams urged.
The mayor is strongly urging to stop fast food, especially in school canteens. Now supervisory authorities are monitoring that children's food consists of natural ingredients without deep processing, sugary drinks are banned. Adams did not disregard the prison diet either. "Healthy people should be released!" – proclaimed the new ruler and also imposed a taboo on fast food in the cells. Even in shelters for the homeless, he is going to ban feeding people with nuggets. And Adams also dreams of building vertical greenhouses in New York to feed schoolchildren with fresh vegetables all year round. "A healthy diet can prevent schizophrenia, depression and bipolar brain disorder," he convinces townspeople, equating fried and smoked food with cocaine and heroin.
The staff of the medical department watch with dismay at the initiatives of the mayor: he does not always reconcile his statements with scientific research. It seems that Adams is so convinced that he is right that he does not want to hear doctors' warnings that a vegetarian diet leads to a lack of essential vitamins and minerals. For starters, the mayor is going to introduce vegetarian Mondays in school canteens. He explains to children and their parents that avoiding meat not only improves health, but also preserves animals and the planet in general.
Nikolay Ivanov.
Photo: INSTAGRAM
Article Categories:
Politics