17:25, 13.10.2020
The comedian shared a snapshot of himself with his father.
Maxim Galkin first became a father in September 2013. The surrogate mother gave birth to the comedian and his wife Alla Pugacheva twins, whom they named Elizabeth and Harry in love. It is worth noting that the appearance of children became possible due to the fact that the Prima Donna froze her eggs about 20 years ago. Maxim Galkin loves heirs and regularly shares their photos and videos in his microblog on Instagram.
Today Maxim Galkin published an archive photo in the Stories section, in which he was captured in his father's arms as a child. Nearby, Galkin published an identical photograph of our days, in which he is holding little Harry. "Harry and me, me and dad", - the collage Maxim Galkin Stories succinctly signed (the spelling and punctuation of the author hereinafter are given without changes. - Prim. row.).
Maxim Galkin compared Harry to himself as a child
It is worth noting that Alla Pugacheva initially opposed the publication of photographs of the twins on social networks. The prima donna did not want to put her personal life on public display. However, Galkin explained to his wife that Lisa and Harry would not be able to avoid publicity. According to the humorist, children should learn from an early age not to be afraid of cameras. As a result, Alla Borisovna nevertheless agreed with her husband's arguments.
Recall that on September 18, Lisa and Harry turned seven years old. Star parents gave their heirs not only toys, but also the first gadgets. The twins could not believe that they became owners of smartphones and tablets, because Alla Pugacheva strongly opposed the use of technology by children. The prima donna explained this by the fact that modern youth have forgotten how to communicate live, and hardly develops, spending whole days on the Internet. However, this year another significant event happened in the life of the star couple: Lisa and Harry went to first grade. Therefore, the Prima Donna decided to give the children mobile phones so that they were always in touch, as well as tablets that will help the twins in their studies.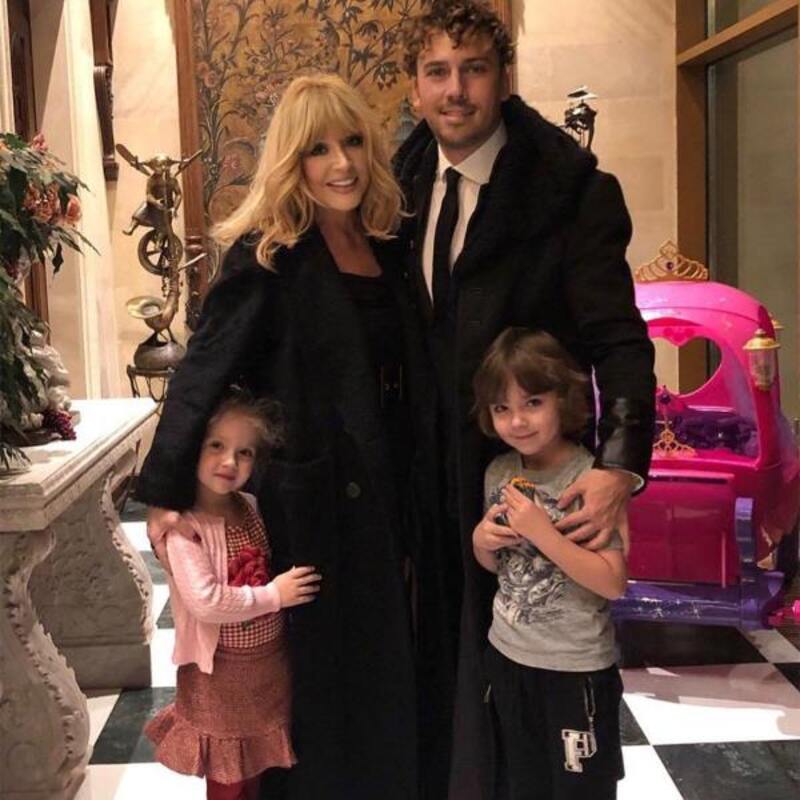 Maxim Galkin with Alla Pugacheva and children
It is worth noting that Maxim Galkin and Alla Pugacheva give 160 thousand rubles a month for each child's education. The school of the Star Heirs has a swimming pool and tennis court, and a special guarded bus picks up students from home and returns from lessons. The educational institution of Lisa and Harry is aimed at deep learning of foreign languages ​​and the subsequent admission of graduates to foreign universities. By the way, from early childhood, the twins learn French and speak it fluently.
Recall that Maxim Galkin and Alla Pugacheva met at the Slavianski Bazaar festival in 2001. The future spouses were introduced by Philip Kirkorov, who at that time was married to the Prima Donna. Soon, Alla Borisovna divorced the pop king and began dating a young parodist. The couple was not embarrassed by the age difference, which is 27 years. In 2011, Galkin and Pugacheva were officially married, and two years later Lisa and Harry were born.
Read also:
Maxim Galkin posted a video of his 7-year-old daughter from Alla Pugacheva walking in the park
7-year-old Liza Galkina showed her dad Maxim Galkin and brother Harry how to do yoga correctly
Maxim Galkin published a touching video of how children say goodbye to him before leaving for school
Article Categories:
Show Business