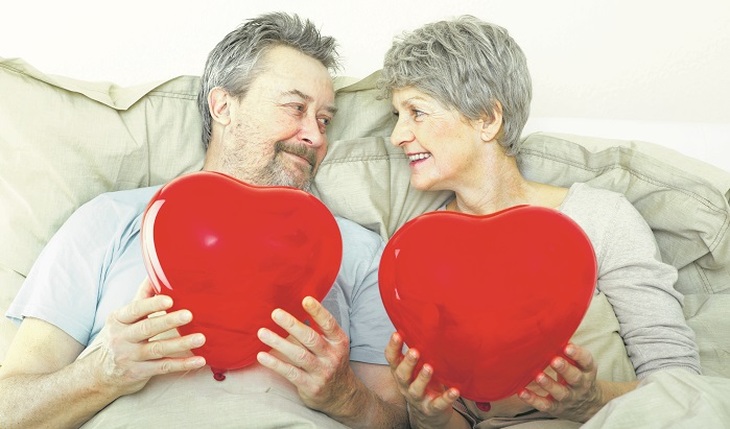 A person needs communication. It is very difficult to be alone after many years of marriage. This happens both because of divorce, and because of the death of one of the spouses. It is not easy to live alone, but it is difficult to find a new couple, especially at a serious age.
Someone immediately puts on a cross, they say, chrysanthemums have faded long ago in the garden. Someone would be glad to start a family again, but they are afraid of relatives or ashamed of their surroundings, and some simply do not know where to look for a couple. So the number of unhappy people is multiplying. But while some are reflecting, others are solving these problems. And rightly so!
A TACT ON HEALTH AND MARRIAGE
People who are married live on average 5-15 years longer than those who did not marry when they were divorced or widowed. But the cause-and-effect relationship is the opposite, according to German doctors. The spouses have a life partner because they are capable of longevity.
Here is what the English physician William Farr wrote about this in 1858 in his famous treatise on marriage and health: "Nerds do not marry, idiots do not marry, homeless vagabonds clump together, but rarely marry. Criminals by birth and upbringing rarely find their half. Many hereditary diseases prevent marriage. Only beautiful, kind, healthy partners are attractive to the opposite sex, in a word, having the greatest chances to live an active and long life. "
However, do not forget that married people eat more properly and regularly, they create a positive biofield around each other, which supports emotional stability and strengthens health. So marriage is not only a cause, but also a consequence of a long life.
STATISTICS PLEASE
It is believed that men, unlike women, have any age – marriageable, eternal suitors! However, women are beginning to catch up with them in this matter.
According to the University of Chicago, 83% of American women who have reached the age of 55 claim that their personal life has changed for the better during these years, that it was at this time that they found their true love. Our statistics are a little more modest. But there is also progress. In the world over the past 20 years, in general, the number of late marriages has increased by about 10 times. This is due to an increase in life expectancy, the development of communications, new technologies.
People who feel physically strong and full of strength in old age start a family with the same confidence as younger ones. However, those who are not so strong in health also strive to find a life partner. Psychologists list the main reasons why people start a family in old age:
* the need for help with the housework;
* the need for self-care;
* improvement of the financial situation;
* the senses;
* a way to improve living conditions;
* an attempt to avoid loneliness;
* the need for a family, a marriage partner.
Actually, there is nothing wrong with any of these reasons for late marriage. Behind these dry lines of accountability are hidden the fate of people who decided to live to the fullest.
LIFE IS A BAD MOTTO
There is such an official term for pensioners, which is used by officials. There is no need to explain to anyone what it means, but it sounds rather ominous and joyless.
And when a person agrees with this armchair formulation, his life really becomes bleak and not very long. Let this term remain in the reports of officials, but not become the motto of your life!
They say that in late marriages there is often no romance (it does not always happen, by the way, and not in later ones). But on the other hand, there is support, mutual respect, an interesting life. By this time, people have already formed, they know what they want, and the less disappointment occurs. Getting rid of loneliness, retirees literally flourish, because they receive not only a new vital stimulus, but also practical benefits: someone needs a companion for hiking, and someone almost needs a nurse. Again, if the pensions are small, then it's easier to live together. And talk? Yes, it's a pleasure, you don't need a TV!
In old age, it often happens that a person is left alone due to the loss of a spouse or an earlier divorce. Children grow up, work is replaced by a pension, the circle of usual concerns is narrowed. Most women in old age, finding themselves in such a situation, experience an oppressive feeling of loneliness. They are ready to live with anyone, but not one. But men, for the most part, need someone to take care of them.

If two such suffering people meet, then it is likely that they will live together happily ever after. And this is not about love. In this union, both realize their desire to be needed. However, despite the absence of a storm of emotions, such relationships in old age are quite harmonious, viable and, to some extent, less traumatic.
In a long-term marriage, people know everything about each other, they understand everything at a glance, but here, as in the old days, you can spread the peacock's tail and tell your life from the very beginning, feeling interesting and needed. But you never know good things can be found in communicating with a new companion!
HOW TO FIND EACH OTHER?
There is a Russian proverb – fate will find it on the stove. Someone really finds: couples sign even in a nursing home! But still, it's better to help fate.
Pensioners nowadays have a lot of opportunities. When they go on a well-deserved rest, their environment changes, but they get a lot of free time and the opportunity to do something else, find a hobby. And new activities mean new acquaintances. They won't necessarily lead to marriage, but having a boyfriend or girlfriend is fine too. If there is no active hobby, you can go to clubs for retirees, where single people communicate, spend holidays together, and meet a life partner there.
A good incentive to find a friend is to learn how to use a computer if you don't already know how. Now there are many Internet resources specifically for retirees – dating sites for the elderly. It's completely anonymous if that's important to you. The main thing is to remember that at any age a happy life is just beginning! She is here and now, not just in the past.
OLDER DATING SITES
http://pensionerrossii.ru/loveclub
https://pozhilih.ru
Evgeny Alexandrov
Photo: Adobe stock
Article Categories:
Interesting