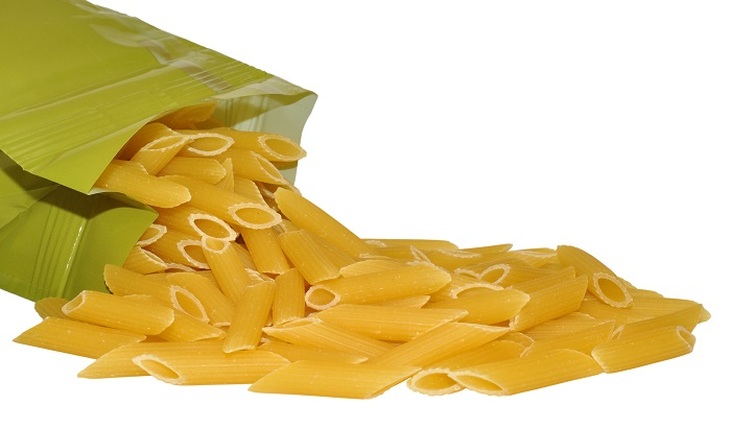 The other day, the Russians were warned of a sharp rise in pasta prices.
Producers faced a shortage of durum wheat and a significant increase in prices for raw materials and supplies.
The cost of wheat jumped immediately from 28 to 38 thousand rubles per ton. This could lead to an increase in the price of pasta for consumers by at least 15%. Pasta manufacturers have already asked the Russian president to pay attention to the situation. However, this fall prices are creeping up not only for pasta, but for literally everything. It will hardly be possible to extinguish the price fire manually, as our ministers usually do …
THE POOR WILL GET MORE POOR
One Russian official advised Russians with low salaries to rely on "makaroshki", who paid for these words with her bread-and-butter job. But now cheap pasta, buckwheat, and potatoes are also becoming more expensive, that is, essential goods that poor Russians simply cannot but buy. This means that the next round of inflation will hit the most vulnerable segments of the population again.
Why is durum wheat becoming more expensive in Russia? World grain prices rose sharply due to droughts in Canada and the United States. And they began to sell Russian wheat abroad. It is more profitable for grain sellers.
Macaroni producers called to raise the export duty for Russian wheat, as well as to increase the sowing of durum varieties in Altai, in the Saratov, Orenburg, Chelyabinsk regions, where the climate is suitable for their cultivation. But when will it be ?!
Will buckwheat and potatoes cross the 100-ruble border?
On October 1, the deadline for containment of prices for sunflower oil, determined by the Russian government, ends. But since the sunflower harvest in Russia this year was good, a sharp jump in prices is not expected. However, we have a good harvest in our country – not yet a guarantee of stable prices.
But buckwheat was not born due to bad weather in the Altai Territory, where more than half of all buckwheat in the country is grown. The price of buckwheat in chain stores is already reaching 80, or even up to 100 rubles per package. China has seriously increased the purchase of buckwheat from Russia. As a result, in Russia itself, this popular product is still becoming more expensive. The situation with prices for buckwheat should be corrected by the arrival of a new crop in October. But for now, sellers and manufacturers take the opportunity and dictate their prices.
Potatoes are also a problem. Due to the fact that this summer some regions were flooded with rains and floods, while in others there was a hellish heat and drought, as we already wrote, there are few domestic potatoes and they are small. Trading networks are reluctant to take this "pea", and buyers are not eager to buy a root crop, from which there are more peels than the tubers themselves. Potato prices rose by almost 46%. Already now our second bread at a price below 40 rubles per kage still needs to be looked for. Even at markets and fairs, they sell mainly imported products. And this is in September! And what will happen in winter? Most likely, prices for a kilogram of potatoes will soar up to hundreds of rubles. It will cost more than a number of exotic fruits …
It is becoming obvious that the import substitution program has failed miserably. In Russia, 40% of the seed material for growing potatoes is still imported. But even this does not allow growing in the vast fields of the homeland in sufficient quantities to meet the demand of Russian consumers. We import potatoes from Egypt and Turkey.
MEAT, MILK AND VEGETABLES BECOME GOLD
According to Rosstat, the most expensive product in August was meat, with the exception of pork. We managed to keep prices in this segment. Beef, lamb and chicken are becoming more expensive.
Now world prices for basic food products are almost a third higher than a year ago. Producers of different types of meat point to an increase in the cost of feed for poultry and livestock, explaining the rise in price. The migration crisis is also making its contribution: due to the pandemic, many workers from Central Asia stayed at home. As a result, there is a severe shortage of workers in poultry and agricultural farms.
Although the "borscht set" fell in price in August, which is explained by the traditional seasonal decline in prices for vegetables, in mid-September it began to rise in price slowly again. Compared to last year, prices for some vegetables – carrots, beets, cabbage – have doubled. There will be a plateau that will hold out, if you're lucky, all of October. And from the end of October, prices for fruits and vegetables are likely to go up.
The prices for milk are also growing: the peasants began to get rid of the cows. The number of cattle in Russia is rapidly declining. According to Rosstat, milk prices in August this year compared to August 2020 are higher by 13.6%. And after milk the prices for cheese and butter are growing.
Due to the growth in the cost of delivery in the fall in Russia, the price of tea and coffee is also expected to rise. Moreover, coffee by the end of the year will rise in price by 15%. This is explained by the poor coffee harvest in Brazil, where at first there were abnormal frosts, and then drought.
CLOTHING, FOOTWEAR & ELECTRONICS
In the fall, a 15% rise in prices for clothing and footwear is also predicted. The reasons are objective – raw materials are becoming more expensive all over the world, especially cotton. This is partly due to global climate change: cotton has become more difficult to grow. In addition, price increases are observed for cellulose, plastic and viscose.
Due to problems with container shipping, prices for electronics and household appliances are also expected to rise. But since these are already expensive goods, prices will increase by no more than 5-6%. Microwaves, refrigerators, cars, smartphones, TVs will rise in price.
Recently, the analytical service of the international audit and consulting network Finexpertiza conducted a study of the purchasing power of Russians, based on surveys by Rosstat. The results are sad. 49% of Russian families (27.16 million) reported that they only had enough money for food and clothing, and they could not buy durable goods. Another 36% of households (19.95 million) have the opportunity to purchase food, clothing and durable goods, but buying a car, apartment or summer cottage is difficult for them. 12.9% of Russian families (7.14 million) only have enough money for food, while 0.2% (115,810) do not even have money for food.
It turns out that the number of those who can hardly afford even "macaroshki" is growing in Russia …
Olga Poplavskaya.
Photo: ADOBESTOCK
Article Categories:
Economy