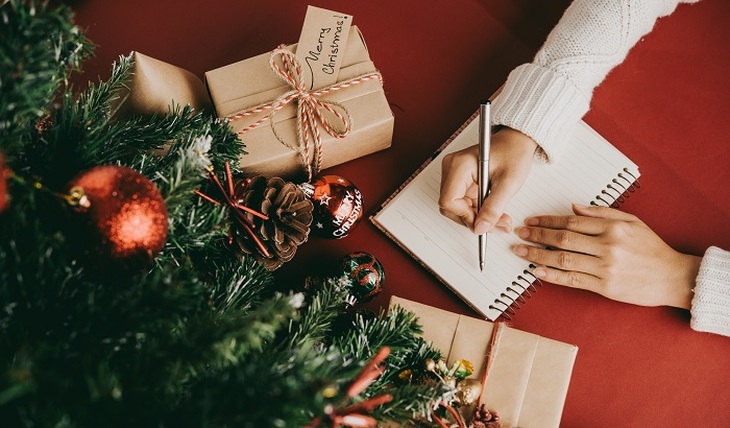 According to psychologists, a letter from Santa Claus is perhaps the best gift for a child for the New Year.
Mother of many children Galina Savelyeva writes letters to her children for the main New Year's wizard.
Galina Savelyeva, a resident of New Moscow, is 41 years old. Together with her husband Nikolai, she is raising six children. The spouses try not only to preserve the existing family traditions, but also to create new ones. One of them is preparing a message from Santa Claus to his own children for the New Year.
As Galina said, she wrote the first letter on behalf of Santa Claus 12 years ago. Then she broke up with her first husband, and she was left with two six-year-old daughters, who really wanted to receive many gifts for the New Year. Galina could not fulfill their dream and therefore decided to write them a letter on behalf of Santa Claus, who explained why the sisters would receive only one present for the New Year.
In addition, some edification and wishes were made in the letter. Christina and Alena then realized that nothing would be hidden from the attention of Santa Claus, because he chided them for not very beautiful misdeeds and at the same time praised them for good deeds. The grandfather also lamented that there are a lot of children who need to give gifts, and therefore he allocates only 100 rubles for each, and the parents send him the missing amount.
Galina recalls that the girls, when they read the letter, took her by the hand and began to thank her for helping Santa Claus prepare gifts for them, although they understand that the family has little money. Of course, such sympathy and understanding of the girls moved mother to tears …
Time has passed, but even today, despite the fact that their daughters are already 18 years old and, of course, do not believe in Santa Claus, the girls are looking forward to a message from him. Thus, the family tradition continues to live, and adult girls, like the other three daughters and one son, receive an annual message from Santa Claus. However, now the letters from Santa Claus are written on beautiful glossy paper, or rather, not even written, but printed. In addition, they are sealed with sealing wax for persuasiveness. By the way, Galina sends the same messages to her neighbor.
This family tradition has developed over the years. If at first the children found a message from Santa Claus only in the mailbox, then then they began to appear on the Christmas tree, decorated in the yard, later – at the open window and even on the windowsill … However, only one thing remained unchanged – their children receive strictly after the chimes. …
"As soon as the clock strikes 12 times, the whole family go out into the street to start the fireworks, and find the long-awaited letters," says Christina, smiling. – And in childhood, they asked my mother not to forget to open the windows so that Santa Claus could enter.
It is worth noting that mom never repeats herself. Children each time discover the cherished letters in a new place. They assure them that receiving such a message is better for them than a bag of sweets or tangerines. Indeed, despite their age and different hobbies, all children receive long-awaited letters and no one is left out. And Santa Claus rejoices at the children's successes: Alena's achievements in the applied fire sport at the Academy of the Ministry of Emergencies, and the fact that Dasha is interested in hockey and the games of the Vityaz hockey club, and Christina is fond of Thai boxing. The younger ones, Liza and Varvara, are engaged in gymnastics.
– We have one more common hobby, – continues Galina. – As soon as the ice rink is filled, we get together and go there with the whole family. Ice skating brings us together. By the way, perhaps this year Santa Claus may have a thought: why not leave his annual messages at this favorite vacation spot for the whole family – at the rink? ..
Dasha is fourteen years old, and, of course, she already guesses who the real author of these New Year messages is, but she does not tell her younger sisters about this. And very little Sasha, who was born already during the pandemic, will receive a letter from Santa Claus this year for the first time and, of course, will not read it. Apart from "agu-agu", he does not say anything yet. But when he grows up, he will definitely read it.
I must say that all letters are literally imbued with warmth, care and attention to children. Grandfather Frost, behind whom Galina secretly stands, empathizes with the failures of the children that have happened to them over the year, and explains that there is nothing wrong with that, that everything will work out, you just need to strive for good and work on yourself. Santa Claus will praise him for his studies and for excellent grades … Grandfather understands everything, as befits a loved one. And he signs his messages very simply: "Your friend."
Children, having read the letters, do not throw them away, but carefully store and collect for years. Time will pass, and perhaps they will already write the same letters to their grandchildren and great-grandchildren, and the letters written by Galina will become a family heirloom.
Perhaps, after reading this material, someone will want to establish the same wonderful tradition in their family in this difficult year. Indeed, in the era of large-scale digitalization, emails and messages, this will be a breath of fresh air from childhood, a part of the story that irrevocably leaves and towards which there is a cold and soulless "figure". And the smell of plain paper and sealing wax will remind you of our past, of our grandparents, and this is what will warm the heart more than any smartphone or tablet.
Andrey Knyazev.
Photo: ADOBESTOCK
Article Categories:
Interesting