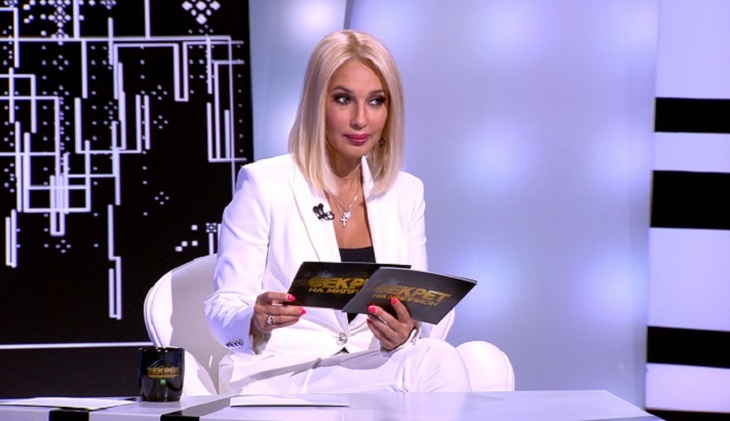 It doesn't seem to change at all. And 10, and 20 years ago it was exactly the same.
Lera has a young husband and a small child. Meanwhile, the other day the popular TV presenter turned 50. What is her million-dollar secret?
Lera Kudryavtseva decided not to celebrate her anniversary. She celebrated the holiday in the circle of relatives and friends, taking numerous congratulations on the phone all day. As it turned out, the TV presenter is not very fond of organizing big birthday celebrations, and the anniversary was no exception. In addition, she is more than calm about her age.
– They say that 50 is a kind of milestone, the result, – says Lera. – I absolutely calmly accept my age – without hysterics and sighs. I love him! I don't know why it worked out for me. My life has always been amazing and different … A huge number of people congratulated me on the anniversary, and it was very pleasant. But at the same time (apparently, this is where age affects) I became more sentimental – I listened, read congratulations and cried, not understanding why I deserved the love of all these people … In general, we are going further – to new aspirations and victories!
Lera Kudryavtseva managed to keep her beautiful figure. Although she believes that in any case, the most correct thing is to remain yourself and to accept your age with dignity.
– I hate being photographed: I got up, lay down, took a pose, pulled my stomach in, removed wrinkles in a photo editor, reduced fat there! – Lera shares with us. – But in life, it's not so at all! No one will ever be forever young and beautiful. This must be accepted, understood and judged sensibly.
With her husband, hockey player Igor Makarov, they have been together for several years: this year the couple will celebrate the eight anniversary of their marriage. Despite the difference in age (Igor is 16 years younger than Lera) and the predictions of ill-wishers, their union is still strong – the little daughter is a vivid evidence of this.
And three years ago, a few months before the birth of her daughter, the TV presenter became a grandmother. The son of Jean, who is already over 30, had a baby, who was given the name Leo.
– I am a modern grandmother, – says Lera. – It often happens that it is grandmothers who sit with their grandchildren. But I don't – I work, and I also have the smallest daughter of the same age as Leo. The son and grandson often come to visit us, we walk together, go to various developmental activities. I really like it when my grandson calls me grandmother, I even ask him to always call me that way. Although this does not fit in my head, the thought constantly jumps over: "Well, what kind of grandmother am I ?!"
The past few months have been quite tense for Lera Kudryavtseva. At the beginning of the year, she was ill with covid. And after she recovered, she ended up in the hospital with fractures: she fell on the stairs at home and broke her tailbone in three places. And this is not all the tests that fate threw the TV presenter. Last year, her mother, Alexandra Ivanovna, was struck by a stroke on vacation in the Crimea. Fortunately, the doctors provided the necessary medical assistance on time. Now Lera's mother is recovering.
– She's a fighter and a hard worker! – is proud of Kudryavtsev's mother. – She walks by herself, speaks beautifully, the hand, however, still does not obey to the end, but we have everything ahead and amazing doctors are working with it. So everything else is a matter of time and labor.
If we talk about time and work, then one cannot but mention another anniversary of Kudryavtseva. She has been on television for exactly half her life, that is, 25 years! She worked on different TV channels: TV-6, TNT, MUZ-TV, "Russia-1". And now viewers are trying not to miss a single episode of her show "The Secret to a Million" and "The Stars Came Together" on the NTV channel. Every broadcast is a sensation. The stars in the studio reveal to Lera all their most cherished secrets. And the programs themselves have many prestigious tele-awards, including several TEFI statuettes. True, as Kudryavtseva herself admits, all these awards are not easy. After filming, she needs a few days to be quiet and come to her senses. After all, the TV presenter passes every story of her heroes through herself …
Yana Nevskaya.
Photo: NTV.
Article Categories:
Show Business