19:11, 19.02.2021
The TV presenter complained that Anatoly Sobchak did not get to see his grandson.
Ksenia Sobchak's father Anatoly died of acute heart failure back in 2000, when he was 62 years old. Today, exactly 21 years have passed since his death. Ksenia Sobchak touchingly honored the memory of her father and called the day of his death the most difficult in her life.
In her microblog on Instagram, Sobchak published an archive photo with her father. The TV presenter complained that Anatoly Sobchak did not get to see Plato's grandson. Ksenia noted that her four-year-old son is very similar to her father: "Me and Dad. Today is the hardest day of the year. It's a pity that I didn't have time to hold Plato like that. He looks a lot like you) ".
Ksenia Sobchak honored the memory of her father who died 21 years ago
For Ksenia Sobchak, the personality of her father is extremely significant Anatolia… He was the mayor of St. Petersburg and one of the most prominent political figures in the 1990s. In 2018, Ksenia even wrote a script for a documentary biographical film about her father, which was called "The Sobchak Case". Anatoly Sobchak influenced the life of his daughter, but Ksenia did not always obey him. For example, despite the fact that her father insisted that the future TV star follow in his footsteps and receive a law degree, the TV presenter decided to enter the Faculty of Political Science at MGIMO.
Recall that Ksenia Sobchak gave birth to a son, Plato in November 2016, married to actor Maxim Vitorgan. Sobchak and Vitorgan secretly got married in 2013. However, their marriage lasted just over five years. At the beginning of 2019, Ksenia and Maxim officially announced their divorce. Plato lives with Sobchak most of the time, but he often sees his father. Ksenia and Maxim Vitorgan continue to maintain communication, the TV star did not even begin to file for alimony, since the actor consistently allocates part of his income to his son.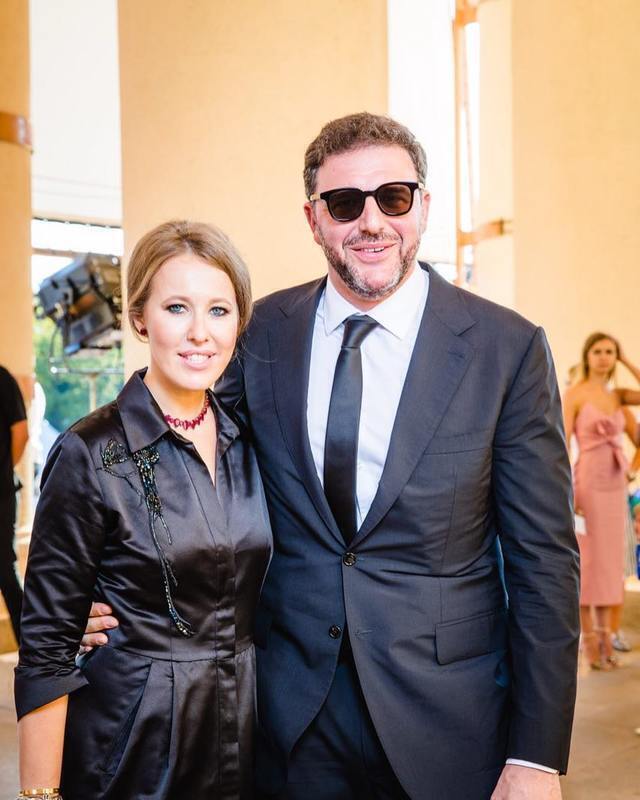 Ksenia Sobchak and Maxim Vitorgan
After a divorce from Vitorgan, Ksenia was not left alone for long. Even before the official separation from her husband, Sobchak was suspected of having an affair with director Konstantin Bogomolov. I must say that Maxim and Ksenia themselves fueled these rumors. So, the journalists managed to find out that Vitorgan, who was then still jealous of his wife for Bogomolov, started a fight. A day after the incident, Konstantin complained that his skull bones were displaced and his nose was broken, while not pointing out his abuser. However, both Bogomolov and Sobchak hinted at Vitorgan in every possible way. However, Maxim himself in October last year denied the story of a fight in a cafe.
Ksenia Sobchak stopped hiding her relationship with Konstantin Bogomolov after the official parting with Vitorgan. On September 13, 2019, the journalist and director signed at the Griboyedov registry office, after which they got married in the Church of the Ascension of the Lord in the Watchmen. On the same day, the newlyweds played a magnificent wedding, which is still remembered today.
Ksenia Sobchak and Konstantin Bogomolov
Maxim Vitorgan was also able to arrange a personal life after a divorce from Ksenia Sobchak. Now he is in a relationship with actress Nino Ninidze. The couple started dating last summer. It is noteworthy that Ksenia has repeatedly spoken out about the new passion of the father of her only child. According to the journalist, Vitorgan has become more proactive in relations with Ninidze, and in general, the actress has a positive effect on him.
Read also:
Ksenia Sobchak made a parody of the video in which Olga Buzova announces her breakup with David Manukyan
Ksenia Borodina said that she did not want to participate in the Ksenia Sobchak show "Beware, Sobchak!"
Olga Buzova said that during a serious crisis in her life, psychologists did not help her cope with problems
Article Categories:
Show Business