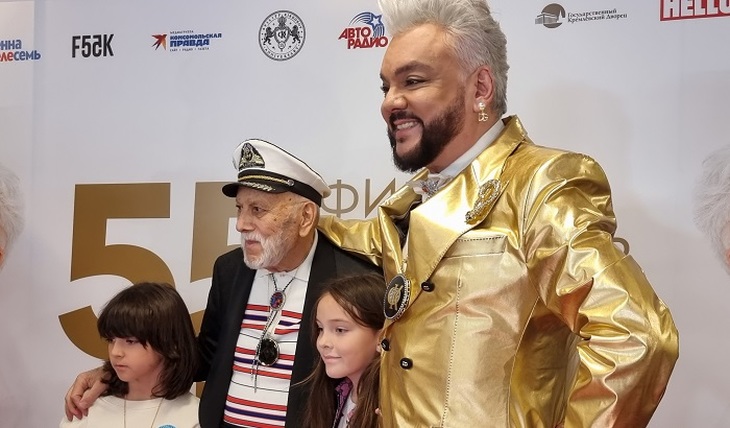 This year is a triple anniversary for Philip Kirkorov: the artist himself turned 55, his daughter Alla Victoria – 10. Well, recently Bedros Kirkorov also celebrated his 90th birthday.
– Bedros was very pleased that Philip gathered his friends, dressed everyone in vests with a portrait of his father and personally entertained the guests. The event took place in a very expensive restaurant, the menu was selected based on the preferences of the hero of the day, Armenian and Italian songs sounded, – told us a family friend Alexander Matveev, who has long been ironically called "Philip's younger brother" in the party.
– The date is very serious, that's why I want everything to be on a large scale, as I like. As for the festive concert with the participation of Bedros' star friends, we will postpone it to the fall, I think, – added Philip Kirkorov himself. It's just that dad recently got seriously ill, and for now he needs to take care of his voice, ligaments, and lungs. And yes, there is no need to worry.
Recall that in October 2020, Philip's father contracted the coronavirus and ended up in intensive care. There, he was diagnosed with a heart rhythm disorder, the doctors seriously feared for the life of the singer. At the same time, Kirkorov Jr. suffered covid asymptomatically. And in April 2022, just before the anniversary of the famous son, Bedros again thundered into a hospital bed – due to heart problems, he ended up in the intensive care unit of the 3rd Vishnevsky Central Military Clinical Hospital. The elder Kirkorov was diagnosed with chronic heart failure. But he still managed to come to his son's anniversary concert in the Kremlin.
"For me, the biggest wish on my birthday is dad's health, let his earthly days last as long as possible," Philip Kirkorov said then.
Philip Grishin,
Andrey Knyazev.
Photo by F. Grishin.
Article Categories:
Show Business