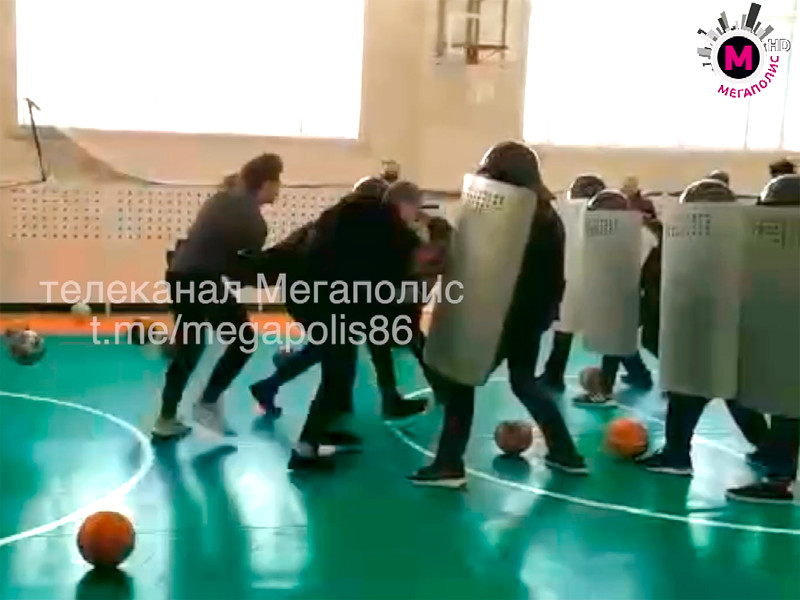 TV channel Megapolis / VKontakte
In Nizhnevartovsk, Khanty-Mansiysk Autonomous Okrug, Interior Ministry officers were punished for playing with schoolchildren, during which they imitated a clash between the National Guard OMON and protesters. This was reported on the website of the Ministry of Internal Affairs of Russia.
The department limited itself to disciplinary sanctions. The head of the Russian MIA Administration for the Khanty-Mansi Autonomous Okrug, Police Colonel Damir Satretdinov, received a warning about incomplete official compliance. Similar warnings were also issued to the head of the department for work with the personnel of the regional Ministry of Internal Affairs, Sergei Seleznev, and the head of the information department of the information support department of the headquarters of the Ministry of Internal Affairs in Nizhnevartovsk, Sergei Usenko.
Earlier, a video was posted on the Internet filmed in the gym of school N 42 in Nizhnevartovsk. The footage shows a group of schoolchildren throwing volleyball and basketball balls at several people in police helmets that are covered with shields. The balls were also thrown by a man in police uniform. He stepped forward and imitated striking with his hands. At that moment, several schoolchildren, playing the role of riot police, ran out from behind the shields, grabbed the "aggressive" man by the arms and legs and carried him away by a line of "policemen" in helmets.
On the website of the regional department of the Ministry of Internal Affairs, it was explained that a "lesson in courage" was being held at school No. 42. "The schoolchildren were told about the exploits of the police, about what qualities the law enforcement officers should have in order to serve. In the gym, the children were shown shields, clubs. was not, it has nothing to do with the rallies, "said a police spokesman.
The press service of the city administration of the Ministry of Internal Affairs explained that the gym was "a career guidance event with a patriotic bias without any political overtones."
The school administration noted that the children were satisfied. "It was very gratifying to observe how children show interest in the event, willingly participate in all the proposed actions," said the school director Galina Gasimova.
Article Categories:
Politics