13:39, 12/30/2020
According to the TV presenter, Sasha must determine for himself whether he likes to be in the spotlight.
The only son of 48-year-old Andrei Malakhov Sasha was born on November 17, 2017 in the marriage of a TV presenter with Natalia Shkuleva. According to the star couple, the boy was born weighing four kilograms and 54 centimeters tall. However, over the past three years, Malakhov and his wife have rarely shared information about their son. It is still unknown what Alexander looks like – there is not a single photo of him on the Internet.
As Andrei Malakhov explained, he deliberately does not show Sasha, since he does not consider it necessary to make him a public person. "What will change in people when they see my son? Or should you open Instagram for him and make money on it? "Here Sasha sits, eats this, and here he is dressed in this, and these are my breakfasts, and these are my dinners" … Who cares? " – Andrey told in an interview on the YouTube show "Alena, damn it!"…
Andrey Malakhov in an interview with Alena Zhigalova spoke about his son
Malakhov noted that he had no plans to hide his son all his life. According to the star, the time will come when Sasha will decide for himself whether he likes to be in front of everyone. "When he realizes who his dad is, who his mom is, what they do in reality, when he realizes how much attention there is to the family – I think he must decide for himself. I think this opinion of the child should be asked. Here "the most beautiful girl on Instagram" is different, she likes to be photographed, and the boy must be asked before turning his life into social networks and starting to make money on it, "the TV presenter emphasized.
As Andrei said, three-year-old Sasha is very funny and has a good sense of humor. The Live TV presenter described the recent New Year's tree, which his son attended for the first time, immediately expressing a desire to speak. "We were at the" antique "tree: five children, masked parents. We were not going to go there, but Sasha is three years old, he already understands who Santa Claus and Snegurochka are. How to leave a child without a New Year? But we didn't even prepare. Sasha volunteered to sing…. And he went out and began: "We are not stokers, we are not carpenters …", and performed the first verse of this beautiful composition. I do not know why, but his love for the construction professions and working people is peculiar. He knows all the builders in the yard, all the janitors, what are their names. I'm all for it, "- Malakhov laughed.
Natalia Shkuleva and Andrey Malakhov
By the way, sometimes friends and acquaintances of Malakhov and Shkuleva talked about their child. For example, in February of this year, composer Igor Nikolaev shared that the TV presenter and his wife had already sent Sasha, two at that time, to a music school. And last year, Andrei himself boasted of his son's artistic talents, whose works were demonstrated at an exhibition of children's drawings.
Recall that Andrei Malakhov married Natalya Shkuleva in 2011. They organized a lavish wedding at the Palace of Versailles in Paris. For six years, their marriage was childless. After the birth of the long-awaited first child, the couple did not give him a name for some time. On November 20, 2017, Andrei Malakhov announced a popular vote in the Live Show, giving the public two options to choose from: Nikolai and Alexander. 75% of viewers voted for the middle name.
By the way, due to the closeness of the personal life of Malakhov and Shkuleva, rumors of their divorce periodically appear. Today Andrei denied speculation about discord in his family. "These stories appear every six months. I don't iron out personal stories, or I rarely post. If you need a signal to calm everyone down, then everything is fine with us, we are not getting a divorce, we are raising a son and we will celebrate the New Year under the Christmas tree together, dance in circles and consider gifts, "summed up Andrey Malakhov.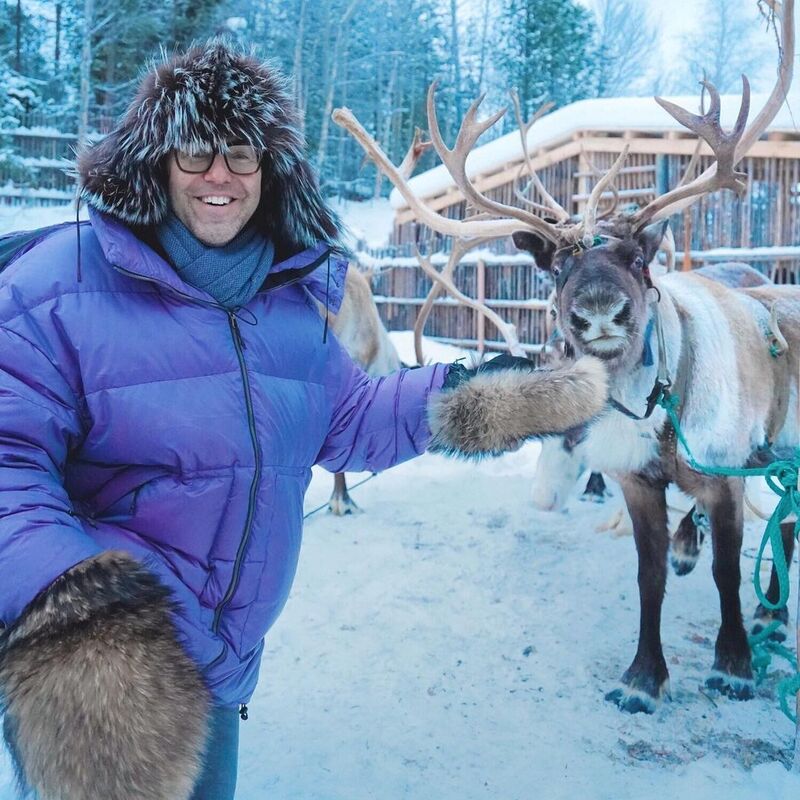 Andrey Malakhov told how he will celebrate this New Year
Read also:
Andrey Malakhov starred in the 2nd season of the comedy series "Plague!"
Andrei Malakhov showed his double, who will be the co-host of the showman in the "Blue Light"
It became known that Boris Korchevnikov gave the place of the host of the talk show "Live" to Andrey Malakhov due to hearing problems
Article Categories:
Show Business