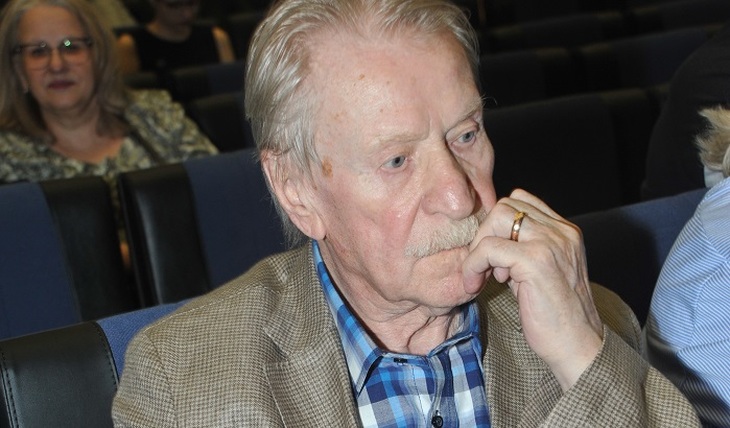 The 91-year-old actor excitedly uttered these words at a creative meeting held in Gatchina at the Literature and Cinema Film Festival.
The meeting was dedicated to the film "72 meters" by Vladimir Khotinenko, in which the son of Ivan Ivanovich, Andrei Krasko, starred. Ivan Krasko told how he discouraged his son from acting in this picture, because before filming he felt bad, his heart ached badly.
– But he had a fatal heart attack later, on the set of the series "Liquidation", – Ivan Ivanovich recalled. After the end of the meeting, there were many who wanted to be photographed with the actor. One of the Gatchina residents, coming close to Krasko, asked if he remembered their meeting four years ago. Ivan Ivanovich carefully looked into the face of the speaker and said: "I was almost blind, but I did not lose my memory and did not lose my mind, so I remember you and your voice well. But what you said – I forgot. "
Krasko also shared his resentment – the 23-year-old grandson, the middle son of Andrei Krasko, stopped communicating with him. And this is despite the fact that Ivan Ivanovich gave his son's apartment in St. Petersburg to him and his mother Margarita Zvonareva, giving up his share in the inheritance. By the way, neither the grandson, nor the grown-up sons, who are 20 years old (from the actor's third marriage with Natalia Vyal), did not visit Ivan Krasko in the hospital, where he ended up in early September.
"I'm not offended by anyone, but I would like to see my relatives more often," the elderly actor admitted. – Soon, after all, I can finally go blind, and my age is such that anything can happen.
Andrey Knyazev.
Photo: B. Kremer
Article Categories:
Show Business