05:49, 09/15/2020
The viewers of the scandalous television project advised the girl "never to smile with such crooked teeth."
In April this year, it became known that 22-year-old participant of the reality show "Dom-2" Irina Penguinova is expecting a baby. The father of the future baby was her beloved Dmitry Chaikov. For a couple of newborns, the baby will be the firstborn. Nevertheless, in the relationship of lovers in recent months, everything has been very unstable. Their wedding was postponed indefinitely for objective reasons: in the summer, Irina and Dmitry stayed at the show site in the Seychelles and could not fly to Moscow due to the coronavirus pandemic. After another scandal, Irina even started talking about parting with her fiancé, but soon the future parents went to reconciliation.
Irina Penguinova and Dmitry Chaikov
In early September, Irina said that she had marked the next stage of pregnancy - the beginning of the third trimester. The reality TV star shared that she gained 16 kilograms of weight - with her fragile figure, this is a lot. She complained that it was already becoming difficult for her to move, and the third trimester was not as problem-free as it is believed among pregnant women.
On the eve of Irina Penguinova, in her microblog on Instagram, she speculated about her own appearance and its features. So, the girl said that before joining the TV set she had never been complex about how she looked and always considered herself quite pretty. But everything changed when she became a participant in reality - such a flurry of criticism fell on Irina, for which she was not ready.
Irina Penguinova was criticized for allegedly crooked teeth
"Arriving at house 2, the participants begin to go up and down the Internet. Now I rarely see angry messages where they write something bad to me about my appearance. But before, they often tried to hurt me. The most basic thing was: "Do rhinoplasty, what's wrong with your nose?" - I personally still don't understand, I have a completely normal nose. "Crooked-toothed, you better not smile" is generally a widespread hate in my direction, but before the project, I did not notice any particular problems at all ", - said the participant of the reality in her publication (the spelling and punctuation of the author are given here and below without changes. - Prim. line.).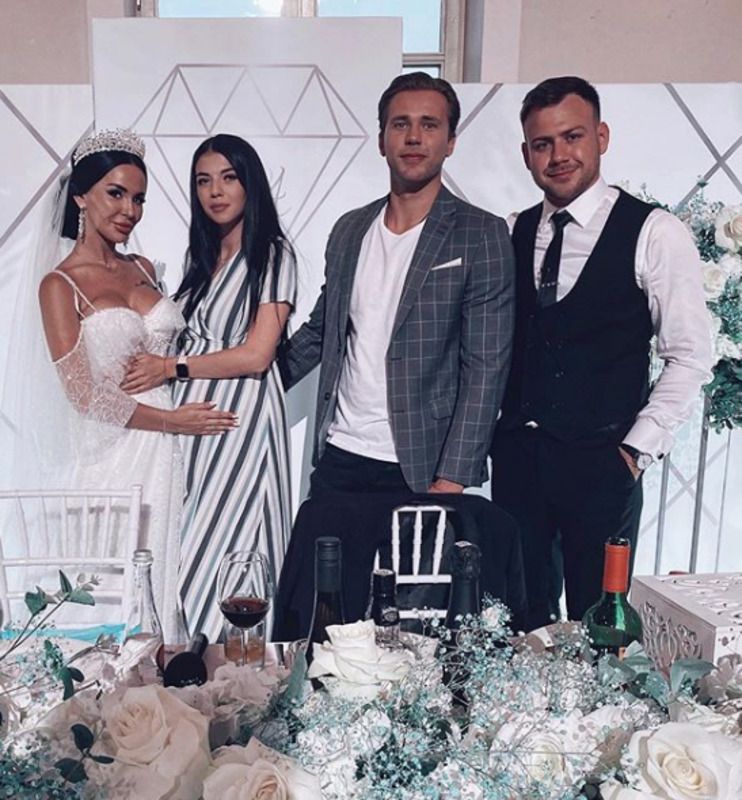 Irina Penguinova and Dmitry Chaikov at the wedding of the Blumenkrants couple
Nevertheless, Irina listened to the criticism and began to transform, for example, her smile. Dentists have developed a rather complex and long-term bite correction plan for the girl, which she plans to do after giving birth. "But then I decided to start fixing it, put it off and continue to save the required amount, because creating a dream smile costs a lot of money in our city. Therefore, yes, after giving birth I will correct my smile, first there will be treatment, removal of wisdom teeth, wearing braces (probably 2 years for sure), and then restoration of teeth, possibly Veneers, "Penguinova listed.
Irina Penguinova
In addition, Irina noted that she received other comments, but she does not want to adjust to someone and lose her individuality. The reality star emphasized that now her beauty is natural and natural - the girl never injected herself with fillers and did not use the services of plastic surgeons.
Read also:
The pregnant star of "House-2" Irina Pingvinova said that she gained 16 kilograms
The pregnant star of "House-2" Irina Penguinova complained that it was hard to bear separation from her fiance Dmitry Chaikov
Pregnant star of "House-2" Irina Penguinova returned to Moscow from the Seychelles
Article Categories:
Show Business