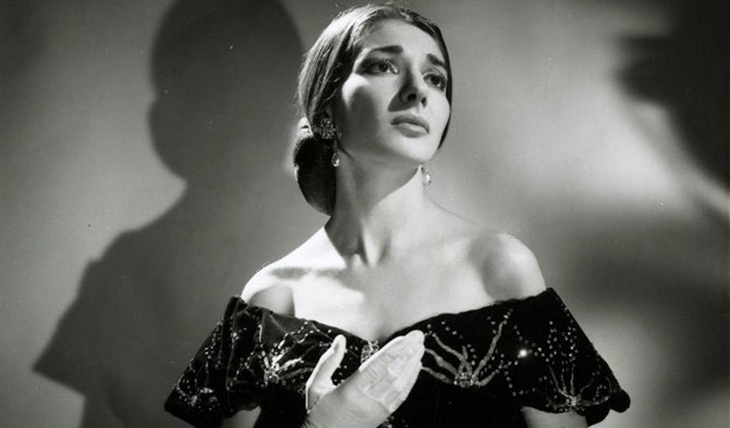 Greek woman Maria Callas is called the greatest soprano opera singer in history, films and plays were made about her.
She was played by the stars of European cinema Fanny Ardant and Monica Bellucci. Almost 30 biographical books have been written about her. About her talent, she herself spoke with delight that the hand of God touched her.
CRUEL GAMES
But in the new biography of Callas, its author Lindsay Spence writes about something completely different. About what tests fell to the lot of the divine soprano as a woman. All the men around the singer not only used her, but almost deliberately mocked the unfortunate woman and betrayed her. "Maria became a victim of circumstances," states the biographer in The Hidden Life of Maria Callas.
The letters she exchanged with her husband and agent Giovanni Battista Meneghini show how much she was subordinate to him and how obedient, which does not at all fit with the image of the wayward opera diva. But it is precisely such malleable, sacrificial personalities that attract dangerous monsters to themselves.
In the first place among those who broke the singer's life is her lover, the Greek tycoon Aristotle Onassis. He enjoyed the feeling of his power over her, arranging psychological and physical torture for the prima donna. And then he left Maria, preferring to her the widow of the assassinated President John F. Kennedy, Jacqueline, whom he married in 1968.
By examining the archive of Callas' letters, Spence determined that Onassis had used the powerful sedative hypnotic methaqualone. This depressant was destroying the singer's body. The Greek added to it the barbiturate Nembutal, which is used for anesthesia. These drugs deprived her of any will, she fell into a semi-conscious state and was under the complete control of Onassis.
Unsurprisingly, Callas developed mental health problems undermined by powerful drugs. She became even more desperate when she learned that Onassis was using the services of the famous owner of an elite Parisian brothel, Madame Claude. "The best girl is the one you will never see again," used to say Onassis, who equipped a special room in his Parisian apartment, decorated as a brothel, where he received girls from Madame Claude.
Onassis behaved ugly, was ugly and rude, but possessed the magnetism that attracted Callas to him. For his sake, she sat down on a diet that killed her, in order to better correspond to the ideal of Onassis. Soon she became pregnant, but there was a miscarriage. At this time, Callas was still Meneghini's wife, and he threatened to take her child from Onassis. Then a new pregnancy followed, ending in an abortion …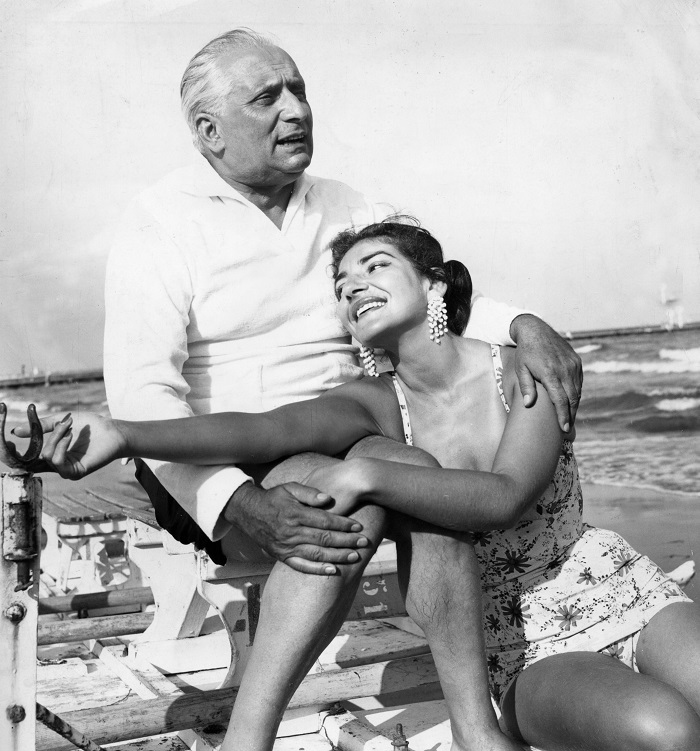 Callas with her husband
SHE LOOKED FOR LOVE
Callas was born into a family of poor Greek immigrants in New York. By the age of ten, at the insistence of her mother, she sang an aria from Carmen for the guests. In 1937, the mother took her two daughters and returned to Athens. And during the war years, to support the family, the mother was engaged in prostitution. Italian and German soldiers became her clientele, and she sent her daughters to serve the occupiers.
But Maria managed to earn money by singing for the soldiers. At the age of 13, she began to receive a musical education, but she never forgave her mother. In 1945, Maria returned to America to live with her father and, thanks to her incredible talent, managed to get a job at the prestigious Metropolitan Opera. The envious and disgraced mother tried to take revenge on her daughter and spread all sorts of dirty tales about her to the press, threatened to commit suicide, blackmailing Maria.
The father was no better. He tried to live off his daughter, extorting money from her, and for this he once pretended to be dying. Callas was looking for love all the time, which her parents had cheated her on. She admitted that those who show kindness to her can get anything in return. Maria pinned great hopes on marriage with Meneghini, who in other biographies appears as a devoted, loving husband. In fact, he was as ruthless a predator as the rest of Callas' men …
At 23, Callas was so poor that she could not buy herself even the most modest coat, and it was then that she met Giovanni Battista at the Verona Opera Festival, who was looking for pretty singers. He was 27 years older than her. By marrying her, Meneghini began to exploit her talent, although Callas wanted to leave the stage and have a child. But first of all, he was her agent, and then her husband and forced her to continue working.
He sent most of the money she earned to his account in a Swiss bank to pay off large debts. After learning how her husband had disposed of her money, she contemptuously called him a pimp.
"My husband continues to pester me," she complained in a letter to a friend. – And this after he stole half of my money and transferred it to his account. I, like a fool, trusted him. "
In addition, the husband got himself young lovers – soprano singers at the age of 19-20. Therefore, Spence is not surprised that Callas cheated on him with Onassis, whom she met at a ball in 1957. He sent her huge bouquets of flowers with a note "From another Greek." Callas admitted that she was glad of the attention shown to her from this strangely attractive person.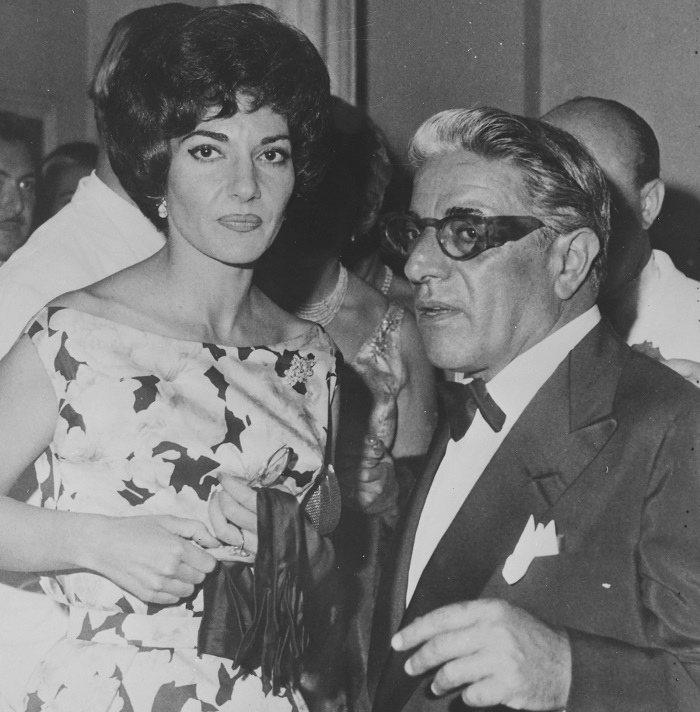 Maria and Onassis
NEW YORK KILLER DOCTOR
In 1958, Callas and Meneghini joined Sir Winston Churchill and his family on a three-week cruise on Onassis's yacht. Maria, despite the presence of her husband, became even closer to Onassis.
On the yacht, Maria spooned ice cream to the former Prime Minister of Great Britain. She wrote to friends: "I like traveling with Winston Churchill, it takes off some of the burden of my popularity."
Spence writes about the relationship between Onassis and Callas: "People think it was a great love story, but it hit Callas so hard that it almost killed her." After his usual perverse love affairs, Onassis presented Callas with diamonds. She had to come to terms with this side of his character. She did everything he wanted, went with him to the stripper show, and when she went to bed, she put on only jewelry at his request.
In New York, even before the connection with Onassis, Callas visited the then famous Dr. Max Jacobson. He "treated" his patients with "vitamin" injections to improve their mood and performance. But instead of vitamins, Jacobson injected amphetamines and methamphetamines, which quickly caused drug addiction. That is why the doctor had no end to his patients: those who came to see him no longer wanted to part with him and recommended the "wonderful" doctor to their friends.
By the time Onassis left Callas and married Jackie Kennedy, his relationship with Maria had reached a painful breakup. Once he hit her in the face in front of the horrified guests. At the same time, Onassis shouted: "You are only good for bed! And I'm not so good at it anymore. " But less than a month after the wedding, Aristotle again began to beg Callas to meet. She agreed after he threatened to crash a Rolls Royce into the gates of her estate.
But it didn't work out in the old way. When he undressed and climbed into bed, she found the strength to resist and threw him out of the house. Having got rid of Onassis, she fell in love with tenor Giuseppe Di Stefano, with whom she sang together. But she had to share Di Stefano with his family. It was an absolutely hopeless and painful final novel by the great singer.
She gradually began to lose her voice, moved to a Paris apartment, became addicted to sleeping pills, watched TV all day and ate ice cream with her sister Jackie. Callas languished from loneliness and the absence of a loved one next to her. The chanting ended, and she had nothing else left. Maria suffered from an inflammatory condition affecting the central nervous system and causing muscle weakness. She died in 1977 at the age of 53 from a heart attack. The disease was diagnosed too late. Spence believes that with the right treatment, she would not become addicted to sleeping pills, lose her voice and die so early.
"Her life was filled with tragedies. Offstage, she was an eternal victim, "concludes Spence. All other biographers of the great singer tried not to notice this.
Nikolay Ivanov.
Photo: ALAMY / TASS,
TOP PHOTO / PHOTO VERDICT.
Article Categories:
Interesting