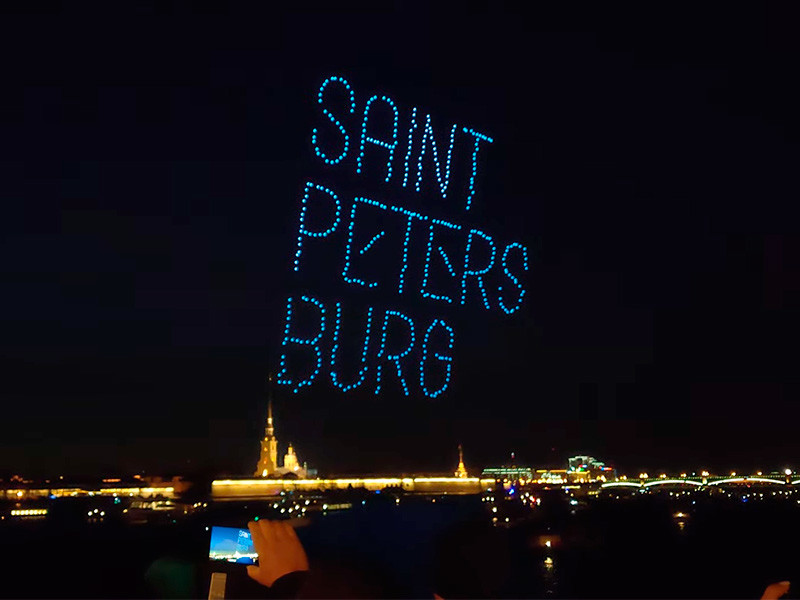 Virusmix / YouTube
On the evening of May 2, a drone show announced by the city authorities and actively promoted in the media took place in St. Petersburg. The event, timed to coincide with the opening of the tourist season, drew crowds of spectators, although the city still has a ban on mass events imposed by the coronavirus pandemic.
As writes TJ, the authorities did not say exactly what time the drone show would begin over the Neva. The townspeople were mainly guided by unofficial sources such as publications on social networks, where it was said that the show would start at 22:30.
Contrary to expectations, the show started a few minutes earlier and lasted about 5 minutes, which surprised many viewers who expected the event to be long. People continued to go to the water area of ​​the Neva even after the end of the drone show: obviously, many did not know that it had already come to an end. As a result, the crowd, according to eyewitnesses, filled the Palace Embankment, including the roadway.
In the center of St. Petersburg, thousands of people gathered for the drone show last night, despite the pandemic.

Many tried to take a seat near the waterfront, not knowing that the show had started earlier than planned and had already come to an end. And the police did not cope with the flow https://t.co/yHOXtIMQfq pic.twitter.com/IvS4aqa4rp

– TJ (@tjournal) May 3, 2021
As the edition writes "Business Petersburg"During the show, the drones made glowing silhouettes of an angel in the sky from the spire of the Peter and Paul Fortress, Palace Bridge, the Bronze Horseman, Lakhta Center and Alexander Nevsky.
Photos from yesterday's drone show

It is believed that the organizers screwed up when they started the eight-minute show 10 minutes earlier than the scheduled time.
Did you make it to the show? How did you get home through the center that had risen?

Photo: Reporter's Notes pic.twitter.com/G82z4owSyB

– Wild Petersburg (@Wild_SPb) May 3, 2021
The technical organization of the event was carried out by the Geoscan company. In response to outraged comments from users on Instagram at the company reportedthat the drones were launched earlier than expected on command from above.
"Our task is to launch the drones on the signal. Why the go-ahead was given before the designated time is for us the same mystery as for all those who did not make it to the show. We apologize if someone was offended," wrote a company representative.
Article Categories:
Politics