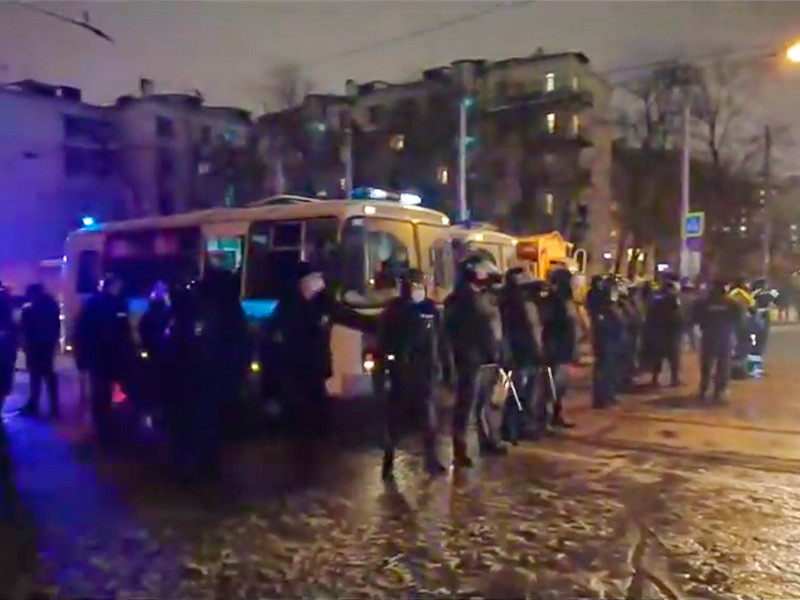 Photo: Navalny's headquarters in Moscow / YouTube.com
In Moscow, near the Matrosskaya Tishina pre-trial detention center, where the arrested opposition politician Alexei Navalny is kept, on Saturday evening, security officials detained dozens of protesters. A smoke bomb was thrown at the police, TASS reports.
The rally in support of Navalny began in the afternoon on Pushkinskaya Square in Moscow, but later many of its participants went through Strastnoy and Tsvetnoy Boulevards and reached the Matrosskaya Tishina detention center. On the way to the pre-trial detention center, people blocked the Garden Ring for a few minutes, crossing the road in the area of ​​house No. 7 on Zemlyanoy Val.
The police blocked the streets adjacent to "Matrosskaya Tishina" with equipment, including Bolshoi Matrossky and Stromynsky lanes.
Near the pre-trial detention center, protesters began throwing snowballs at the security forces, and also threw a smoke bomb at them. The result was a smokescreen.
Law enforcement officers began to massively detain the protesters and push them away from the intersection of Matrosskaya Tishina Street with 1st Boevskaya Street and Bolshoy Matrosskiy Lane. All neighboring streets were blocked.
"One of the main security officials at Matrosskaya Tishina gave his subordinates a verbal order:" *** (Beat) everyone in a row. "Avtozak Life writes about this.
This was confirmed by one of the eyewitnesses of what is happening. They even "arrested" those who just walked by, and some man, next to the SIZO "Matrosskaya Tishina", was seized and dragged to the AvtoVAZ (apparently, a paddy wagon – Approx. NEWSru.com) after he asked what was happening. But the very juice is that these defenders could just start beating, "- says in message…
There are many young people among the protesters, including girls. "It's time to change something in our country," said one of them. "I am 24 years old and I haven't seen a country other than Putin's. I want changes." When asked if she was afraid to go out to protest, the girl added: "Of course it's scary. But living like that is even more terrible."
At nine o'clock in the evening, only journalists remained at Matrosskaya Tishina. But then a couple of dozen more young people arrived there, after the policemen had "cleared" the territory. "They stood in a chain and chant slogans," Mediazona said.
Navalny began to disperse the convoy approaching the Matrosskaya Tishina remand prison. Protesters are forcibly arrested … ???????? ✊ #FreedomNavalny https://t.co/cfM7wvoe5q

– O_taij (@O_taij) January 23, 2021
Security officials at Matrosskaya Tishina catch up with the protesters and beat them with truncheons

Video: "Mediazona" https://t.co/BzhRO8DMKM pic.twitter.com/ycbL8zGaN2

– Mediazona (@mediazzzona) January 23, 2021
The Main Directorate of the Ministry of Internal Affairs in Moscow previously reported that about 4 thousand people became participants in the unauthorized action.
Similar actions are taking place in other cities throughout Russia. The number of detainees across the country increased by 21: 015 to 2432 people, OVD-Info reports. Of these, about 900 are in Moscow, more than 300 are in St. Petersburg.
Article Categories:
Politics