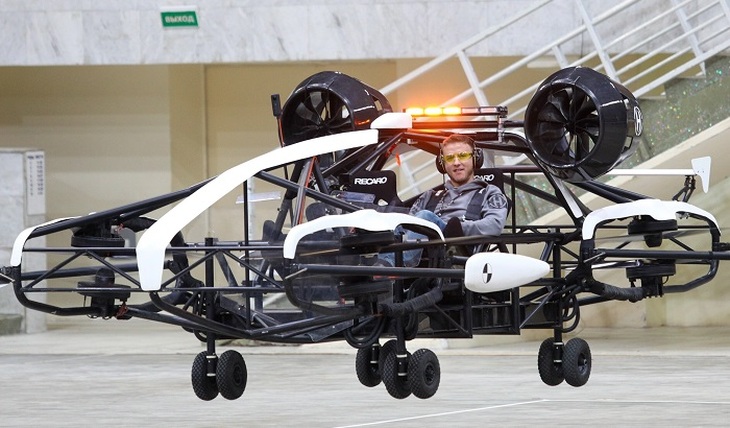 The DeLorean, the flying car from Back to the Future, is about to become as familiar as a regular car.
The development of flying cars and bikes is carried out simultaneously by many startups around the world. On the Web, you can find videos of testing a hoverbike at a stadium in Tokyo and a flying car in Dubai. There are some in Russia too. Together with the Moscow Aviation Institute, the Russian startup Hover has begun the process of certifying an unmanned air taxi. The first commercial flights are scheduled for 2025.
The flying car has been developed in Russia since 2019. Basically, it's a drone. Double apparatus rises to 150 meters in height. It takes off vertically, lands in the same way – it does not need a runway. The maximum speed of the Russian air taxi is 200 km per hour, the battery lasts for 40 minutes. One inconvenience is external control. And many passengers will probably want to drive a flying car on their own. Now Hover is working on a new version of the air taxi with improved flight safety parameters.
In Primorye, they are also going to launch an air taxi drone to carry passengers from the center of Vladivostok to the city airport. But the launch may slow down the lack of money to implement this beautiful idea.
But in the Emirates there are no problems with money. The first unmanned flying taxi Volocopter 2X has been successfully tested in Dubai. The test drive was attended by the crown prince of the largest city of the United Arab Emirates, Sheikh Hamdan bin Mohammed bin Rashid Al Maktoum. He was pleased with the test results and called the new technologies a "bridge to the future."
The Emirates Air Taxi is equipped with additional emergency parachutes, nine autonomous battery systems and a fast battery charging system. Engineers are particularly proud of the "highest safety standards". This flying unmanned taxi is also a large two-seat drone.
In the next five years, the Emirates government intends to introduce flying taxis into Dubai's civil aviation administration system. It is planned that this city will be the first in the world to launch an air taxi service. Unless, of course, Moscow with its startup does not get ahead of him.
Olga Poplavskaya.
K. Zykov/Moskva Agency.
Article Categories:
Economy