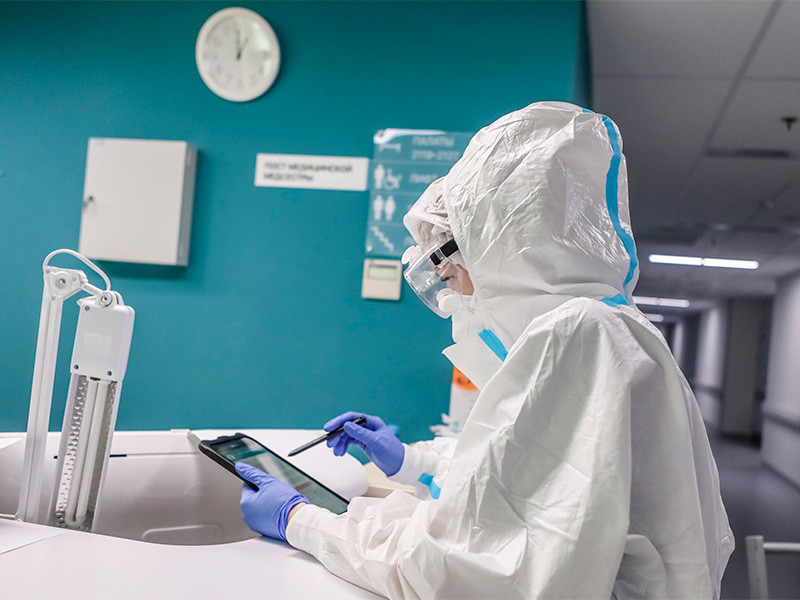 AGN Moscow / Sofia Sandurskaya
For the first time since November 18, the number of new cases detected was below 23 thousand, amounting to 22 851, Interfax reports. In Moscow, 4,216 new cases of COVID-19 were detected per day, 77 deaths were recorded and 7,045 recovered.
Over the week, the number of confirmed cases of coronavirus infection in Russia increased by 165 167 days, which was the lowest since mid-November. The number of detected cases was immediately 11.5% less than last week, when it became known about 186,539 infected.
Fewer cases per week were detected in mid-November: from 16 to 22 November, the headquarters reported 163,504 new cases.
The total number of infected has reached 3,401,954, the coronavirus operational headquarters told reporters on Sunday. In relative terms, the growth, according to the headquarters, does not exceed 0.7% for two days.
The number of deaths due to coronavirus in Russia per day increased by 456 against 470 the day before. A total of 61,837 patients died from the infection.
The number of Russians who recovered from the coronavirus increased by 24,080 per day. A total of 2,778,889 people have already recovered. The number of discharged patients per day, according to the headquarters, exceeds the number of new infections for two days in a row. The proportion of those who recovered rose to 81.7% of the total number of those infected.
The conditional mortality of the disease (the final one can be determined only after the end of the epidemic) remained at the level of 1.82%, follows from the data of the headquarters.
According to the operational headquarters, another 3,010 new cases of COVID-19 were recorded in St. Petersburg, 1,292 – in the Moscow region, 472 – in the Nizhny Novgorod region, 390 – in the Voronezh region, 389 – in the Rostov region, 387 – in the Sverdlovsk region. 318 – in the Krasnoyarsk region, 304 – in the Vologda region, 297 – in the Khabarovsk region, 294 – in the Chelyabinsk region, 290 – in the Perm region.
Another 281 cases were detected in Karelia, 280 – in the Samara region, 261 – in the Irkutsk and Volgograd regions, 253 – in the Saratov region, 247 – in the Omsk region, 246 – in the Ulyanovsk region, 242 – in the Stavropol region, 241 – in the Arkhangelsk regions, 236 – in the Murmansk region, 234 – in the Primorsky Territory, 232 – in the Trans-Baikal Territory, 231 – in the Kirov Region, 228 – in the Komi.
Also, 224 cases were registered in the Tver region, 216 – in the Leningrad region, 213 – in the Crimea, 205 – in the Pskov region, 201 – in the Tula region. In other regions of Russia, the daily increase does not exceed 200.
Article Categories:
Politics