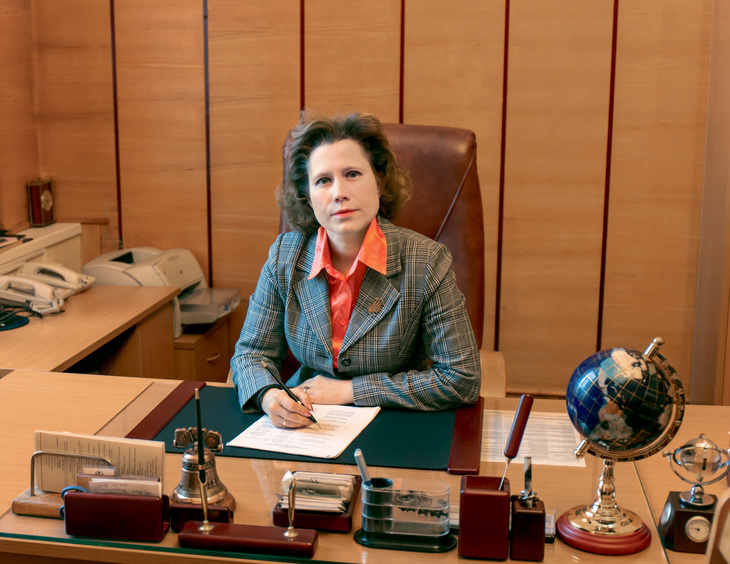 Today, primarily due to the pandemic, such areas of medical science as virology and immunology have become widely known. What kind of scientists are studying these problems, what have they achieved, how did they go and go to their goal? These issues are discussed by Oksana SVITICH, Doctor of Medical Sciences, Professor, Corresponding Member of the Russian Academy of Sciences, Director of the N.V. Mechnikov, and the first deputy editor-in-chief of MN Andrey AVDONIN.
The main thing is to find out why!
– Oksana Anatolyevna, how did immunology become your vocation in life?
– I have been attracted by exact sciences since school. When I was 10-11 years old, my parents gave me a good microscope and I began to study with professional equipment not only flowers and insects, but also everything that my hands could reach. At the end of the school I got fired up with biology, I was not left with the questions "Why?" and "How does this all happen?" It was biological models that were of interest. I started early to go to all kinds of circles, additional classes in biological, chemical, information sciences. After that, the path to the Medical University at the Faculty of Medicine and Biology was predetermined for me. At the same time, thinking was far from medical perception.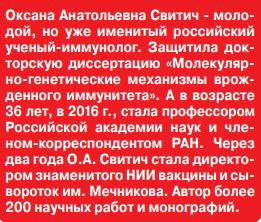 – What does it mean?
– The doctors are focused on the selection of therapy, the therapeutic effect, and I always had the same question "Why?" When you treat people, you use proven drugs and methods that already work. My interest was in the creation of new mechanisms and drugs, in the conduct of experiments and research. The experimental mind led me exceptional to model objects.
– And what do you think, is it good when people start to operate in medical terms, everyone fiddles with these antibodies, self-medicates?
– You know, the era of the Internet, on the one hand, is a blessing, because you can get any information, actively communicate. On the other hand, there is a lot of husk. And, being a layman, it is almost impossible to find the truth. If you look closely, specialist scientists are not often invited to television. For the show, the depth of knowledge is not critical. On the contrary …
– But back to immunology. Are there any interesting practical results in the part of this science that you studied?
– In recent years, immunology has been striding forward by leaps and bounds. We divide immunity at the present stage of development of science into adaptive (specific) and innate (less specific). The first, specific, finds a specific enemy and destroys him, which takes up the body's time and resources. These are exactly the antibodies that we often talk about today, cytotoxic T cells (cellular mechanisms).
But there are also mechanisms that work prior to this specific immunity. Previously, they were considered universal for everyone, called nonspecific. In the last century, they were studied in sufficient detail (reactions of phagocytosis, complement systems, etc.). They are no longer so interesting.
– And can the components of innate immunity begin to destroy the cells of the body, which for some reason suddenly seem unsuitable to them, alien?
– Components of innate immunity can participate in pathological processes, but "deliberately" against their own body – no. This is more characteristic of just specific immunity. But non-specific, he is like a policeman – he identifies inconsistencies in the body and eliminates them.
Viruses, for example, have adapted to these mechanisms and can "hide" from innate immunity. Then adaptive (specific) immunity comes into play, which works in a targeted manner, to a specific pathogen (in immunology, there is even the concept of "T-killers"). These cells undergo long-term training, and the result is a professional "killer".
But this system does fail. If this T-killer, when he is being taught, is initially given the wrong program, he will with the same persistence destroy the "enemy", which in fact is not. For example, autoimmune processes are known – this is when specific cells recognize our own cells as foreign. Such diseases are extremely serious and require long-term drug treatment.
Immunity must be "educated"
– They say there is immunity, which is present in newborns, but it disappears after a while. But animals are preserved, so they can eat everything dirty?
– Yes, in newborns in a few months, and in some in a year and a half, such immunity, which you are talking about, really disappears. This is due to the fact that the embryo communicates with the mother's body through the placenta and she protects it. Some of these components, the same antibodies, protect the newborn during feeding (not artificial!). As soon as – after a year and a half – breastfeeding stops, diseases immediately begin. In general, the adaptive immunity of the mother is transmitted with milk. As soon as it disappears, a great load immediately falls on the adaptive immunity of the child, and this takes some time.
Mammals, I think, have similar mechanisms. The only thing is that they face a lot of antigens. If we talk about evolutionarily earlier creatures, they are simpler. And we know: the more complex the machine is, the easier it is to break it.
– Street dogs that drink from puddles and eat poorly live much longer than indoor dogs. Do they have better immunity? Even people, excuse me, living in the forest, in the wild, their immunity is stronger, their health is better.
– Yes, of course, there are many unfavorable factors in the city. The ecology is better in the forest. It was noticed that our era of allergies and pathologies arose from the fact that children from the very birth are trying to protect them from everything, including antigens.
The idea is often promoted that everything should be sterile. But this is relevant only for babies with primary immunodeficiencies – they must be kept almost under a sterile dome for life. And if an ordinary child from childhood does not receive contact with antigens, this can lead to sad consequences. The immune system must somehow spur itself on, implement itself. She finds allergens, and the child, for example, grows up to be asthmatic, allergic. The same is roughly the case with pets. In fact, the immune system must be constantly kept in good shape.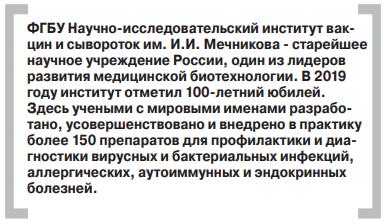 New drugs are around the corner
– Oksana Anatolyevna, what can your institute be proud of today with its centenary history?
"We are currently conducting a series of trials of modern and effective medicinal sprays. As you know, it is the form of aerosol, spray that protects best of all, it is dosed and delivers the drug well to the mucous membranes. We have a lot of developments in the field of influenza, this is an inexhaustible topic. We work with live vaccines. We are trying to do something of our own, innovative.
Now we are actively developing drugs that block the expression of cellular proteins and participate in viral reproduction. That is, when we know the reproduction cycle of a virus and understand how it assembles in a cell, we can block the components of the cell with which the virus interacts. Temporary blocking will lead to the fact that the virus will have nothing to contact and it will not be able to reproduce. After such exposure, the cells of the entrance gate of the infection are immune to the virus. And in parallel with this, our preparations strengthen the immune defense.
– And when will we receive the pharmaceutical forms of your developments?
– If there is government support, then in a year or so. Now we are negotiating with public and private structures on this matter.
Oksana Anatolyevna Svitich is a young but already eminent Russian immunologist. She defended her doctoral dissertation "Molecular genetic mechanisms of innate immunity". And at the age of 36, in 2016, she became a professor at the Russian Academy of Sciences and a corresponding member of the Russian Academy of Sciences. Two years later, O.A. Svitich became the director of the famous Research Institute of Vaccines and Serums. Mechnikov. Author of over 200 scientific papers and monographs.
FSBI Research Institute of Vaccines and Serums named after I.I. Mechnikov is the oldest scientific institution in Russia, one of the leaders in the development of medical biotechnology. In 2019, the institute celebrated its 100th anniversary. Here, world-famous scientists have developed, improved and introduced into practice more than 150 drugs for the prevention and diagnosis of viral and bacterial infections, allergic, autoimmune and endocrine diseases.
Article Categories:
Health