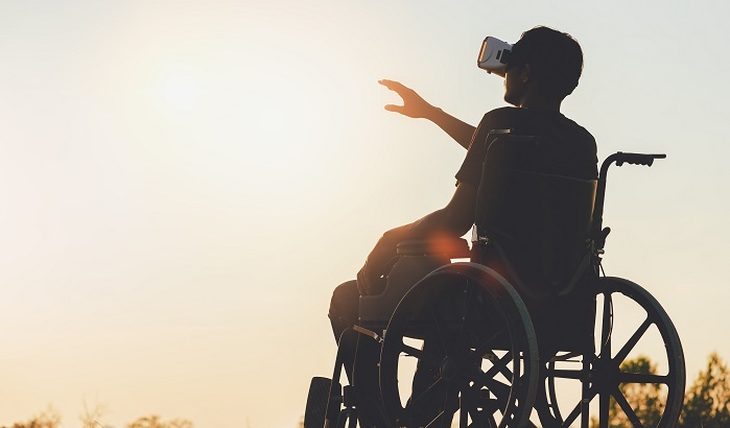 More than 400,000 Russians have a stroke every year. After a stroke, many people have difficulty talking and moving, or they cannot move at all on their own. An innovative development of Russian scientists from Tyumen is called upon to help restore lost functions.
Researchers at the Tyumen State Medical University put together a robotic exercise bike and virtual reality goggles. The co-authors of the development were a rehabilitation doctor, head of the neurological department of the primary vascular department of the regional hospital No. 23 in the city of Yalutorovsk Dmitry Plotnikov and a graduate of the Tyumen State Medical University Andrey Kopytov.
"The robot, independently of the patient, controls his legs, but the patient does not feel this, because the connection between the brain and limbs has been lost after a stroke. We are filling this gap with the help of the Neuro-VIAR.R.100 virtual reality program developed by us. Putting on VR glasses, a person sees a video as if he is riding a bicycle, and the resulting sensation of movement helps him restore neural connections, involve the spinal cord, and the peripheral nervous system, "explains the principle of the idea, Head of the Department of Medical Prevention and Rehabilitation of the Tyumen State Medical University, Professor Elena Turovinina.
The first patients who suffered a stroke have already experienced the innovative method that was offered to them right in the hospital, and after a course of video tutorials and forced torsion of a bicycle simulator, they were able to restore the sensitivity of their legs.
The uniqueness and success of the method of Tyumen doctors lies in the fact that patients should start exercising as soon as possible after the disease – on the third or fifth day of their stay in the hospital, which helps to recover faster.
So, a woman who was in the Yalutorovsk hospital with paresis (muscle weakness) of the lower extremities, after several days of rehabilitation using the new technique, quickly recovered – her legs returned to sensitivity. Doctors predict that soon it will be possible to talk about the complete restoration of the lost motor function.
The authors of the development claim that their method using the Neuro-VIAR.R.100 program can be widely used in medical institutions of the country. The point is small – to provide them with exercise bikes and VR glasses with a smart program.
Elena Khakimova.
Photo: ADOBE STOCK
Article Categories:
Interesting