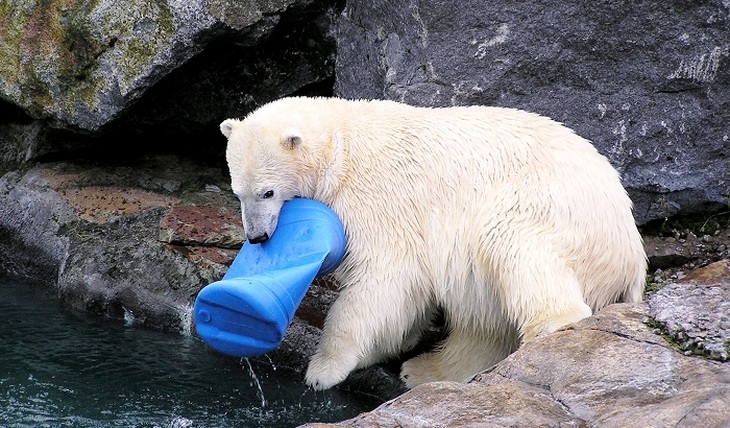 Increasingly, we hear how unreasonable children and even adults kill animals in zoos with dangerous toys or harmful food.
The beautiful polar bear Umka recently died at the Yekaterinburg zoo. The favorite of children and adults simply … swallowed a child's ball. Which of the visitors threw him out of his great mind remains to be found out from the recordings of surveillance cameras. The director of the zoo, Svetlana Prilepina, said: "This is just a tragedy, he could have lived for a long time and please us." But then she added ruefully that the staff still hadn't figured out ways to stop the well-wishers. Either they will give foil candies to monkeys, then these are toys. And, for example, recently a griffon vulture died in the Moscow Zoo – he suffocated because of a medical rubber glove thrown by visitors into the enclosure, having lived in the zoo for 27 years.
On the site of the Yekaterinburg zoo today, one cannot look without tears at a photograph depicting a rubber ball-killer – it was taken out of a bear's stomach during autopsy.
"Everything happened suddenly, so the autopsy was carried out immediately," the director sighs, telling reporters how the deceased's neighbor, the bear Aina, is grieving today. It is also a pity that Umka did not have time to leave offspring.
In all zoos, there are many warnings: "Do not feed the animals yourself, do not throw anything in the cages." But people who do not know how to turn on their brains and conscience do not react to warnings.
By the way, this is how three squirrels died almost a year ago in the Forest Fairy Tale zoo. The reason is food poisoning, which was thrown into the cells by visitors. Before that, a deer was poisoned in the same place, a panther almost died.
"People think that a slice of apple or carrot, which seems to be thrown to a goat or a bear cub, is just a pleasant trifle for the animal. But this is not the case, and adults must understand the situation accurately. In animals, bloating, diarrhea may begin, gastrointestinal diseases and inflammation may develop rapidly. Then there are diabetes from overfeeding, chronic gastritis in bears and death, "commented veterinarian Zoya Malyakina.
Well, let's hope that zoo visitors finally get their head around. And tougher penalties for violating zoo rules will stop those who do not care.
Evgeny Alexandrov.
Photo: ADOBESTOCK
Article Categories:
Interesting