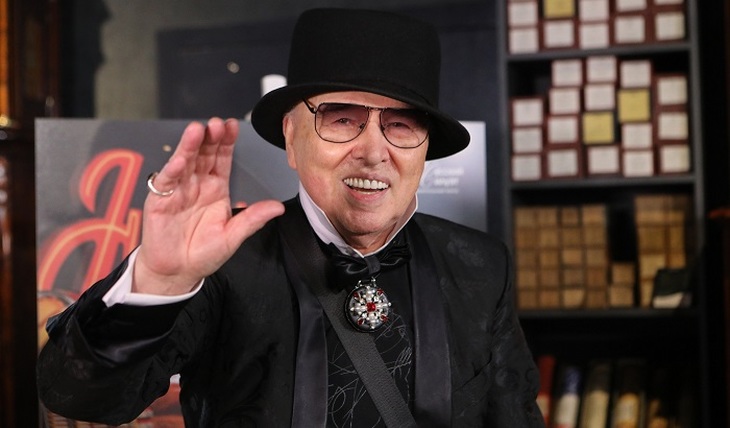 The head of the Investigative Committee, Alexander Bastrykin, ordered to carefully check the information that some citizens are manipulating the seriously ill couturier, hoping to take possession of his property.
Recently, a district police officer and prosecutors came to Vyacheslav Zaitsev's house. Now it has come down to the Investigative Committee. And all because the couturier has got "friends" – this is how people call themselves who have practically lived in Zaitsev's mansion for a long time. They shoot videos with his participation and post videos on the Internet, earning, most likely, from views and advertising. Moreover, it became known that the same people sell T-shirts under the Vyacheslav Zaitsev brand.
The designer himself has been suffering from progressive Parkinson's disease for many years. This ailment affects the central nervous system: a person loses the ability to move normally and becomes naive, like a child. They are very easy to manipulate. For example, you can persuade him to write a dedication to the property. Zaitsev's son Yegor is now ringing all the bells: according to the man, his dad is surrounded by incomprehensible and, possibly, dangerous personalities for him! This is a whole company of characters who completely control the life and life of the elderly master of fashion.
In March, for example, they, in spite of the protests of their relatives, organized a celebration of Vyacheslav Mikhailovich's birthday, where they invited the stars, and then sold tickets for 15 thousand to everyone who wanted to gaze at these stars! Lev Leshchenko, who was present at the celebration, noticed that the birthday man was in a depressing state:
– He is already in such a half-forgotten state. It was amazing that they brought him there. Well, we could not help but come there, because this is our friend in life.
Now Lev Valerianovich is even more concerned about what is happening with his old friend. But he can't do anything:
– He has a son and relatives. Let them figure it out.
But note that the son, surprisingly, does not have access to his father's mansion! Zaitsev Jr. complained that his father's "friends" had blocked all channels for him to communicate with his parent. Even on the phone, the father speaks to him on the speakerphone in the presence of his "assistants".
"In fact, there is nothing difficult in pushing such" friends "away from an elderly person with a serious illness," says lawyer Oksana Gurina. – Relatives – first of all, the son – must file an application with the court that the person is sick and due to this disease may be incapacitated. From a doctor, you can take a conclusion about what kind of disease it is and how it affects the physical and mental state. The conclusion must be attached to the claim. Then the judge sends a petition to the hospital for an examination. If the defendant refuses to be examined, then by a court decision he is assigned a compulsory examination. Doctors determine the degree of legal capacity: either a person can make decisions and act independently, or he cannot at all. There is another option – it is of limited legal capacity. Relatives formalize patronage over a citizen with limited or completely incapacitating capacity, and then all issues are resolved only through the patronage. And any manipulations with property are frozen for the duration of the patronage's illness or until it is gone. Let me note that if, for example, you need to sell something from real estate, then the transaction can take place only with the permission of the guardianship and trusteeship department. Here the scheme is the same as in the case of children.
Lydia Mezina.
Photo: S. Kiselev / Agency "Moscow"
Article Categories:
Show Business