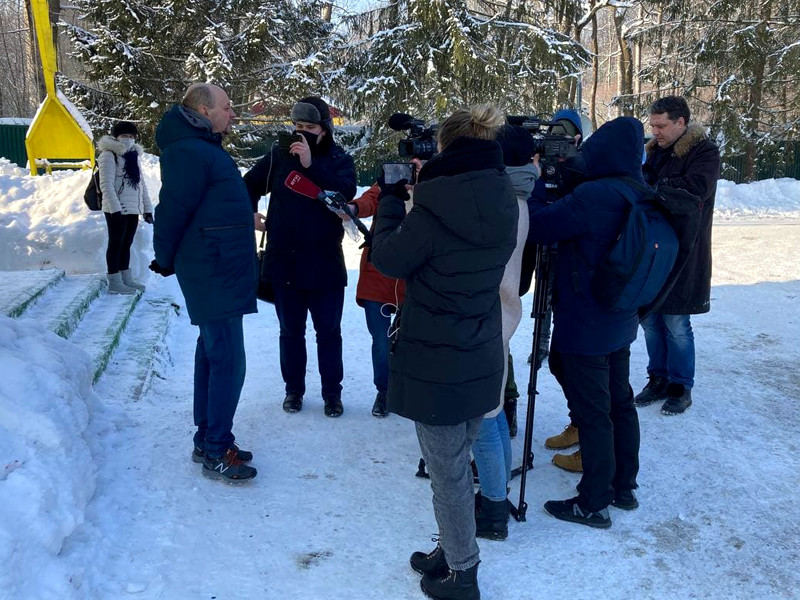 Yes, Frying Pan / Telegram
The editor-in-chief of Mediazona, Sergei Smirnov, was released after an administrative arrest in a temporary detention center for foreign citizens in the village of Sakharovo for retweeting a joke. Initially, he received 25 days of arrest, later the Moscow City Court reduced the term of arrest to 15 days.
Smirnov said that he felt fine, but he and his cellmate had problems with pressure while serving the arrest, according to MBKh Media. The day before, instead of activist Gleb Maryasov, a man who constantly smoked was transferred to Smirnov's cell.
"It's strange, they don't usually do that. Usually there is one cell in the detention center, in which you sit, Gleb has already changed five cells," Smirnov said. He did not rule out that he would lodge complaints about the conditions of detention in the TsVSIG. "For example, here between the cameras there is a" fur coat "- a forbidden thing, when you cannot tap, a wall, it should not be, but here it is," Smirnov noted.
Sergei Smirnov, editor-in-chief of Mediazona, was released. Video: @MBKhMedia pic.twitter.com/xNjurzIDCw

– MBH media (@MBKhMedia) 18 February 2021
Sergei Smirnov was detained on January 30 for a walk with his little son. A few days earlier, the security forces came to search his mother's apartment on the case of violation of sanitary and epidemiological rules at the rally in support of Alexei Navalny on January 23.
Smirnov did not participate in the action that day, but covered it remotely. Nevertheless, the journalist was charged with a repeated violation of the legislation on rallies (part 8 of article 20.2 of the Administrative Code of the Russian Federation). The reason for initiating an administrative case was a retweet of a joke about Smirnov's outward resemblance to the leader of the punk group Tarakany Dmitry Spirin. The original tweet indicated the date of the rally in support of Navalny.
At the same time, the retweet did not contain information about the holding of a public event, as well as the place and city of its holding, in which Smirnov allegedly called for participation. As a result, the journalist appealed to the European Court of Human Rights.
The complaint notes that the Russian authorities violated several articles of the Convention for the Protection of Human Rights and Fundamental Freedoms in the Smirnov case, and also speaks of the "inhuman conditions" of detention in the Sakharovo TsVSIG.
Article Categories:
Politics