In March, the third domestic COVID vaccine may enter the medical circulation.
We now have two vaccines – Sputnik V and EpiVacCorona. Another one will be available soon – "KoviVak", created in the Federal Research Center named after Chumakov.
Russia has every chance to get out of the pandemic – one of the first. Collective immunity to COVID-19 can be formed already in the first half of the year. For this, according to the Ministry of Health, 60% of the adult population must be vaccinated. It will be possible to do this faster with three vaccines.
After consulting with specialists, we have created a comparative table of vaccines. Which one to choose is up to you. Of course, after consulting a doctor.
"I don't think that any vaccine will be better for a certain group or category of citizens, because all drugs are similar to a virus and cause a virus-like effect, which is called an immune response," says Pavel Volchkov, head of the MIPT genomic engineering laboratory.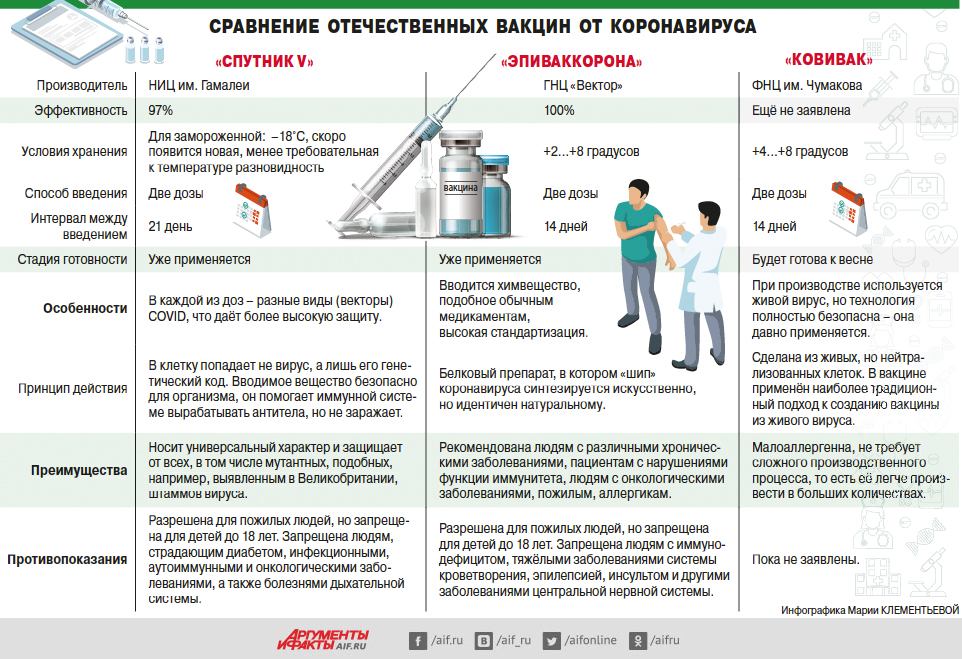 However, despite the general purpose of the drugs, each of them has its own characteristics.
The Sputnik V vaccine is supposedly universal in nature and protects, including against mutant strains of the virus. But, most importantly, the protective functions of the body after vaccination work for a long time. As told Denis Logunov, Deputy Director of the Gamaleya Center, the employees of the center, vaccinated against COVID-19 with the Sputnik V vaccine, have maintained their immunity for 9 months. He added that the level of antibodies to infection in those who received the vaccine is higher than in those who have recovered from the coronavirus. "EpiVacCorona" is recommended for people with concomitant pathology, patients with impaired immune function, people with cancer, the elderly. In addition, the vaccine causes fewer allergic reactions.
The advantage of "KoviVac" is unpretentiousness. The vaccine is easier to store and transport.
The appearance in our arsenal of three vaccines at once has another significant plus. Today, as explains Honored Doctor of Russia Mikhail Kagan, it is believed that post-vaccination immunity will not be lifelong, which means that revaccination will be required. Having three drugs and using them consistently in this regard may be the best solution, he said.
Article Categories:
Health