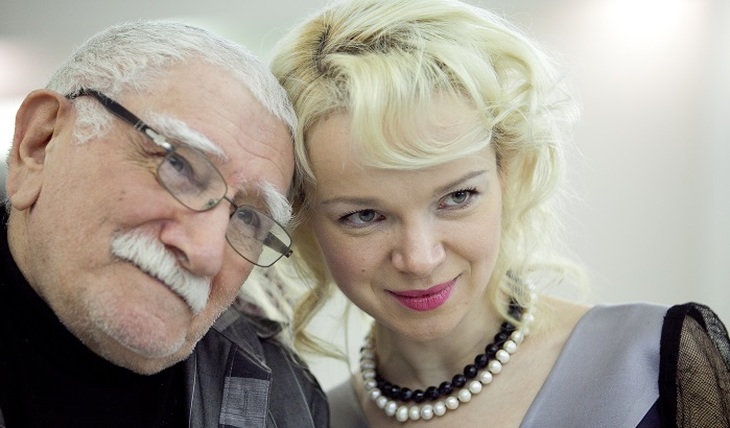 The ex-wife of Armen Dzhigarkhanyan in an unusual way congratulated the legendary artist on his 85th birthday: she told the intimate details of family life.
Armen Dzhigarkhanyan was brought to his native theater in a wheelchair for his own anniversary. They say that the actor is really bad, that's why they honored him in a narrow circle. No lavish celebrations, skits ... But the ex-wife of the artist Vitalin Tsymbalyuk-Romanovskaya presented him with her "gift". The woman told the media how well she remembers him:
- I was lucky to meet him at the age when he was still full of strength - creative and physical. And he held on for a very long time - Armen Borisovich managed to remain a man in every sense, even at a respectable age. Despite the illnesses he had suffered, he did without stimulating drugs for a long time. As a lover, Dzhigarkhanyan completely suited me. At the dawn of our relationship, it happened that the desire for intimacy and passion overtook him so much that we went home right from the rehearsal at the theater. He looked at his watch and said with humor: "I am being summoned to the Kremlin."
The ex-spouse could not personally congratulate Armen Borisovich on his anniversary. She is not allowed near him. And it was not even possible to call: no one, except the closest ones, knows Dzhigarkhanyan's new phone number.
- But in any case, Armen Borisovich did not like his birthdays very much and never celebrated them, - Vitalina confessed to us. - We stayed at home with him to avoid all these celebrations ... Now he was taken to the theater. He himself would never have gone there to receive congratulations. But today he is in such a state that he does not have his own will.
I understand perfectly well what is happening, but I don't want to talk. Let it be on the conscience of those around him now. The only thing, I would like him to remain in the memory of the fans as an active person, full of energy - the way everyone loved him. After all, his popularity was frantic, few people enjoyed such popular love as Dzhigarkhanyan. For him, the main things in life were his creativity, his work. This was the best incentive for him to hold on and not get sick. But for two years now he has not gone on stage, has not been involved in theater.
Hence the deterioration in health. I know that in his case it is closely related. And not only in his case ... Vladimir Etush played on stage to the last. And in what excellent form until the very end was Joseph Kobzon! Because he performed despite the oncology. For them, these geniuses, the energy they receive from the viewer is very important. It gives them much more than any treatment.
When Armen Borisovich suffered a second stroke, the doctors told me: "Try to make him come to the theater as often as possible so that he feels he is in demand. Then he will remain the Dzhigarkhanyan whom everyone knows. As soon as he sits down at home, he will turn into another person. "
But no matter what happens to him now, I will always think of Armen Borisovich only as a great actor. And I am very glad that my life turned out that way. I fell in love with an idol, and I got a chance - one in a million! - to live happily with him for some time. And I am proud that while we were together, Dzhigarkhanyan led a full life in all its manifestations.
Lydia Mezina.
Photo from personal archive
V. Tsymbalyuk-Romanovskaya.
Article Categories:
Show Business