A car rally in support of President of Belarus Alexander Lukashenko has started in Minsk. The column under the slogan "For United Belarus" started its way from the Lebyazhy water park and headed towards "Khatyn" - a memorial complex on the site of a former village destroyed by the German military in March 1943. The rally collected several dozen cars. Most of them were decorated with the state flags of the republic and balloons.
Meanwhile, a column of military equipment arrived in the center of Minsk. Another protest action by opposition supporters is expected there today. Internal troops cordoned off Independence Square and the Hero City stela, where protesters usually gather.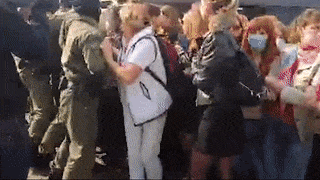 Detentions of participants of the "Women's March" began in Minsk - video
An uncoordinated rally is taking place at Freedom Square.
And on the eve, in the capital of Belarus, they held a foot action in support of Alexander Lukashenko. More than a hundred people marched along the central streets of Minsk with state flags, shouting slogans in support of the president and the unity and integrity of the republic.
Let us remind you that after the presidential elections in Belarus, in which Alexander Lukashenko won with more than 80% of the vote, uncoordinated protests began in the country. Opposition supporters refused to recognize the election results, after which it was announced the creation of the Coordination Council of the opposition of Belarus. Lukashenka called it an attempt to seize power.
Protests in Belarus. Chronicle of events
"For United Belarus". A rally in support of Lukashenka was held in Minsk - video

today at 11:02 am

Column of military equipment arrived in the center of Minsk - video

today at 08:38

Media: American company helped the Belarusian authorities in blocking websites during the elections

today at 02:57
Article Categories:
Politics