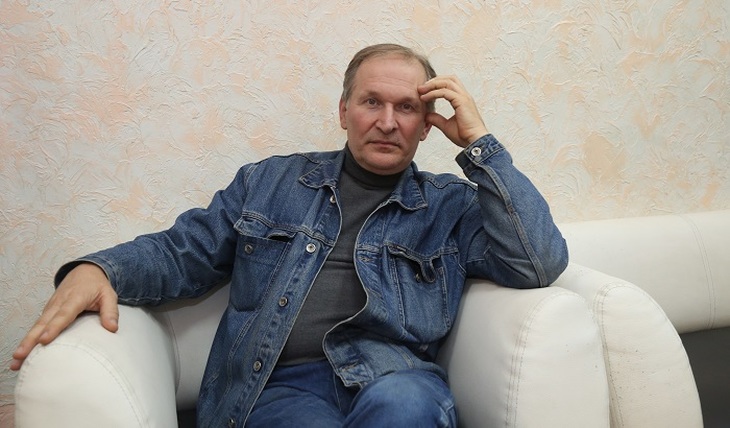 People's Artist of Russia, the star of the TV series "Matchmakers" recently visited the resort town of Essentuki.
At the Khrustalny Istochnik film festival, as a producer, he brought the comedy From Sorrow to Joy, in which he played himself and his sons – Victor and Ivan. The beloved of the public triumphantly walked the red carpet during the opening ceremony, and then answered questions from journalists.
– Fedor Viktorovich, are you in Essentuki for the first time?
– Yes, for the first time. I am fascinated by both the festival and the city itself. Essentuchans are very hospitable. And what local mineral water, what nature! So I'm thinking of coming here again, if possible.
– Now, probably, you should be freer – not so long ago you left the Theater of Satire. Why, by the way?
– Yes, he left. Also, at one time, absolutely not swearing with anyone, he left the "Satyricon". Probably every man in his life has periods when he wants to try something new. There are, of course, some subjective reasons, they exist. When I learned that the head of the theater, Alexander Anatolyevich Shirvindt, was going to leave, I also decided to leave. And then a theatrical person, he is very dependent on the theater – he cannot act where he wants, he cannot afford to rest. When, for example, you are filming, and then you arrive from Vladivostok and in the evening you have to play a performance in which it is difficult for someone who is well-rested to play – two hours with songs and dances, then this, of course, is unrealistic. While I want to "fly" alone.
"THE WIFE HAD TO BE ENDORSED"
– You brought your film "From Sorrow to Joy" to the festival in Essentuki, in which you not only played one of the main roles, but also acted as a producer. Now is this occupation the main thing for you?
– No, I will definitely not be engaged in producing, as I realized that this is not mine. As a producer, I did not succeed, although I made two films. Now we need to work to get the money back and pay off debts. But I'm happy that there are two pictures that the viewer likes. And in the film, which I brought to the Caucasian festival, my old dream also came true – I had wanted to film with my sons for a long time. And I also want to work together in performances. Precisely as an actor. The producer, as I said already, did not come out of me. I also tried directing, but immediately fell out with my best friends. The director must be able to wait, but I can't, I ask you to do everything quickly. And since I mostly had to work with friends, I immediately saw all the acting tricks – they don't learn the text, they don't listen. Therefore, I quarreled with everyone and did not feel like a director. I'm an actor after all!
– Have you ever had a disappointment in the acting profession?
– There were difficult times, but I was never disappointed. For 15 years I have been voicing the program "My own director", but I did not despair that I was not acting, that there were no main roles. There was a flair, some kind of intuition that everything would come. The wife suffered, she said: "Dear, what to do next? We have no housing, no money, nothing … "I answered:" Dear, be patient. There is something ahead, I feel … "
She went to wash the dishes. After 10 years she came again and said that there was nothing, the children were hungry. I tried to persuade her, said: be patient, there is something looming ahead …
We are now 60 years old. Once we were sitting together, and she suddenly said: "It's so good that I have suffered, because everything has come." I want to say: all that I have achieved is her merit. I always returned home confident that I had a reliable rear – the children were fed, dressed, shod, the house was in order and comfort. The wife left the profession and devoted herself entirely to the family. Of course, Ira suffers from lack of fulfillment, but she is very wise. And by the way, she is the strictest judge. I can give a streamlined assessment, saying: "You know, I liked it", "Normal", "Better already" … And the wife will tell only the truth, so her opinion is very important both for me and for my sons.
"HAPPY SONS IN THE PROFESSION"
– Did you try to dissuade your sons from acting?
– I tried, but it didn't work. Victor said: "Dad, you have many professions in your hands, but I grew up behind the scenes and know only this one. I know and love. " My wife and I were 20 years old when the eldest son was born, and we did not know how to raise him. And there was no one to leave, so they took the child with them to the theater, where he grew up.
When Victor entered, he was offered to go to paid education. We did not have such money, I borrowed the required amount. But Vityushka said: "If in a year I don't switch to free, I'll leave." But he passed the first session perfectly, and he was transferred to a budget place.
The same story was with Vanya. But Ivan was more noticeable, nevertheless, he starred with Andrei Zvyagintsev in the film "The Return" and played serious children's roles in "Satyricon", that is, he had a strong acting training. Now the most important thing is that they are happy in their profession and are constantly busy.
– There was no work during the quarantine last year. Has it become a test for you?
– I gathered the whole family, eleven people, and we left for the dacha. I bought food, closed and thought: "How long will this coronavirus last? Well, a week, well, two … "Life, of course, has made its own adjustments, but those that no one expected. But to be honest, for me those were the happiest days in my middle age. I have never talked to children for so long and in detail, for me it was happiness. I played enough with my granddaughters, praised them incessantly, even my sons began to complain that I was spoiling them this way. And when we left, the children said: "Dad, we still have a real family!"
You know, I read that quarantine contributed to divorce, many families broke up. What can I say – I sympathize …
– Your family, apparently, is not so easy to ruin. You and your wife have been together for 40 years …
– In fact, my wife and I have known each other since the 5th grade. And next year – yes, it will be 40 years from the date of the wedding. I remember how we got married in Rostov. After an unusual and beautiful ceremony, the priest took us aside and said: "Dear ones! Life is so hard. Be patient, goodbye, listen to each other. " And my wife and I came to an agreement like this: "Sunny, until the age of 90 I will be faithful to you. But if I go on a spree after that, don't blame me. "
"I DREAM OF SEEING GRANDNITS"
– Many people associate you with the TV series "Matchmakers", but before that there was "Liquidation". When filming, did you feel that the series was going to be wildly popular?
– "Elimination" was filmed for seven months, and it was seven months of happiness. But in truth, I didn't expect anything supernatural. When the shooting was over, my wife and I went to rest, and, just in case, she took with her a disc with the finished film. I didn't plan to watch it, I thought I was just lying on the beach, swimming, sunbathing. I really like "sausage rest" – to rest and do nothing. But when we turned on the movie, we couldn't get out of the room, so we watched the series until the very end. What we saw captivated us headlong, and it seems to me that the viewer will also remember this film for a long time. In general, it is a great joy for me that so many interesting people have gathered in the picture, we still communicate, meet, are friends with both Volodya Mashkov and Misha Porechenkov.
– Well, will there be a continuation of the beloved "Matchmakers"?
– The producers of the series say that we need more and more. I answer them that I am not sure that I was born in order to lie in a coffin in a costume of Ivan Budko. It seems to me that we still need to play something and take pictures in some other projects.
– You can be called a happy person, you have managed everything in your life. Is there any cherished dream left?
– Once I thought that I was a Don trotter. This is the only horse that dies at a gallop, the rest stop. And the Don trotter gallops and dies on its feet. I also decided that I would die on the run. And a few years ago there was a stroke. And that's all. No speech, no hand. The attending physician asked: "Shall we do the operation?" "And what, – I say, – is there a choice?" Answers: "Well, there is always a choice. For example, you have two hours left to live … "And when I realized that there was not much left to live, everything became not so important, not so essential. Everything became easier, because I stopped worrying and getting upset over trifles. Only time ran very quickly, after fifty, life suddenly rushed at a breakneck speed. And when they now ask what my dream is, I answer very simply: "I dream of raising grandchildren and seeing great-grandchildren …"
Angela Yakubovskaya
Photo: FOTODOM
Article Categories:
Show Business