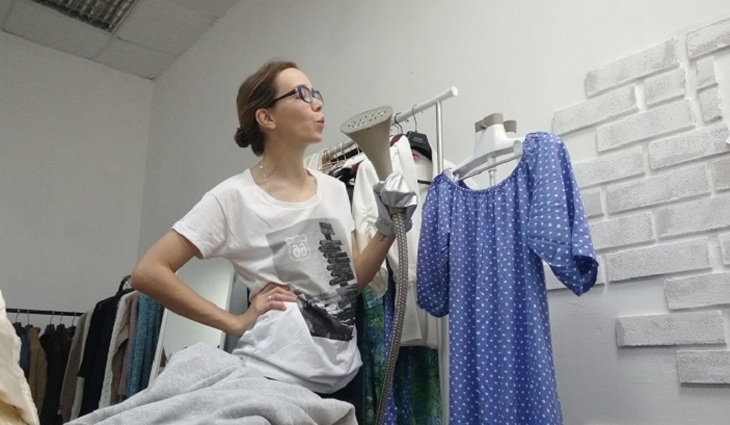 At the very beginning of this year, even before the height of the pandemic, unusual announcements began to appear in the town of Zhukovsky near Moscow.
A woman named Nailya Butusova suggested that residents quickly get rid of unnecessary clothes, primarily rags.
Surprisingly, she was ready to go home to buy used textiles. The residents of the city were initially alarmed by this circumstance. Isn't it a deception? And what was the surprise of the residents of Zhukov when, at the appointed hour, not a healthy woman with biceps, but a fragile girl came for packages. The author of the Second Party charity project Nailya Butusova not only picks up the textiles herself, but also washes them at home, sorts, steams and iron ...
Nailya loves and hates fashion at the same time - for many years she has been creating illustrations for the catwalk and perfectly sees how capricious and fleeting fashion is, how its trends are rapidly changing. Yes, a large number of things go to the landfill not because they are worn out, but because they are bored with their owners.
The charity project the artist is working on is based on the principles of social entrepreneurship. At first, the collected clothing and textile waste is carefully sorted. After that, the rags are taken for recycling, and two ways await usable clothes: some will go to a charitable foundation, while the other will take its place on second-hand shelves. As Naila herself explains, the profit should cover the cost of processing things.
The subject of the destructive connection between fashion and ecology interested the artist several years ago.
- Then the movie "The Real Price of Fashion" served as the starting point. There they told in detail in what conditions clothes are born and how quickly they get from closets to landfills, says Nailya. - I was just shocked by the disastrous influence that the clothing industry has on our planet.
The girl is sure that synthetics are the worst for nature. After all, artificial fabrics decompose for more than a dozen years. At the same time, synthetics in Russia are not processed, but formed in anticipation of technologies. But cotton and natural fabrics are crushed, then a cleaning material is made from them. Unlike plastic, recycling clothing is not only unprofitable, but also unprofitable. Processing one kilogram of clothing will cost 60 rubles. So this is not a business today, but charity.
This store of second-hand things was supposed to work in Zhukovsky in the spring, but the pandemic prevented. The opening had to be postponed to September. All summer, the artist has been selecting things for the collection. Here you can find clothes from different cities of the Moscow region and even Moscow. This is because caring residents, having become interested in the action, began to bring their wardrobe to Naila themselves.
The artist believes her task is to show that worn clothes can look great, stylish and modern. By the way, Naila's own wardrobe has only melted over the years: in recent years, she has not bought new things. Even my seven-year-old daughter bought clothes only a few times, because all things were inherited from relatives.
As I was able to find out, in some municipalities of the Moscow region there are charity warehouses to which people bring clothes. Those in need can pick it up for free. However, people are embarrassed to do this. But in small cozy shops, a person can choose a good thing for a small symbolic money. I would really like such outlets to instill in our society a culture of secondary clothing consumption.
Andrey Knyazev.
Photo from the archive
N. Butusova.
Article Categories:
Economy