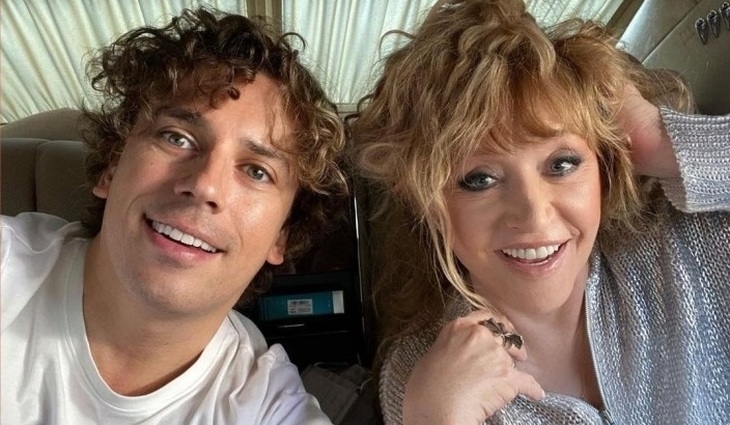 Loyal fans of Primadonna are suing RT editor-in-chief Margarita Simonyan for her statements about AB and her husband Maxim Galkin. Will they be able to defend the honor of their idol?
Alla Pugacheva majestically remained silent after Margarita Simonyan called her husband Maxim Galkin "a gay man who married an elderly woman for distraction, enrichment and a career." The journalist said this in defiance of the humorist's anti-Russian statements. By the way, following the example of his wife, he did not publicly react to the attack on him. But at the same time, as they say, he decided to finally cut off ties with his native country.
It seems like a grandiose castle in the village of Gryaz, in which the famous family lived permanently before leaving, is now being prepared for sale. A five-story building with an area of ​​2.3 thousand square meters with a swimming pool, a greenhouse, a cinema and a recording studio, located on the territory of its own well-groomed park, is estimated by realtors at 10 billion rubles. But experts assure that it is impossible to sell the castle for such money now. Most likely, it will be put up for sale at a price ten times lower – for about 1 billion. And they will sell millions for 500-700, no more. Buyers of such real estate in our days does not appeal. The very style of building – in the spirit of the 1990s, when new Russians built castles for themselves all the time – has long been out of fashion. And its impressive size promises the new owner huge expenses for maintenance. But, perhaps, some super-rich admirer of Alla Borisovna will be interested in the estate …
She has a huge and loyal fan base, made up of several close-knit communities. And these communities – fan clubs "April", "Iceberg", "Queen", the publishing house "Pugachevskaya Pravda", as well as the international federation (!) Allamania – recently united in order to … punish Margarita Simonyan for her statements about the star family and Vladimir Solovyov for allowing these statements to be voiced in his author's program. A class-action lawsuit is already being prepared on charges of defamation, on the protection of honor and dignity. A statement that "a huge multimillion-dollar interest group was offended by statements about an idol" is planned to be filed with the Basmanny Court of Moscow.
– Such a lawsuit has no prospects, – lawyer Oksana Gurina believes. – It will most likely be rejected or considered, but the requirements will be denied. I'll explain why.
There are two types of lawsuits. The first is private lawsuits, when a certain person, believing that he has been insulted, can sue. In this case, Alla Pugacheva should file a lawsuit. Or she can issue a general power of attorney for her fans so that they act on her behalf. But we see that they act not on her behalf, but on their own behalf. So, we have a second option – a public lawsuit. This is when a group of people gather who believe that a certain statement is contrary to the law. And they jointly file a lawsuit due to the fact that they feel insulted. But here it is necessary to pick up very weighty grounds for the claim. Because if Pugacheva is not offended by this, at least she does not show signs of moral suffering and has not yet expressed her position on this issue, then the court will have doubts that her fans somehow suffered.
The court would go forward in the event that the figure for whom the claim was filed could not be responsible for itself. Here, the following options are prescribed in the law: a person is incapacitated, is in prison or in a psychiatric hospital, or he is abroad. But then there is an important condition – for some reason he is kept in custody and he does not have the opportunity to independently express his will. Based on all this, I believe that the claim we are talking about has no legal basis.
Lydia Mezina.
Photo: Social networks
Article Categories:
Show Business