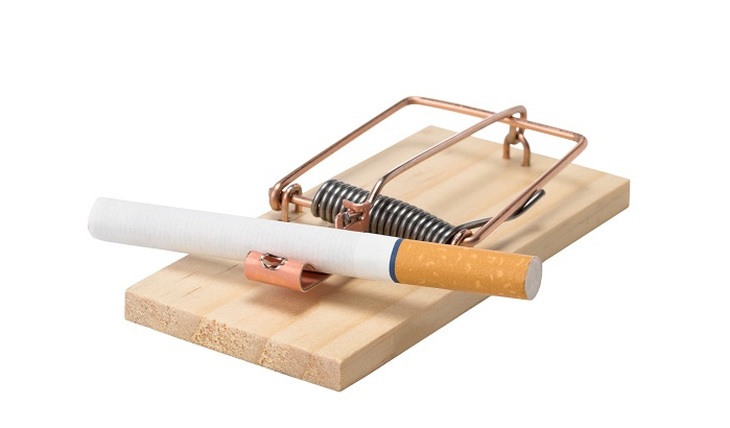 Sales of smuggled and counterfeit tobacco have increased in Russia. Buying a pack of cigarettes, you can run into a counterfeit that is dangerous to your health.
Every tenth pack of cigarettes sold in Russia appears on the counter illegally. Most often, a fake is sold in small stores, in the networks there are almost no fakes – a large retail does not want to risk it.
In the regions, it is easier to run into a fake than in large cities. Rostov-papa is in the lead: here up to 50% of all sold cigarettes are a banal fake. In the Southern and North Caucasian Federal Districts, up to 21% of cigarettes are contraband, in the Smolensk and Ulyanovsk regions – more than 18%, in St. Petersburg – up to 11%, in Moscow – 10%. You can easily buy fake cigarettes in Bryansk, Novosibirsk, Smolensk, Chelyabinsk regions, Krasnoyarsk Territory.
Counterfeit goods are being brought from Belarus, as well as from Kazakhstan and Armenia. When the authorities decided to raise the excise tax on cigarettes, they did not think what it would lead to. Although this is obvious: the rise in prices for cigarettes will inevitably cause a surge of counterfeit products, and today it has grown from 2 to 16% of the entire market. As a result, the budget did not win, but suffers losses – up to 100 billion rubles annually.
There are also just fake cigarettes. Moreover, perhaps in the literal sense, because it is not known what they are made of, maybe even from linden leaves. If you break such a cigarette and look at its contents, it becomes clear that this is not real tobacco. Such a smoke is made somewhere in basements: the shells are stuffed with mixtures of unknown origin. The business is good, but it is dangerous for the health of consumers. And just outrageous. Indeed, for connoisseurs of tobacco, its taste and smell are very important.
Meanwhile, the tobacco industry ranks second after oil and gas in terms of budget revenues. Therefore, of course, it is necessary to protect the legal cigarette market from counterfeiting. "Even a small share of the 'gray' segment in practice translates into hundreds of millions of packs of illegal cigarettes," says Vladlen Maksimov, president of the Small Format Trade Association.
Obviously, the legislation needs to be toughened up. Some measures are already being taken. Recently, the State Duma passed laws limiting the volume of unmarked cigarettes transported by citizens across the Russian border. Also introduced a single minimum price of 108 rubles per pack. So, by the way, if you see a pack of cigarettes for 50-60 rubles, do not even hesitate – this is a fake.
In addition, market experts also propose to introduce a special regime for transit and cross-border transportation of tobacco through Russia. A reasonable tax policy is also important: it is the increase in excise taxes that leads to the availability of cheap illegal products.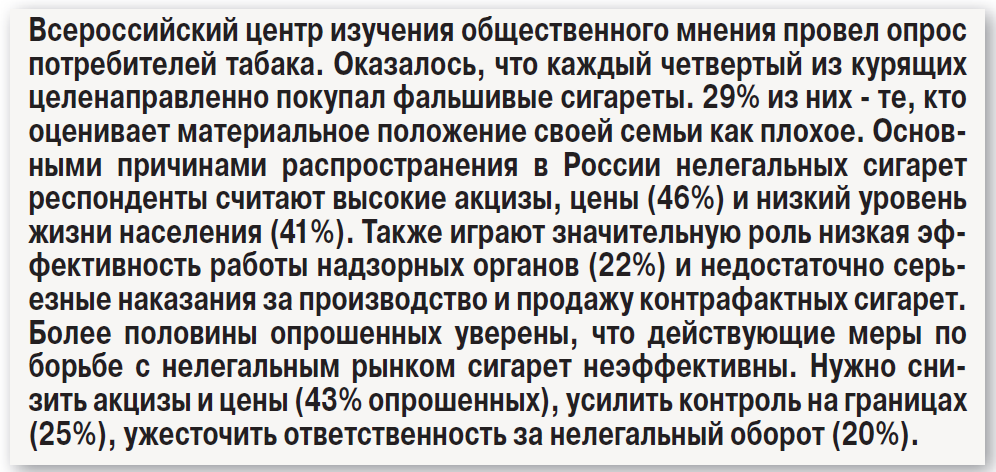 Marina Lepina.
Photo: ADOBESTOCK
Article Categories:
Economy