19:52, 10.01.2021
The state of health of the artist with coronavirus remains stable.
On December 28 last year, it became known that People's Artist of the USSR Alisa Freundlich was hospitalized with coronavirus. The actress felt unwell in mid-December. After doctors diagnosed Alisa Brunovna with COVID-19, she was treated at home for a week. The actress got to the hospital due to a deterioration in her condition.
Note that initially, the press reported false information about Freundlich's health. A number of media outlets wrote that the artist was connected to a ventilator, as she had 80 percent of her lungs damaged. However, later reliable sources denied this information. In addition, the 86-year-old star of the film "Office Romance" is conscious and breathing on its own, her lungs were damaged by 36 percent upon admission to the hospital.
A still from the film "Office Romance"
On January 4, other details about the state of Alisa Brunovna became known. As the journalists managed to find out, she is now in the intensive care unit, as she needs constant monitoring on holidays. According to doctors, the star still has a serious condition. Despite this, Alisa Brunovna remains optimistic. According to information at the beginning of January, doctors also talked about improving laboratory data.
Today, doctors say that there has been a positive trend in the history of Alisa Brunovna's illness. Now she is already engaged in physiotherapy and breathing exercises, gradually recovering. The staff of the hospital notes that the artist tries very hard and fulfills all the prescriptions of doctors. Nevertheless, Alisa Freundlich, who is in intensive care, is now forced to use an oxygen mask.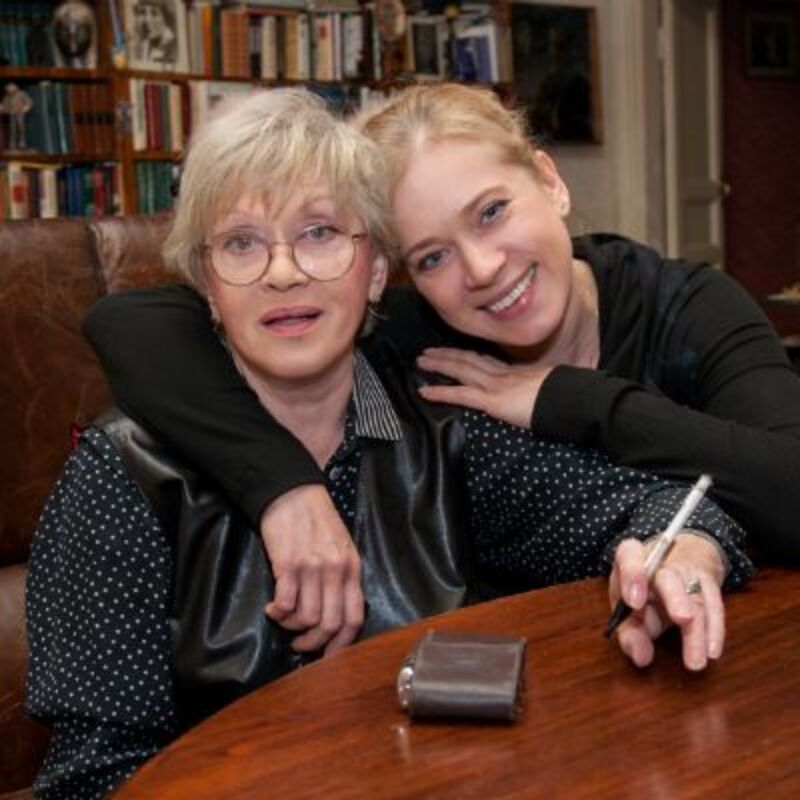 Alice Freinldich with her daughter Barbara
"She is in the intensive care unit, her condition is better, but so far she cannot be transferred from the intensive care unit. Her condition is stable, she is in contact, everything is fine. Sometimes breathes periodically using an oxygen mask. The elements of physiotherapy and rehabilitation have now begun. We hope that soon she will be transferred from the intensive care unit, "- said a source in an interview with a journalist" KP ".
We add that Alisa Freundlich was hospitalized and her 52-year-old daughter Varvara Vladimirovna – she was also diagnosed with COVID-19. On December 31, it became known that the granddaughter of the legendary artist, 25-year-old Anna Tarasova, also ended up in an infectious diseases hospital – she is also infected with a coronavirus infection. Doctors noted that Anna's condition during hospitalization caused concern – it was assessed as severe, with no improvement.
Alice Freinldich with her daughter Barbara
It is worth noting that literally a couple of days before her hospitalization, Anna complained that she would not be able to celebrate this New Year with her grandmother and mother, as usual. In her microblog on Instagram, Anna Tarasova said that she was very upset that her closest relatives were in the hospital. She complained that due to illness, the star family will not be able to traditionally celebrate the New Year together. Despite this, Anna said that she believes in the best. The girl supported her publication of videos from films with the participation of her grandmother. The opportunity to celebrate the holiday together was presented to the relatives, however, unfortunately, in such a bleak way.
Alisa Brunovna with her family
Read also:
It became known about the condition of patients with coronavirus Oleg Basilashvili and Alisa Freindlich
Vladimir Mashkov admitted that he is happy for Alisa Freundlich, who is on the mend
Doctors talk about positive changes in the condition of 86-year-old Alisa Freundlich hospitalized with coronavirus
Article Categories:
Show Business