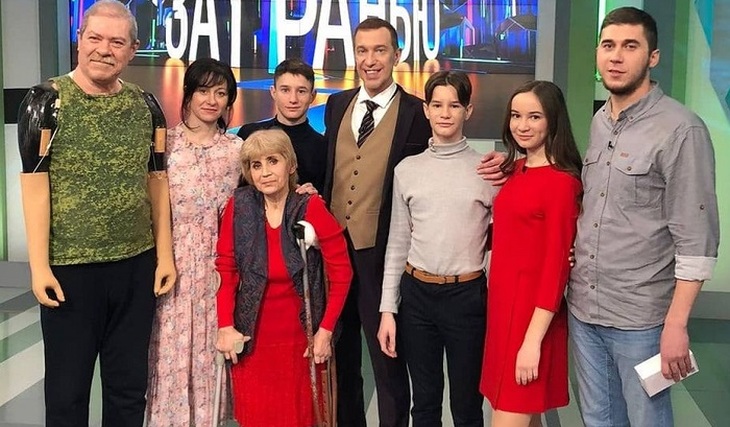 "How do you feel objects in the dark?", "Do you have pants with or without pockets?", "How do you turn on the lights and TV?", "How do you scratch your nose?", "Do you know how to play the guitar, grandfather?" – millions of subscribers bombard Anatoly Belkin with questions, and the 64-year-old blogger honestly tries to answer everyone.
It would seem, what kind of jokes can there be when, at the age of 17, your hands are torn off to the very shoulders? Another would have succumbed to despondency, become embittered, took to drink and began to complain about life-tin, but not he. Anatoly Belkin is an optimist in life and a real Man with a capital letter: even without hands, he never lowers his hands and does not sit on his wife's neck. He does not grumble about life or circumstances, but works tirelessly: he can dig up beds, weed weeds, vacuum floors, clear snow from the site, feed chickens, cook food … Without realizing it, the positive blogger Belkin helps the handy and leggy to understand life with all its difficulties. And love her. Such as it is.
TRAGIC JUMP
Our hero was born in 1957 in the village of Krugly, Voronezh Region, in a family where, in addition to him, seven more children were brought up. He did not have to be asked to help his parents: all school holidays the boy worked on the collective farm to earn an extra penny for the family, after the 8th grade he learned to be a tractor driver and stayed to work on his native collective farm. And in April 1975, a tragedy happened to 17-year-old tractor driver Tolya Belkin that changed his whole life.
"I had six months left until I was 18," says the man. – That day, as usual, I took milk from the farm to the dairy, and my friend Mishka from our tractor team brought waste from the distillery, and this stillage had to be pumped from the barrel to another container. I went to help a friend, because I knew that it was difficult to do it alone. He climbed onto the barrel, lowered the hose into it, and Misha in the tractor turned on the power take-off shaft, which started the pump, and the barda went to download. Further, my help was not needed, and I jumped to the ground, not noticing the ice under the mud. I fell right on the shaft that turned the pump, and there was a crazy 1200 rpm. I realized that I was about to break, and only had time to shout: "Misha, turn off the tractor!"
According to Anatoly Semenovich, he didn't feel pain at all then (doctors say this happens with shock), only the collar of the sweater was pulled tight and he pressed on his throat. Moreover, the hair was long ("it was fashionable then") wrapped around the shaft, and the guy could not move. Cattlemen and milkmaids, who ran up to Mishka's screams, helped Tolik to get out of captivity, but…
– I got to my feet, and my hands fell out of the sleeves of the jacket. Instead of hands, white bones stuck out in the forearm – Anatoly remembers the worst day in his life as if it was yesterday, although 46 years have passed.
Miraculously, the tractor driver who survived almost half a kilometer himself walked almost half a kilometer to the village first-aid post, from where the ambulance took him to the hospital, where Anatoly underwent six operations over the course of several months.
LOVE AT FIRST SIGHT
A year later, Tolya Belkin was sitting in the corridor of the Leningrad Institute of Prosthetics and waiting for his first artificial hands. Here he met Ira. A 16-year-old girl came to the institute for a prosthesis for her leg, which she lost almost at the age of seven. One of the boys of the same age brought his father's sawn-off shotgun to the kindergarten, and when the teachers went away for a while, he began to play war games. A shot from a self-propelled gun smashed Irina's tibia …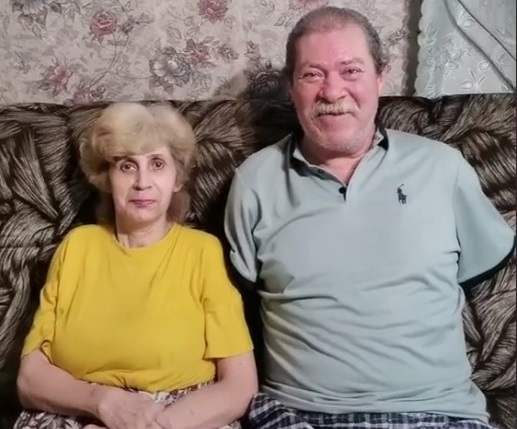 As soon as the young man winked at the beautiful girl, Cupid launched his arrows in both directions. The young people met, exchanged addresses and parted ways. He – in the village of Krugly, she – in the city of Mirny.
Four years of letters (the guy wrote them with a pen between his teeth), filled with bright hopes, flew between the Voronezh region and Kabardino-Balkaria, until Anatoly finally decided to dot the i's and came to Mirny to ask for the girl's hand. Two weeks later they played a wedding, and the young husband moved to the Caucasus to his beloved Irishka. In Mirny they had four children.
NEVER GIVE UP!
Anatoly, a disabled person of the first group, never sat idle. He is a man and has to provide for his family. Very soon, Anatoly Semenovich began working as a homeworker from a weaving factory. He studied the principle of the loom and weaved rugs, capes for chairs and armchairs. Irina wound the threads, and her husband with his teeth ("I erased all my teeth then," Anatoly laughs) got the hang of dragging the shuttle between the threads and the stumps to lower and raise the gear mechanism.
Anatoly never shied away from housework either: he worked tirelessly on the site and even bred ducks for sale, which he himself fed and watered. Well, about how famously Anatoly manages with a shovel, broom or chopper, how he turns on the stove, fries scrambled eggs or zucchini, pours himself boiling water from a kettle that has just boiled, how he digs in his favorite grapes and cleans up the apartment, it's better to see once than tell a hundred times.
Today Anatoly keeps up with the times – he has also become a blogger. His @bezruk1 TikTok page already has 2.4 million followers! And that's not counting the subscribers on YouTube, where he has his own page "Man without hands. My family and household.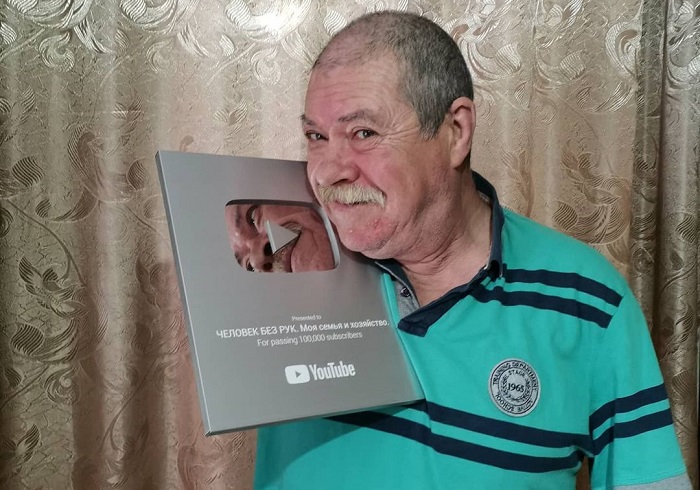 On Internet platforms, a blogger who is always openly smiling and never discouraged talks about his everyday life with ease and humor and literally attracts more and more new fans with his sincerity. Every day they bombard the "positive grandfather" with enthusiastic comments, admiring the tricks that he does without hands. Many support the 64-year-old blogger with donations, which is useful for a pensioner.
"People like the charisma and positiveness of the father very much," admits 26-year-old son Dmitry, the youngest of the children. While he lives with his parents, he helps them in everything and, by the way, helps his father shoot videos and upload them to the Web. But the blogger answers many comments himself. How does he do it without hands? "Yes, it's very simple, guys," says the king of body positivity and shows how he turns on the tablet with his nose and prints letters with his nose.
– I think that with my videos I help people with disabilities. So I try to support them by my own example. Especially young people and those who have recently become disabled and may fall into despair. Never give up. Even in the most difficult situations, you need to be kinder and look for ways to solve problems. Only by going through all the difficulties, difficulties on the way, you can become stronger and really be happy! A person must learn to set a goal in life and go to it to the end. The main thing is that this goal should be good.
Look at the pages to the man without hands. People admit that his short videos charge them with a good mood for the whole day.
Elena Khakimova.
In the photo: With his beloved family and TV presenter
Sergei Sosedov in the program "Beyond"
Photo: TIK TOK,
INSTAGRAM.
Article Categories:
Interesting