12:16, 10/12/2020
The TV presenter noted that there are many moments in which he would argue with an entrepreneur.
The day before yesterday the founder of VKontakte and Telegram Pavel Durov turned 36 years old. In connection with this event, the entrepreneur published seven rules on the Telegram channel that contribute to his youth and health. It has been noticed more than once that the businessman looks younger than his years. Durov advised to minimize alcohol consumption and quit bad habits. The successful businessman also noted the benefits of prolonged sleep, avoiding overeating, exercising, vegetarianism, and reducing stress. Paul also recommended that men live alone. Say, according to his observations, all youthful men lived alone most of their lives.
Pavel Durov recommended loneliness to men
Yesterday, the 35-year-old host of "Let Them Talk" Dmitry Borisov congratulated Pavel. As noted by the TV star, he fully supports only two of the seven rules presented by the birthday boy. "In the rules of life that Pavel published in his DR, there are points that can be argued about, but in the points about refusing alcohol and trying to get enough sleep, I fully support. And you also need to be able to relax. I am still learning this. Happy New Year, Neo! " - wrote Dmitry Borisov in his microblog on Instagram (spelling and punctuation of the author are given unchanged - Prim. row.).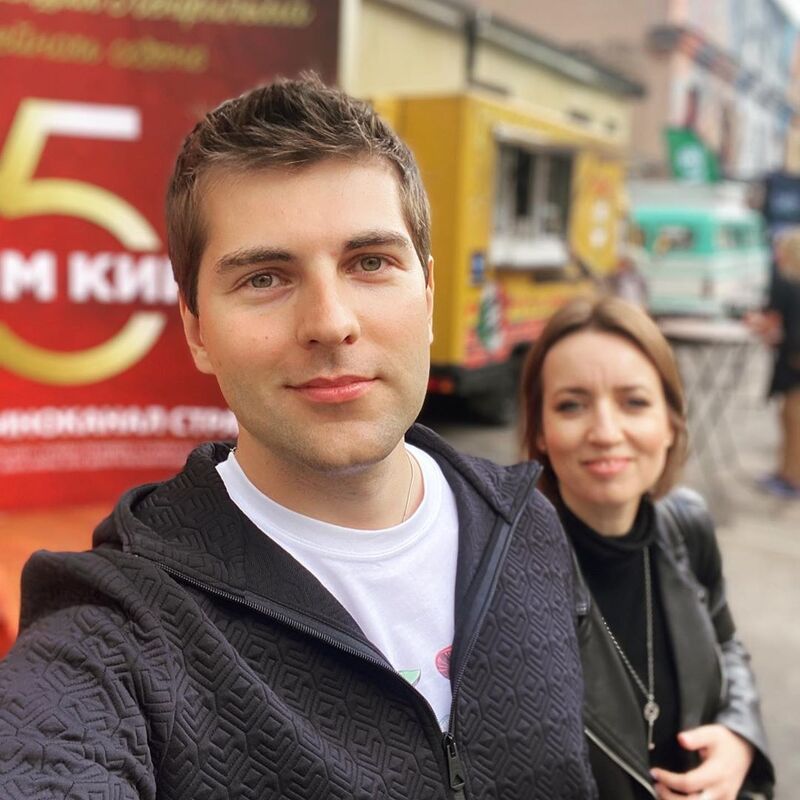 Borisov did not agree with all of Durov's advice
By the way, the presenter "Let them talk" and the general producer of JSC "First Channel. World Wide Web "prefers not to advertise. It is known that in 2009 Dmitry met with the singer Yulia Savicheva. However, their romance quickly ended. A few years later, the artist married the composer Alexandra Arshinova... Borisov has many friends, with whom he often publishes photos on his microblog on Instagram, giving rise to rumors of romance. For example, in 2018, the public was excited by a photo of Dmitry with a model. Olga Sherer, however, nothing is known about the further development of their relationship.
Olga Sherer and Dmitry Borisov
Recall that Dmitry Borisov has been working on Channel One since 2006, where he hosted both news programs and rating shows. Last week, the management noted the TV presenter's contribution to the channel's work, awarding him with a certificate of honor and a commemorative sign "Veteran of the First Channel". We add that fame came to Borisov when, unexpectedly for the audience, he replaced Andrei Malakhov as the most popular show on the channel "Let the Talk" in 2017. The ex-colleague soon began to conduct a talk show of a similar orientation on another channel - "Live".
Dmitry Borisov denied rumors of a conflict with Andrei Malakhov
After Malakhov left the First Channel, rumors spread that a serious conflict had occurred between the presenters. Say, Dmitry and Andrei were friends, but the new changes in positions pitted them. Borisov hastened to refute these speculations, stressing that he did not want Malakhov to leave the channel. The screen star noted that he even invited a colleague to his birthday, where he could not come only because of his employment. Borisov stressed that he does not hold malice at Malakhov, despite the unflattering words that Andrei once voiced towards Dmitry. It is noteworthy that in 2018 Dmitry Borisov with "Let them talk" "bypassed" in popularity "Live" by Andrey Malakhov. His show received a 4.5% rating, and Malakhov's 3.2%. However, at the TEFI television award ceremony, it was Andrei Malakhov who won the nomination "Host of prime time entertainment talk show."
Read also:
Dmitry Borisov boasted that he became a "veteran" of Channel One
Dmitry Borisov published a photo from a grand party in honor of his 35th birthday
Blogger Elena Rodina told how the host of "Let them talk" Dmitry Borisov kicked her out of the studio
Article Categories:
Show Business