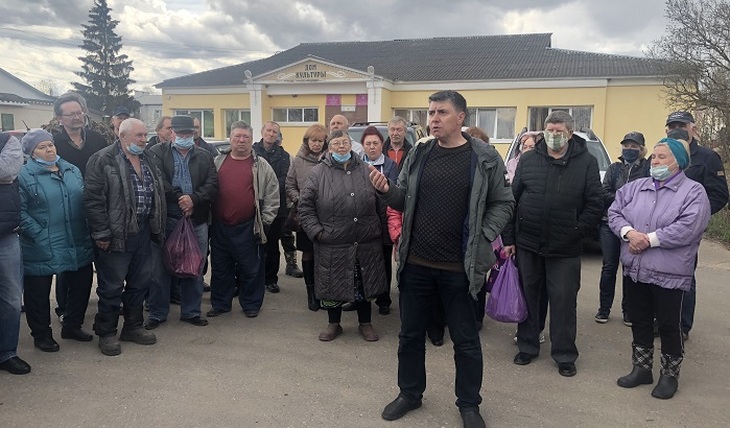 The Tver region is becoming increasingly feverish. Residents recorded a video message to the president: "Vladimir Vladimirovich Putin! Help us! Save us! " Standing with posters and grandmothers with grandchildren, and large families with children, and young people …
DOES NOT DISCOVER BY ITSELF
Mir novostey has already written about the current situation. The planned high-speed railroad Moscow – St. Petersburg puts on the brink of destruction several dozen fairly large settlements of the Tver region.
Two weeks after the article was published, we again set off for the Tver region, which is turning into a hot spot before our eyes. By the intensity of emotions and passions – for sure. It won't settle down and dissolve by itself! For there are hundreds and thousands of people who are dissatisfied, indignant, indignant, ready to defend their homes and the right to a quiet life. And the officials pretend that what is happening does not concern them. They should go out to the people with explanations! Indeed, on the site of the Nikulinsky rural settlement, a route plan has already been laid out.
– Option – the worst of all possible – right for all of us! – people are indignant, someone even cries. – Why don't they want to put the highway through empty fields, bypassing ?! And even better – to build it into the format of the existing railway as a separate branch or "second tier". As in Japan with its multi-tiered roads. Someone will object: but in Japan there is little land! Right. There is a lot of land in Russia, but someone needed to build a highway through the villages, living and living. What kind of sabotage ?!
New Ryabeyevo is generally a cottage village. A cozy oasis in the middle of a pine forest on the banks of the Volga. Relatively new, a little over ten years old. There are apartment buildings and private ones. There is a playground in the center, there are many kids here.
"Our village is part of a regional project for integrated land development using federal funds," says Elena Shamina, a local resident and young mother. – Lined up. We bought, furnished with love. And this is not a summer cottage option, but permanent housing, for most of us – the only thing. Why did the Tver authorities give permission to build a settlement and sell apartments here, if, as we are now being told, the highway was planned thirty years ago? Which of the officials allowed this and why should we, conscientious purchasers, our children and families, suffer? We wrote a huge number of collective requests to various authorities in Tver and the region. In response, unsubscribe from everywhere: this is not our competence. Whose then? And why do we need such officials who know nothing and cannot? Unfamiliar workers travel to villages, take soil samples … When asked who you are, they answer: "We are not obliged to introduce ourselves to you." What should we do next? ..
"The idea of ​​this highway is about thirty years old," says the chairman of the local HOA, activist Sergei Neverov. – But we are convinced that it is wrong to revive projects of such a long statute of limitations. For six months we ask our local authorities: let's gather a working group of representatives from each village and, together with the designers, work out other possible options. We are not against the highway. But if our state believes that this road is needed and will be built on the people's money, on the people's land, then why do officials do this without taking into account the interests of that very people ?! We think this is wrong. While we are looking for opportunities for dialogue in a peaceful way …
WE WILL NOT GIVE RESIDENTS IN OFFENSE!
After the assembly, we went to the regional department of architecture and town planning to the head Valentina Ivanovna Petrushko.
"I cannot give an interview without the permission of the higher management, but it's not there now," the official warned from the doorway.
– Can you tell us humanly, what about the construction?
– VSZhM-1 is a federal object, what it should be – 200 percent, is not discussed, – the woman snapped.
– But is it possible to move the highway at least beyond Prudischi, as the residents suggest?
– We wanted to go beyond the Pond – the Ministry of Defense did not allow it, this is their land. In addition, there are other villages there, many children live.
– And if you let it go through forests and swamps?
– Our dialogue, it seems, will not work. Why so, why so … There is a developer. There is no such thing that someone is hiding something from someone – information is available. This road was conceived a long time ago, included in the development plan of the railway of the Russian Federation. Ten years have passed – now they have returned to her. Conducted surveys, geology, approvals … Pre-design stage. Pre-project! There is not even a project.
– But this plan is already hanging on the official website of one of the settlements as approved and accepted!
– You hear me: the plan is not approved! Construction will begin in ten years. Maybe it never starts! In 2019, the President ordered to conduct surveys: is it possible to build VSZhM-1 and if so, how best to do it? So no complaints, I have been working here for a very long time and not anyhow, but with love for people. I do everything I can. We will not give offense to residents, I promise you!
I really want to believe in this, of course. Wait and see. MN will monitor the situation.
Victoria Kataeva,
photo of the author.
Article Categories:
Economy