12:22, 16.10.2020
The 43-year-old pop star remembered how the state of a loved one was hidden from her so as not to upset.
Diana Gurtskaya, who is known for her songs "You Are Here" and "You Know, Mom," became a guest of Boris Korchevnikov's program "The Fate of a Man". The 43-year-old artist said that she owes her success to her brother Robert, who since childhood believed in her and sent a cassette with her younger sister's vocals to the Yalta - Moscow - Transit festival. There Igor Nikolaev drew attention to the gifted blind singer. He wrote her first hit for Diana, which made Gurtskaya popular.
"The competition was that moment in my life that decided a lot in my life, there I met Igor Nikolaev. It is his merit that I am here today. He gave me a "golden key" that any artist dreams of - he wrote the song "You are here". Igor Yuryevich's faith in me, his understanding and support did everything to make my dreams come true, "Diana Gurtskaya admitted. The singer added that the 60-year-old composer supported her at the moment when Diana's mother died, who was diagnosed with cancer on the crest of her daughter's success. Despite the operation, the loved one could not be saved.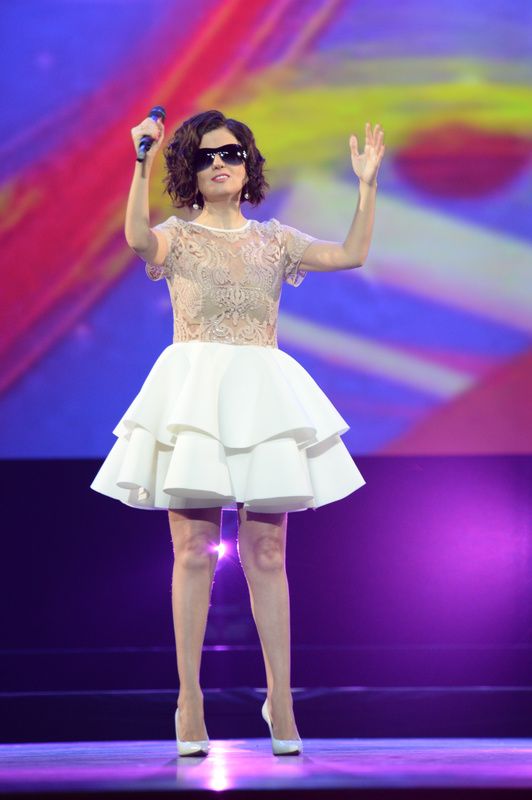 Diana Gurtskaya on stage
It is noteworthy that Diana Gurtskaya's mother died when her daughter was not around. Diana then went on tour. The artist said that the tour was organized specifically to distract her from the tragedy. However, the mother's illness was hidden from her for a long time, fearing that she would not be able to perform. "When success came to me, my mother was diagnosed with cancer. I found out about it by chance, our neighbor called me and asked if the diagnosis was confirmed. And they took care of me from this information. I was sure that nothing would happen, because she and I suffered our happiness. And after the operation, she cried and told me: "I wanted to live so much to see this!" - said Gurtskaya. On the day of her mother's death, she did not find a place for herself, and when she returned from the tour, everything had already happened.
To this day, Gurtskaya considers her mother, who died of cancer, to be the main person in her life. After all, when a disabled girl was born in the Gurtsky family, there was no inclusive direction of medicine and there were no tutors who would suggest what and how to do with the blind baby. However, both mom and dad of Diana treated her in such a way that she did not feel inferior. And my mother always with special wisdom answered her daughter's "uncomfortable" questions about her vision.
Diana Gurtskaya believes that she is very lucky with her parents, who deserve to make her daughter famous. Lucky, according to the singer, she and in her personal life. In 2005, she met her future husband Pyotr Kucherenko. He drew attention to the charisma and the voice of the girl who was with him in a common company. For some time, the lawyer courted the artist, and she pretended not to understand his feelings. However, when it came time to explain herself, Diana told her future husband that it was one thing to see her on stage, and another thing to live with the blind, and offered to think carefully.
Diana Gurtskaya with her husband
Everything was allowed by the future mother-in-law of Diana Gurtskaya. The singer overheard her giving advice to her fiance. Petra's mother said that the singer deserves happiness more than anyone else. "But be careful not to deceive her," the woman said, and her words were decisive. On September 21, 2005, Diana and Peter played a wedding, and two years later the couple had a son, Konstantin. Diana admitted that she was very worried about the boy's health - the newly-made mother was afraid that her son might also have vision problems. However, the baby was born healthy. Now Kostya is already 13 years old, he also became a guest of the Korchevnikov program. The young man said that his mother's inability to see was never a burden for him, and his mother said that from a young age, his son tried to help her in everything.
Mother-in-law and son of Diana Gurtskaya
Read also:
The daughter denied rumors that the star of the films "Afonya" and "Ordinary Miracle" Evgenia Simonova has cancer
The star of the "Crooked Mirror" Alexander Morozov lost 40 kilograms after having surgery on the stomach
90-year-old star of "Quiet Don" Lyudmila Khityaeva admitted that she regretted the abortion done in her youth
Article Categories:
Show Business