An anti-record has been recorded in the capital since May for the number of new cases of coronavirus - more than 4.5 thousand cases. The number of people carrying COVID-19 in a severe form is also increasing - more than 1.5 thousand people per day. Consequently, there are more hospitalizations. However, despite the disappointing numbers, the townspeople are often reckless.
Take care of your elders!
The situation with COVID-19 is worsening all over the world, and the situation in Moscow is also difficult. Therefore, the authorities are forced to reintroduce restrictive measures in order to slow down the spread of the deadly virus.
In order to reduce the number of movements around the city, from October 9 in Moscow, the reduced travel of schoolchildren and pensioners in public transport has been suspended. The school holidays have been extended. Muscovites over 65 and people with chronic diseases are advised to stay at home. Ticket offices for the sale of tickets for cultural events are closed. Employers were obliged to transfer 30% of their employees to telecommuting from October 5 to October 28.
If at the beginning of the pandemic, people over 65 years old accounted for about 20% of patients in coronavirus hospitals, then since the beginning of autumn their share has approached 50%. According to the Moscow Department of Health, over 83% of all deaths from COVID-19 as the main cause of death were people over 60 years old. The elderly are more at risk of developing severe complications of the coronavirus leading to death. People with chronic diseases are also at risk. More than half of the deceased had diseases of the cardiovascular system and diabetes mellitus.
"A person of advanced age, overweight and diabetes is more difficult to tolerate hypoxia, physical activity, and is more susceptible to infections. Therefore, in this group, covid infection is more severe, which means that the mortality rate is higher. If you are over 60 years old or have diabetes, are obese, you are at a higher risk for COVID. That is why it is especially important for you to observe self-isolation, mask and glove regime now, "noted chief freelance specialist-endocrinologist of the Moscow Department of Health, Professor Mikhail Antsiferov.
Light style restrictions
Doctors never tire of urging all citizens, without exception, to strictly observe the mask regime in public places, transport, shops and pharmacies of the capital. Also, social distance remains one of the most effective measures for the prevention of COVID-19, which will help to avoid the introduction of a total lockdown in Moscow.
"Two-week school holidays, the transition to a remote location and home mode for Muscovites 65+ influenced the number of passengers in public transport. Metro load decreased by 800 thousand passengers, ground transport - by 400 thousand passengers per day. Formally, the numbers are large, however, the decline was only 10-11% compared to the end of September, which is clearly not enough, " Moscow Mayor Sergei Sobyanin on your blog.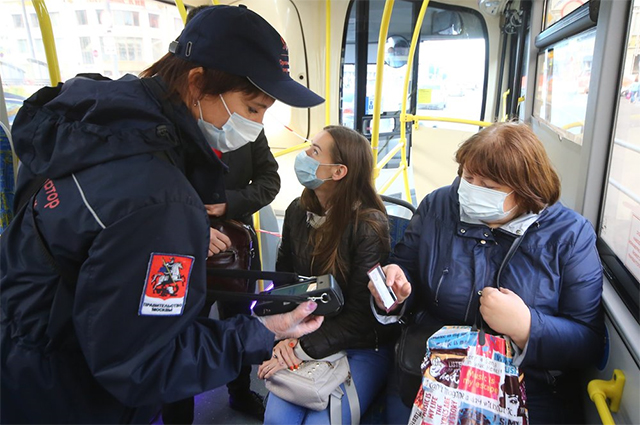 The head of the city said that the week from 12 to 18 October will be largely decisive for the development of a pandemic in the capital. The authorities do not want to introduce harsh restrictive measures, such as they were in the spring. The mayor assured that the closure of the city's economy in connection with the coronavirus is the last step that can be taken in the fight against COVID-19, and the authorities will only take it as a last resort.
"In fact, this is such a light version, when enterprises and none of the spheres of the economy are closed," S. Sobyanin said.
In Europe and the United States, quarantine measures are tightening every day: in Italy, the state of emergency was extended until December 31, bars and cafes were closed in Brussels, meetings were limited in Berlin, a curfew for restaurants was announced in Frankfurt and the opening hours of shops were reduced. Even family celebrations are banned in Poland, and in New York, Broadway theaters decided not to open until the summer of 2021.
Hospitals are already at their limit
Natalia defeated the coronavirus, today she is returning to normal life. Her path to recovery was long and difficult: hospital, mechanical ventilation, weeks of rehabilitation.
"Today, when I see someone without a mask in a store or transport, I can't even speak calmly, I want to scream, but I can't (it's still hard to breathe):" People, why are you so fearless or do you believe in your immortality? Think about it! " The coronavirus is scary. I will be very lucky, how can I survive (doctors brought me back from the other world), but how many people die ?! Do you know what a coronavirus is? Imagine that you fell ill with all the diseases at once: your body breaks, a terrible headache, fear that you will suffocate, fever and chills - sensations like with flu in a square, or even in a cube. You won't wish for an enemy, "recalls a Muscovite.
Thousands of patients with coronavirus are hospitalized every day. Polyclinics and hospitals are working to the limit. Only in "Sklif" the number of hospitalized people has doubled.
"Yes, there are reserves, there is still a margin of safety, a lot of experience has been accumulated, and specialists are hardened in the fight against coronavirus. But let's be objective: everything has a limit, the number of beds and ventilators, although large, is not infinite. If the townspeople do not start to take security measures more responsibly, these reserves can quickly run out, " Director of the Research Institute of Emergency Medicine named after Sklifosovsky Sergey Petrikov.
But in the neighboring state in hospitals there is already an acute shortage of places for seriously ill patients, and in some regions, oral orders allegedly appeared: not to connect patients with coronavirus of retirement and pre-retirement age to ventilators. Ukraine became the third country in the world in terms of the increase in COVID-19 infected
To make sure there are enough places for everyone, Moscow is working ahead of the curve: two temporary hospitals have been reactivated. There are two more in turn.
"The metropolitan doctors, to our general happiness, have never faced a difficult choice: who to provide help and who to deny it. There were always enough beds and specialists, unlike other countries. This is how it should be in the future, but it does not depend on me and not on someone else, but on each of us. You did not wear a mask - your family and neighbors, with whom you were traveling in the elevator, fell ill. You neglected the antiseptic - in a few days there were more patients in the hospitals! Keep your distance, limit contact, and wear a mask and gloves. This is my most important medical recommendation to each of you today, "said chief physician of the City Clinical Hospital No. 52 Maryana Lysenko.
No spring scenario
Further development of the situation largely depends on our consciousness. To avoid getting worse, you need to strictly observe safety rules, but unfortunately, not everyone is willing to limit themselves voluntarily. Therefore, those who ignore common sense have already begun to be fined. Not only people are held accountable, but also business. In recent days alone, hundreds of thousands of rubles have been fined for shops, theaters, entertainment complexes, restaurants and sports clubs. Violators are also threatened with suspension of activities for up to 90 days.
"Of course, people are psychologically tired: tired of being afraid, tired of following the requirements of doctors. All this is understandable, but we still have to hold out for several months. Because the output is the production of a mass vaccine that will remove this problem, "said Sergei Sobyanin.
Now is the time when it is being decided what the coronavirus scenario will be next. And wearing a mask and gloves, washing your hands, keeping your distance and limiting your contacts is not a very big price for your health and life.
Article Categories:
Health