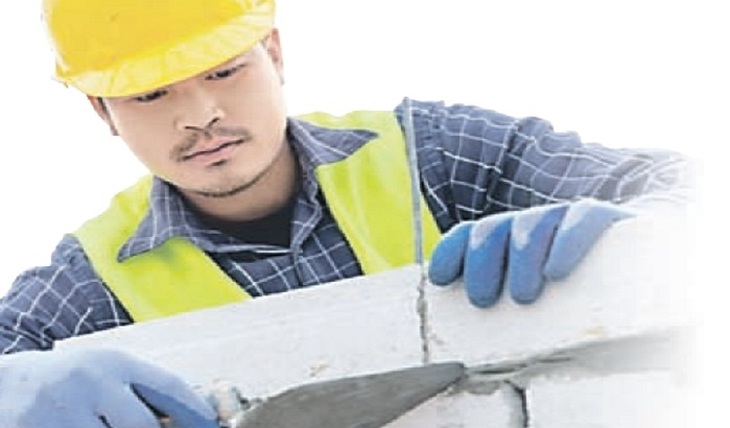 The coronavirus pandemic has sent many migrants home.
The influx of foreign labor into Russia has almost halved. Minister of Construction and Housing and Utilities of the Russian Federation Irek Fayzullin said that the industry would not survive without migrants, and therefore it was necessary to simplify their entry into Russia. Are there really no people left in Russia who want, can and know how to build residential buildings?
CROCODILE DOESN'T CATCH
According to the Ministry of Internal Affairs, in 2020 the number of foreigners who entered Russia amounted to 9.8 million against 19.5 million a year earlier. This is a catastrophic drop, the maximum over the past decade, and the situation is only getting worse.
So, in the first quarter of this year, 1 million 983 thousand people were registered with migration, while in the same period last year – 3 million 486.5 thousand.
From the beginning of 2021 to March inclusive, only 228.5 thousand patents were issued instead of 426.7, and the number of patents valid at the end of the quarter was 962 thousand against 1 million 670.313 thousand last year.
"The shortage of personnel in the construction industry is formally really connected with the reduction in the number of labor migrants. The industry is not ready to change the situation on the labor market, "says FNPR secretary Oleg Sokolov.
The problem was heard at the highest level. Russian President V. Putin instructed the Cabinet of Ministers to establish a simplified procedure for attracting workers who are not citizens of the Russian Federation to perform construction and installation work. Within the framework of this instruction, a new, unified procedure for attracting foreign labor force – an organized recruitment – began to operate in Russia.
FOREIGN LIMIT
In fact, this procedure is not new, it was widely used in Soviet times, when the capital's enterprises hired the so-called limiters.
First of all, the declarative principle of hiring foreigners is introduced. Companies form an application – how many masons, carpenters, painters, welders and so on they need, receive approval from regional authorities and send a request to the donor country of labor resources. The costs of recruiting and training personnel are borne by the country of origin. She also pays for the road to Russia. Further responsibility for the foreign worker rests with the employer.
Moreover, foreign specialists can be invited exclusively for approved projects. Companies that want to hire foreigners must meet a number of requirements: a staff of 250 people, annual income of 2 billion rubles. Emissaries of large construction companies personally travel to the CIS countries, talk about their projects, conduct interviews with future workers.
The authorities of the donor countries are extremely interested in restoring the volume of migration. After all, remittances from Russia provided in different years from 1/3 to 1/2 of the GDP of Kyrgyzstan and Tajikistan and from 1/10 to 1/5 of the GDP of Uzbekistan. It turns out that migrant workers earn here, in Russia, and Russian money is spent in the countries of origin. Thus, we support the economy of other states.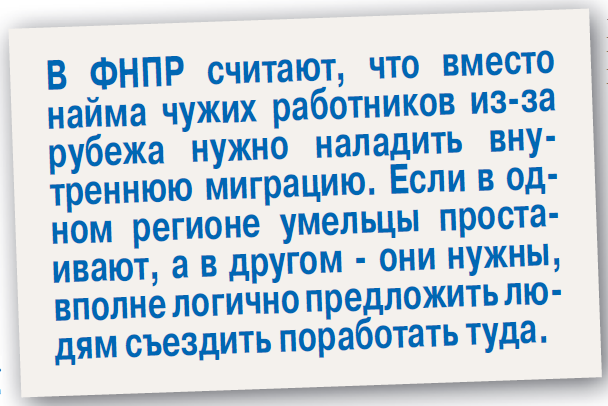 DO YOU NEED YOUR UNEMPLOYED?
It is clear that the new procedure for the employment of foreigners has turned into increased costs and hassle for developers. It would seem that it's time to look at our own internal labor market. Are there really no bricklayers, concrete workers or painters among the millions of Russian unemployed?
Of course have. But unlike migrants, they are not ready to work for a pittance. According to Rosstat, the average salary in construction is 33 thousand rubles, and for workers with no experience – 23 thousand. But for experienced skilled workers, it can reach 90 thousand rubles.
"The conventional wisdom that migrants take away jobs from Russians is fundamentally unfair," said Alexander Kalinin, an expert on migration issues. – The Russians themselves do not go to hard and dirty work. On the contrary, we should be grateful to the migrants for filling the gaps in the staff. "
This statement is controversial if we remember that labor migrants are mercilessly dumping in the labor market. By agreeing to work, relatively speaking, for a bowl of soup, to live in inhuman conditions, in trailers at construction sites or in "rubber" apartments, they devalue the labor of builders. However, this is precisely what migrants are interested in by developers.
"I worked as a painter at one of the new buildings in our city," says Galina Fedorenko from the Moscow region. – Received from 35 thousand and above. Last December we were sent on unpaid leave and then laid off. The construction site was mothballed. Recently, my friend and I, also a plasterer-painter, saw that work at the construction site was resumed. We contacted the HR department of our company. And imagine, it turned out that women from Uzbekistan have already been hired to our places. The personnel department said that if we agree to work for 20 thousand, then they can take us. We disagreed. "
CONSTRUCTION GULAG?
How to get employers interested in hiring citizens of their own country? The Cabinet of Ministers, as always, is trying to extinguish the problem with money. Prime Minister Mikhail Mishustin proposed introducing incentive measures for enterprises that employ the unemployed.
"Companies and individual entrepreneurs will be able to receive subsidies from the state if they employ non-working citizens who, as of January 1 of this year, were registered in employment centers as unemployed," Mishustin said.
The subsidy will amount to three minimum wages for each unemployed employed. One minimum wage is 12 thousand 792 rubles. Accordingly, three minimum wages – 38 thousand 376 rubles. The subsidy will be paid in several stages. The first one – after one month of work of the hired employee, the second – after three months and the third – after six months. The prime minister assured that funds for incentive payments – 12 billion rubles – have already been included in the 2021 budget.
The FNPR believes that instead of hiring foreign workers from abroad, it is necessary to establish internal migration. If in one region craftsmen are idle, and in another they are needed, it is quite logical to invite people to go to work there.
But, recall, the most original proposal was made by the head of the Federal Penitentiary Service, Alexander Kalashnikov. We have already written about this. He believes that migrants can be replaced by prisoners. Kalashnikov explained that this will not become the second GULAG, people will be offered decent working and living conditions. This initiative was warmly supported by the State Duma.
Thus, there are at least three options to satisfy the staff shortage at construction sites at the expense of the Russian labor market: stimulating hiring, internal migration and attracting workers from places not so distant. It's up to employers.
Natalya Kucher.
Photo: ADOBE STOCK
Article Categories:
Economy