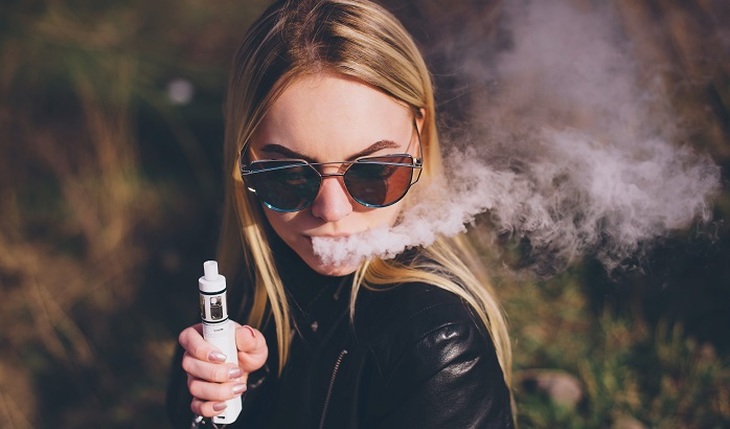 Doctors are sure that electronic cigarettes are much more harmful than traditional ones. In addition, almost all vapes on our market are counterfeit.
What's inside, no one knows. Labeling can solve the situation with illegal poison. There will be no less smoking of this muck, but there will be a chance to restore at least some order in this market and reduce mortality!
RIGHTS ARE EQUAL, WHAT'S NEXT?
Recently, as you know, electronic cigarettes have been equated "in rights" with ordinary tobacco. That is, the regulation and restrictions on the prohibition of display, distance selling, places of use for smoking have become almost the same. On this topic, from January 28, 2021, amendments were introduced to Federal Law No. 15-FZ.
FACT

In 2021, 49 million units of counterfeit electronic cigarettes were sold on the Internet for a total of 25 million rubles.
Nevertheless, unfortunately, the popularity of electronic cigarettes (EC) is not decreasing. It is especially high among young people. In addition, market experts note the dishonesty of electronic cigarette retailers, who increasingly do not comply with the requirement to control the age of 18+.
However, the expansion of the ES market, their great popularity among the youth is not the worst thing. It is terrible that, as we usually do, at the peak of the popularity of the product, the leftist immediately fell, or, in the words of experts, "unscrupulous manufacturers appeared who forge certificates of conformity for electronic cigarettes," which threatens the lives of those who purchase this dubious poison.
Not only is a teenager being poisoned, but he is also being poisoned at an inflated price, since our crooks advertise the clandestinely produced muck especially zealously, albeit illegally. They do it most effectively in social networks, where it is almost impossible to control the viral distribution of fake ES ads.
HOW TO FIGHT ES AGGRESSION?
The e-cigarette labeling experiment began on February 15, 2022 and was scheduled to run until March 1, 2023. But the Ministry of Industry and Trade proposed to finish it ahead of schedule and introduce mandatory labeling from November 1. This is the only effective way to quickly resolve the issue of identifying and suppressing the illegal circulation of such products, the ministry believes.
Marking, perhaps, will bring counterfeit products out of the shadows, and additional funds will come to the budget. But it will not reduce the number of smokers and will not make cigarettes and vapes healthier for the body. This opinion was expressed by the head of the State Duma Committee on Labor, Social Policy and Veterans Affairs Yaroslav Nilov.
LINK

The vaping market in Russia in recent years has grown 49.3 times – from 28.5 billion to 1.4 trillion rubles, according to the Union of Enterprises of the Industry of Nicotine-Containing Products. Last year, 67 million e-cigarettes and 9,000-10,000 liters of refill liquid were sold in the country.
The same point of view is shared by the Ministry of Health. Electronic cigarettes should not be freely available, without a ban on them it is impossible to achieve state goals to combat the consumption of tobacco and nicotine-containing products, said Marine Gambaryan, head of the Center for Tobacco Prevention and Control of Tobacco Consumption of the National Research Center for Therapy and Preventive Medicine of the Russian Ministry of Health.
Now the vape market is practically not controlled by anyone. Until the technical regulations for nicotine-containing products have been adopted, there is only a general one for tobacco products. According to it, private companies are engaged in confirming compliance with the established requirements, which for 3 thousand rubles will send a positive result by e-mail remotely, says Pavel Shapkin, chairman of the National Union for the Protection of Consumer Rights.
MISKETS SHOULD BE REPAIRED
But why does it turn out that there is a flow of illegal ES to Russia, and, say, in neighboring Kazakhstan everything is done quite legally and in good faith? It turns out that our excise rate on electronic cigarettes is already 17 times higher than that of neighboring countries, for example, Kazakhstan! Therefore, ES are imported legally to a neighbor, and since there are practically no borders for trade between our countries, these legal products come to us as counterfeit products, to which you can always add the lion's share in general, it is not clear where and how the leftist was produced.
IT IS INTERESTING!

E-cigarettes still contain nicotine. True, it is diluted with other components and the content is strictly regulated. The maximum allowable value is 20 mg / ml.
So the Ministry of Finance should think hard and rather quickly on this topic and eliminate the distortion with excise taxes. Of course, officials in the heat of the moment can completely ban the ES, but even a fool understands that a total ban will not bring the desired effect. After all, we repeat, the border with the same Kazakhstan is half open, and the import will continue by any means. But our civilized bureaucrats are quite capable of making the black market a black market. We just need to wisely regulate the legislation on this issue.
Evgeny Malyakin.
Photo: ADOBE STOCK
Article Categories:
Economy